The Morris Animal Foundation K9 Cancer Walk is days away, but we've got more work to do to end cancer in dogs and cats. Team Tripawds has exceeded our fundraising goal (a BIG thanks to all who've chipped in!) but we want to make an even bigger impact. If you haven't already, can you chip in to help us set a new record for the walk?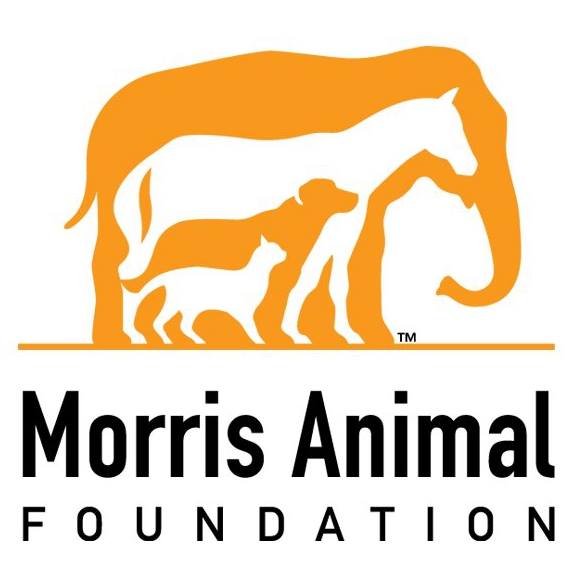 Here are more great reasons to support the life-changing work of Morris Animal Foundation:
At any given time, Morris Animal Foundation is managing about 300 active studies, including:
Cancer Studies for Dogs
Since 1950, Morris Animal Foundation has invested in more than 800 canine health studies for a total of $30 million. Here are some of the significant health advances that have occurred for dogs because of your generosity:
The 5-5-5 Project
This innovative project will fund one osteosarcoma clinical trial per year for five years, each costing about $1million. The first trial will evaluate rapamycin, also known as sirolimus, a drug that targets a protein that regulates cell growth. Rapamycin exhibits antibiotic, immunosuppressive and antifungal properties and has been shown to prevent the growth of canine melanoma and osteosarcoma cells in vitro. If it's shown to work in these clinical trials, it could be the next new treatment in the fight against bone cancer. Learn more.
Testing Strategies to Treat Drug-Resistant Hemangiosarcomas
Canine hemangiosarcoma is a common and highly metastatic cancer that affects all breeds of dogs. These tumors are particularly drug resistant, which makes them difficult to treat. The investigators recently identified a more drug-resistant cell population in hemangiosarcoma. These cells appear to be extremely efficient in isolating cancer drugs and preventing them from reaching their targets. The investigators will use several strategies to try to disrupt this process and they will determine whether any of these approaches improves drug responses and diminishes drug resistance. This could lead to more effective treatment of this difficult cancer. Principal Investigator: Dr. Erin B. Dickerson, University of Minnesota
Improving Ability to Predict Cancer Spread
Soft-tissue sarcomas are common in dogs. While many are easily treated with local therapy, the disease spreads (metastasizes) and kills about one-third of affected dogs. Veterinarians can't reliably predict which dogs will develop metastasis, making it difficult for them to determine which dogs should receive chemotherapy and whether treatment is working. Researchers will compare gene and protein expression patterns of tumors that spread to those that don't and will use the information to develop a more reliable test for predicting metastasis. If successful, this test will help veterinarians improve canine cancer treatment and will also improve the overall understanding of this disease so that scientists can further study potential intervention therapies. Principal Investigator: Dr. Marlene Hauck, North Carolina State University
Cancer Studies for Cats
Since 1950, Morris Animal Foundation has invested in more than 300 feline health studies for a total of more than $9.5 million, including:
Using Genetic Technology to Diagnose Cancer Types in Cats
Each year, as many as 22,000 cats in the U.S. develop sarcomas at the site of a vaccine or other injection. Because these injection site–associated sarcomas (ISASs) are typically more aggressive and prone to recurrence than spontaneous sarcomas that are not injection related, they often require more urgent and radical therapeutic intervention. Distinguishing between ISASs and non-ISASs is essential for optimizing clinical management and outcome for each patient, but at present there are no efficient and definitive means for diagnosis. This study uses state-of-the-art microarray-based technology to identify DNA-based markers that may provide more powerful diagnostic and prognostic tools for evaluating these tumors. These data will highlight cancer-associated gene defects as potential new therapeutic targets and will provide a wealth of comparative data that will advance feline molecular oncology studies. Principal Investigator: Dr. Rachael Thomas, North Carolina State University
Understanding Mechanisms that Contribute to Early Changes in Cancer Stem Cells
Treatment-resistant cancer poses a significant threat to animal health and well-being. Recent evidence from a number of cancer studies suggests the existence of a population of cancer stem cells that give rise to and perpetuate tumor growth. In addition, cancer stem cells are thought to provide a chemotherapy resistant pool of cells that lead to disease recurrence. However, the mechanisms that drive cancer stem cell formation and the acquisition of chemotherapy resistant properties are not well understood. The objective of this research is to identify early changes in the stem cell environment that contribute to cancer stem cell formation. These changes may include altered cell division polarity and the accumulation of genetic damage. Completion of this research will provide important insights supporting the design of future therapeutics to block cancer progression. Principal Investigator: Dr. Alex Davies, Pfizer Animal Health–Morris Animal Foundation Fellowship, University of California–Davis
Identifying Lymphoma Subtypes for Better Treatment
The prognosis for cats with gastrointestinal (GI) lymphoma, which is among the most common cancers of cats, varies widely depending on the cancer subtype. This study identifies chromosomal abnormalities in feline GI lymphomas to help classify this cancer into subtypes for more effective treatment. It also investigates the relationship between feline GI lymphoma and inflammatory bowel disease. Principal Investigator: Dr. Rachael Thomas, North Carolina State University
See all of the groundbreaking studies Morris has sponsored by searching their study database, then be a part of the cure.