The shock of being told your dog has osteosarcoma is difficult enough, but when you learn your other dog has cancer, the impact is twice as hard. Today we'd like to introduce you to Hank and Mable, a brother and sister duo who aren't letting cancer stop them from loving life.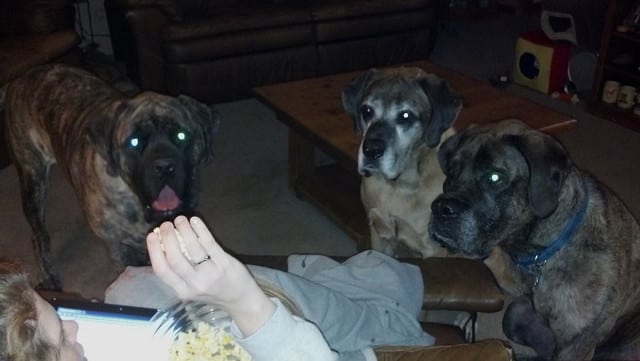 Hank is an osteosarcoma survivor of nearly three years! He's a Mastiff who, like our friend Atlas, is concurrently battling Wobbler's disease and osteosarcoma, while his sister Mable is just learning how to live life on three legs after a recent osteosarcoma diagnosis.
Read on to learn how this strong, brave pack from Ohio isn't letting cancer slow them down! Their Momma Trina wrote this for Tripawd Tuesday:
It all started in July of 2010. My six year-old Mastiff Hank started limping. I am a registered veterinary technician so I like to think I pick up on things early. He is wild and crazy which is unusual for a Mastiff. I thought he just twisted something. We tried him on non-steroidal anti-infammatories to which he did not respond. He would not give us any indication where he hurt. Long story short after three months of limping, xrays and an MRI later, he was diagnosed with Wobblers disease and Osteosarcoma.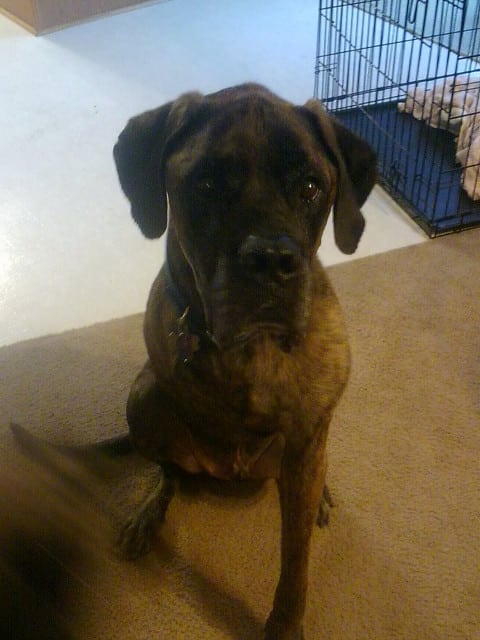 Since he had the Wobblers we were not sure how well he would do as a Tripawd. I felt we owed it to him to try. We are now 2 years and 9 months post amputation. We did six rounds of chemotherapy. He has been the greatest inspiration to all he meets. He is now 9 1/2 years old and his arthritis is catching him quickly. We are keeping him as comfortable as possible but even now his incredible zest for life amazes us daily.
Unfortunately four weeks ago his younger sister Mable (same parents, different litter) started limping. Since she was older I was truly hoping it was just arthritis. This time she let us know where it hurt and her xrays showed an abnormality. Again after biopsies and x-rays she was diagnosed with Osteosarcoma.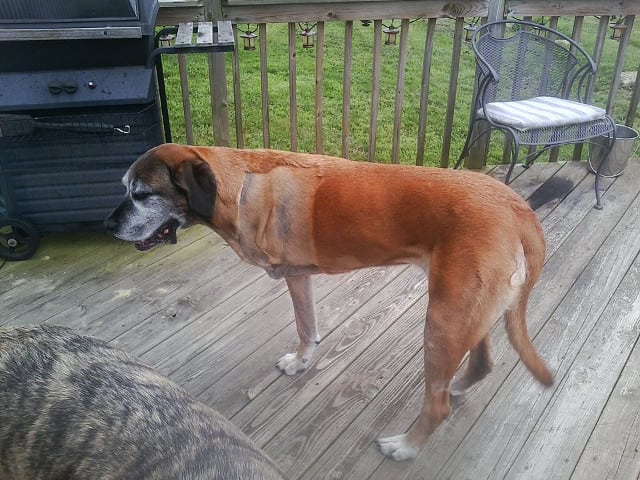 She is now three weeks post amputation and doing just as well as her brother. We have done one round of chemotherapy so far. I don't know why we were dealt these horrible cards twice now. We hope and pray she does as well. We have a third unrelated Mastiff and pray we do not have to face this again. Our dogs are like children to us. We have two small children that think of them as giant teddy bears.
Hank and Mable are true survivors. I only hope our story will help give hope and inspiration to anyone contemplating giving their dogs a chance as a Tripawd.
Celebrate your own three-legged hero in
"Tripawd Heroes, Volume 1" featuring your Tripawd and
25 more inspawrational canine amputees
loving life on three legs!
How to Get Featured on Tripawd Tuesday
Each Tuesday, Tripawds from around the world can enter for a chance to be "Tripawd of the Week." Just share your Tripawd's story and you're entered to win!
On every Tuesday of the week, tell us about your three-legged hero here in the Tripawds Discussion Forums or on the Tripawds Facebook page. Just follow these easy steps:
In a few short sentences, describe your three-legged hero's story.
Include a photo or video.
Include a link to your Trpawds Facebook page, Forum topic and/or Tripawds blog (if applicable)
All entries must be received by Saturday at 11:59 pm. One Tripawd story will be selected at random to be featured the following Tuesday.