Today we're hoppy to present an inspawarational tale about Elvis, an unstoppable three-legged herding dog from Illinois. His Mom Arlyn Sigeti wrote to us and said:
"Elvis is a 9.5 month Border Collie. He loves herding, and was introduced to sheep when he was 8 weeks old. In January, he had in injury to his right rear knee, being a silly puppy just doing things a puppy does. The knee became infected. His leg was immobilized for almost five weeks.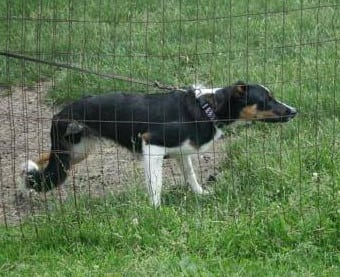 We went through extensive rehab trying to get him to start using the leg again, using underwater treadmill, land treadmill, acupuncture, and laser therapy. He was using the leg, but not as much as we hoped for.
May 26th, he came out of his crate with the leg dangling and would put no weight on it. It was broken at the femur. The infection had settled in the bone.
He had surgery May 30. The specialists found that the bone was so badly deteriorated that attempts to repair the leg would fail. They made the decision to amputate.
He has adjusted well to being a tripod. He wasn't really using his leg much anyway. He has become a happy puppy again, something we hadn't seen for quite a while. He is playing and running a lot more. He doesn't seem to be missing anything.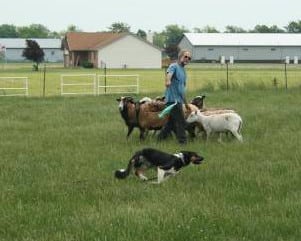 The hardest adjustments came to the humans here. We had to change out goals for him, like competitive agility and herding. He will now be a therapy dog."
Life takes some interesting turns sometimes but Tripawds never let adversity stop them from living life to the fullest. Let's give a big round of applawse to Elvis!
How to Get Featured on Tripawd Tuesday
Each Tuesday, Tripawds from around the world can enter for a chance to be "Tripawd of the Week." Just share your Tripawd's story and you're entered to win!
On every Tuesday of the week, tell us about your three-legged hero here in the Tripawds Discussion Forums or on the Tripawds Facebook page. Just follow these easy steps:
In a few short sentences, describe your three-legged hero's story.
Include a photo or video.
Include a link to your Trpawds Facebook page, Forum topic and/or Tripawds blog (if applicable)
All entries must be received by Saturdayat 11:59 pm. One Tripawd story will be selected at random to be featured the following Tuesday.