Three paws up to Miss Brendol for bouncing back after amputation surgery! Here's her Triday story.
Miss Brendol was diagnosed with a osteosarcoma at the end of January.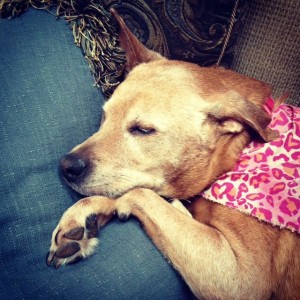 She became a tripawd on 2/6 and although I was extremely concerned about her handling this change (she's 12), she has adapted wonderfully. No more pain or limping.
Occasionally there are complications with these types of procedures or it takes a while for the dog to adjust, but Brendol has been a posterpup! Within a few days she was maneuvering full flights of stairs and by a week later she was running.
We are now doing chemo and hoping for many more months to play.
Read about Brendol in her Tripawds blog.
Use the Social Networking Buttons Below to Share This!
Read and share all Tripawd Awareness Day stories to help us prove to the world that dogs are born with three legs and a spare. Then share your story in the forums or with a free Tripawds blog.