We received this inspawrational tail from a friend on the Tripawds Facebook page…
We've volunteered w/our local humane society for nearly 3 decades, and have been foster parents for 'high-risk' dogs and puppies since 2006. In 2007, they called to say a 3-month old pup was in amputation surgery and needed a foster for about 12 weeks. He'd been brought in w/his back leg four times the size of the others and the bone was infected, so the leg had to be removed. We'd never owned or worked w/a tripawd before, and didn't know what to expect.
We went to collect this 12# belgian malinois mix, whose body was half shaved and had 12 staples. I had no idea how to pick him up to put him in the car w/out hurting him; but even handling his 'stump', he never minded.
He was so weak from pain, infection, intestinal worms, etc. he could only take 2-3 steps at a time for weeks. It took him almost a month to be strong enough to walk to the end of the driveway (which is only about 3 car lengths). He had a high fever over 105 for days, so I got up throughout the night to put rubbing alcohol on his paws and in his ears, feed him little ice cubes and give him his 5 various medications. I also spoon-fed him, since he was so weak.
As he recovered and became the evil, biting, rambunctious herding puppy he was born to be, nipping at ankles and shoes and muzzle punching us to go where he wanted us to go, we fell in love with his resilience, his spirit, his joy for life. We named him Roo, since he hopped, and we adopted him.
Shortly thereafter, as people met Roo and experienced his spirit, everybody was telling me how special he was. I thought it was because he was a tripawd, and was amazed to learn so many people we knew had tripawds in the past! But it wasn't because he was missing a leg, but because of his spirit. We decided to pursue the training and challenges to make an awkward yet strong tripawd a therapy dog. Many classes and hours of training and practice later, he passed the therapy dog test; and later passed the AKC Canine Good Citizen test. And we became a registered therapy dog team.
At almost 6 years old, Roo has logged close to 400 hours at our local children's hospital, where pediatric surgeons call him in for children losing limbs, as well as a camp for traumatized children and a local assisted living facility. Roo has helped children take their first steps, has helped stroke victims find the courage to try to navigate stairs – he demonstrates and then walks beside them while they try – or to be motivated to speak for the first time. His impact on others is amazing and we love sharing his wonderful gift.
Today our Roo is 72# of happiness, sharing his home w/another failed foster Domino, a handicapped pit mix (who we call 3.5 legged, 'cause she was hit by a car before we met her, suffering permanent nerve damage in 1 leg, but was able to keep her leg once she learned how to bear weight on a limb she can't feel and to walk or run w/it!), and a siberian husky named Cheyanne who was born w/urinary/reproductive and esophageal birth defects. All three of our furr-children are 'special' and we wouldn't trade any of them for the world!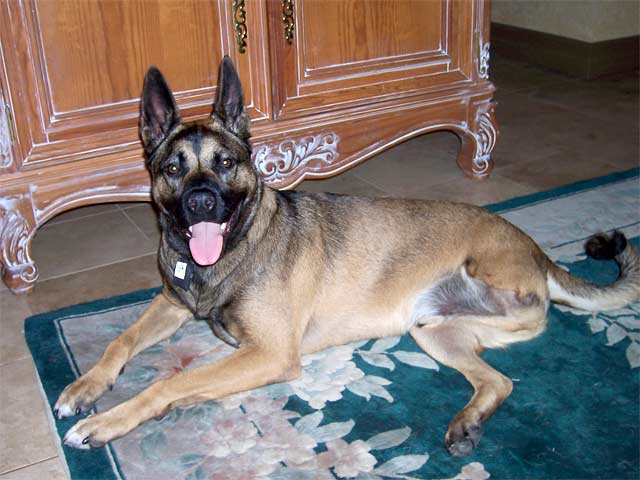 Please Share This via the Social Network Buttons Below
Read and share all Tripawd Awareness Day stories, and find more amazing three legged dogs in the Tripawds Blogs and discussion forums.