We can't forget the story of Finley and Julia! Tripawd Therapy Dog Jake wants to share the story of his pack's newest members. Three paws up to momma Lori for giving these beautiful pups a furever home!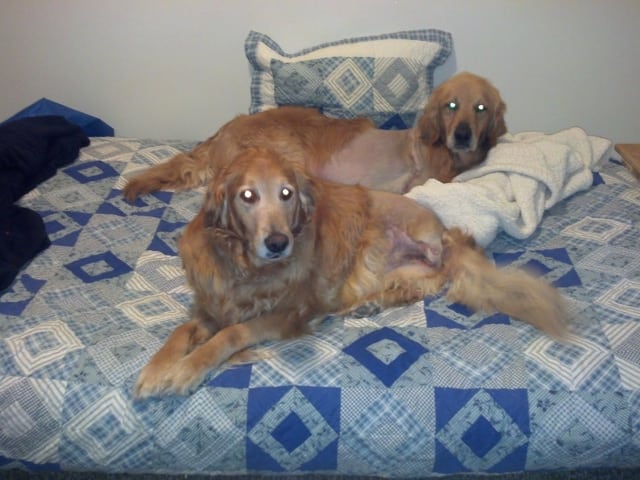 Finley was the victim of gross neglect by his former owner. His ulcerated fibrosarcoma tumor on his right front leg had been left to fester for over a year while banished to the backyard. When the smell became to much, Finley (then Sparky, then Woodley) was surrendered to the Baldwin Park Shelter. That was when he was rescued by the Southern California Golden Retriever Rescue. His amputation on 1/17/13 was just the beginning of a new chance at life.
Julia, also the victim of gross neglect of her former owner. After being hit by a car, she was not given medical care. For months her mangled rear left leg was in excruciating pain. Finally, not wanting to deal with her anymore, her owners surrendered her to a shelter in Pasadena. She was rescued and taken to a vet in Pasadena who performed numerous surgeries on her in attempt to repair her leg. When all attempts failed, the Southern California Golden Retrieve Rescue took her (then Heather) to their vet in West Los Angeles where her leg was amputated on 1/25/13.
On 2/9/13, SCGRR made the decision to allow both dogs to be adopted by the same person. It was the first time SCGRR allowed for a distance adoption. Volunteers from SCGRR made the 17 hour round trip to deliver both Finley and Julia to their new home in Reno, NV. They now live with Lori Archer and her children in the home they shared with Jake the Tripawd Therapy Dog.
Share this #tripawds story using the social buttons below!
Read all Tripawd Awareness Day stories or browse the three legged dog blogs directory for more inspawrational tales. Post in the forums or start a free blog to share your own story!