Wile E. Wyatt Ray apparently kept removing his bandages after his fistulous tract biopsy. The staff at Texas A&M Veterinary Medical Teaching Hospital finally solved the problem of him eating them with two solutions – the double cone of shame treatment, and a tie-over bandage his doctor referred to as a Coyote Bandage.
Tie-over Bandage Dressing Wound Care
The tie-over bandage is a solution vets often use to protect surgical wounds in difficult locations, such as the incision Wyatt had in his perineum.
The technique involves placing multiple, loose sutures into the healthy skin surrounding the wound. These sutures provide loops to which the bandage is secured. Sterile dressing is applied directly to the wound. This protective layer is then secured in place by lacing umbilical tape through each of the suture loops. The tape is then tied to itself to provide a firmly attached bandage.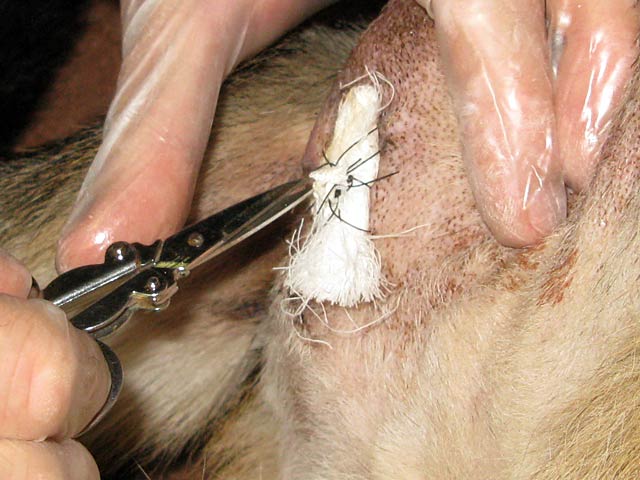 If the bandage is in a location certain to soil quickly, like on Wyatt's butt, the whole thing can be covered with a dressing retention tape such as Hypafix.
The coyote bandage may or may not be used to dress limb amputation incisions, depending upon their location, but it is likely to be used for post-op care of larger biopsy surgeries or subcutaneuos tumor removal.

Tips for Changing Tie-over Bandages
Wyatt was surprisingly tolerant of us changing his bandage every day. The following tips may prove helpful should you find yourself having to do the same with your dog.
Place all supplies on a paper towel before you begin, in a well lit clean area.
Use a muzzle and/or a calming cap to keep him sedate during the procedure.
Use adhesive remover prep pads to assist in removal of any tape used. Lift a corner of the tape and run the pad under the adhesive while slowly lifting the tape.
Use small sharp scissors to cut lacing between loops. Surgical snips with rounded tips can help prevent injuring or startling your dog if you accidentally poke him.
Be careful not to cut the suture loops when removing laced umbilical tape.
Use ample gauze/dressing to prevent suture loops from cinching close together, making it difficut to cut lacing without cutting the loops.
Use sterile prep pads or iodine wipes to clean around the wound before rebandaging, taking care not to apply anything directly to the incision.
Use tweezers to aid in lacing umbilical tape through the suture loops.
Place a small piece of gauze over the laced up bandage before applying dressing tape to prevent adhesive from sticking to suture loops upon removal.
Wear examination gloves to avoid contamination of open wound or spreading bacteria elsewhere.
Provide plenty of praise and treats when you are done!
You Will Need:
Latex examination gloves
Adhesive remover prep pads
Sterile dressing or gauze bandages cut to size
Appropriate pre-cut length of umbilical tape
Dressing retention adhesive tape cut to size
Small scissors
Tweezers
If your vet has used a tie-over bandage, and your discharge instructions include changing the dressing, please ask to see a demonstration or review the procedure. This information is not a substitute for medical care or treatment advice provided by a qualified veterinary professional. Always seek the advice of a licensed veterinarian prior to making any medical decisions for your dog or undergoing any treatments or therapies, or if you have questions about your dog's health.
Ask a vet about post-op wound care now.