This Sunday we're excited to introduce you to Bart, a 3-year osteosarcoma survivor and world-famous AKC master hunting dog who was the first Vizsla in history to earn a Master Hunter title on 3 legs.

Along with Bart and his mom Darcy Duvall, founder of the Vizsla Tripawd World Domination League, we'll meet Bart's long-time veterinarian, Dr. Abby Huggins, DVM, from Terrell Mill Animal Hospital in Marietta, Georgia, who discovered Bart's osteosarcoma way back in June, 2008.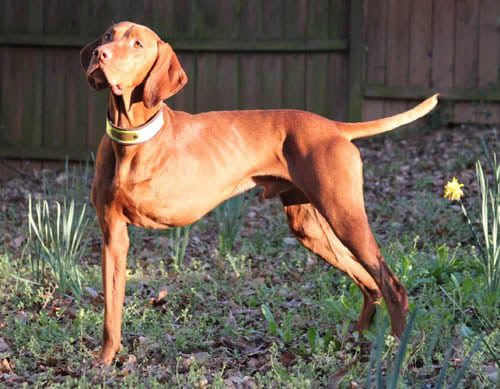 Date: Sunday, August 7, 2011
Time: 3:30pm PDT (4:30 MT, 6:30 Eastern)
Duration: 30 min.
Call In Number: (310) 388-9739*
Tune In Here: Three Legged AKC Champion Vizsla Cancer Survivor
Share Link: bit.ly/ttr080711

About Bart: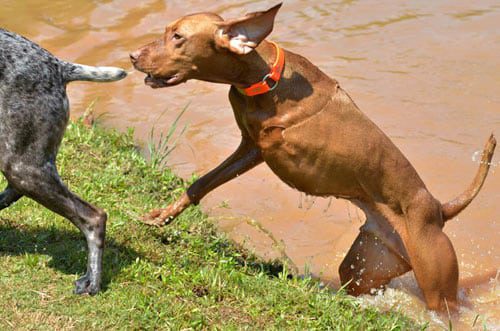 In 2008, three year-old Bart was going along his daily life practicing for field trials, hunting and running up to 16 miles with his Mom Darcy. After a persistent limp wouldn't go away with R&R, Darcy took Bart to Dr. Huggins, his regular vet, who gave them the sad news that Bart had osteosarcoma growing in his scapula.
With Dr. Huggins' guidance and supportive information she found on Tripawds, Darcy proceeded with amputation, chemotherapy and consulted with a holistic veterinarian to put Bart on the best diets and supplements pawsible.
Bart's Support Team
Bart's new regimen consisted of a regular rotation of:
After two years, Bart was weaned off all of the above supplements because he was now a healthy dog in remission!
Bart continues to eat grain free kibble with anti-oxidants and raw meat. He also gets Fish Oil from Omega QD.
Three years later, Bart is still in remission! Nothing slows Bart down and his accomplishments are many. See this PDF detailing Bart's canine cancer treatment for more information.
In October 2008, only three weeks after finishing chemo, Bart finished his AKC Senior Hunter Title and in April, 2009 earned his AKC Master Hunter Title, the highest title an AKC dog can receive.
Bart continues to train for field trials, duck work in water, therapy work such as meeting Wounded Warriors veterans and continuing to receive recognition by organizations such as the Vizsla Club of America and the American College of Veterinary Internal Medicine Foundation.
When it comes to coping with cancer, Darcy says her favorite quote she's ever read is in the Tripawds 2011 Calendar:
"It is not about waiting for the storm to pass…

It's about learning to dance in the rain."

— Author Unknown
About Dr. Huggins:
Dr. Huggins has worked with Bart since he was two months old. She graduated from Duke University in 1997 with a BS in marine biology and received her DVM from the Ohio State University in 2001, where she was inducted into Phi Zeta, the national verterinary honors society. Dr. Huggin's veterinary interests include soft tissue surgery, ophthalmology, and doing her part in promoting the human-animal bond.
Post questions for Darcy and Dr. Huggins with a reply to this topic,
or join us in the Tripawds Live Chat during the show!
Recommended Reading:
New and Improved K9 Immunity Plus
DISCLAIMER: Information provided is for entertainment only and is not a substitute for professional veterinary advice.
*Tune in to join our discussion with Darcy and Bart's vet or join us in the Tripawds Chat room during the show! You do not need to call to hear the show. Listen live to all Tripawds shows on BlogTalkRadio or check this topic after the show for the program podcast.