Have you heard the latest news? The Tripawds community now has our own line of handmade Tripawds jewelry for humans!
Created with love by Spirit Jerry's People, the Tripawds Etsy store is one way they are doing their best to make Tripawds a self-sustaining community.
Shop Today, Shop Often
The Tripawds Etsy store is stocked with an ever-changing selection of unique jewelry items for pawrents with a passion for three legged dogs. Our current offerings include several different glass pendant designs of front and rear-legged tripod dogs.
Now you can wear your Tripawds Pride with style and flair! And remember, every purchase helps to defray the costs of maintaining the Tripawds community. The more three paw tripod dog jewelry that sells, the less frequently we'll hold Tripawds fundraising campaigns (our ultimate goal is to not have them at all). It's a win win for everpawdy!
So Many Ideas, Such Little Time
Since we rarely make more than a few designs of each, you'll see that the selection of artwork is constantly changing. We're also ramping up our capabilities to create more jewelry items for humans and dogs, which we'll announce as we create them. As our jewelry-making skills grow, we'll be sure to include these one-of-a-kind items in the Tripawds Etsy store for everypawdy to enjoy!
Tripawd Gifts Has Something for Everypawdy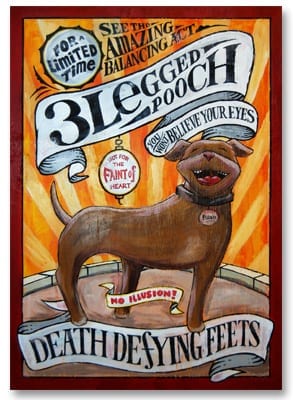 If our new Tripawds charm necklaces for humans doesn't rock your world, check out our recommended dog theme pendants, lockets and jewelry. Remember too, that the Tripawds Gifts Blog contains a huge selection of commercially-produced t-shirts, memorial pendants, keepsake boxes, frames and much more. Check back often for new item announcements or review all Tripawds designs available on a multitude of three legged dog apparel and gifts.
Again, every purchase made here will help cover the costs of maintaining the community. But, if you're not a shopper, remember you can always support Tripawds directly by clicking here!