Once you have a Tripawd in your family, that three legged magic never goes away. A Tripawd's zest for life and enthusiasm  are something that pawrents never forget. Sometimes, pawrents opt to continue spreading Tripawd Love by bringing another three legger into their pack.
Tripawds Member Sadie33, Joe and Lisa, were pawrents to Sadie, a beautiful Shepherd/Rottie girl who triumphed over bone cancer.
[youtube]http://www.youtube.com/watch?v=YYq7QXnNTyg[/youtube]
Sadie earned her wings last October but her assignment here on earth wasn't complete. So she sent Ranger, a special, gentle Tripawd to Joe and Lisa, to lead the family along more three legged adventures.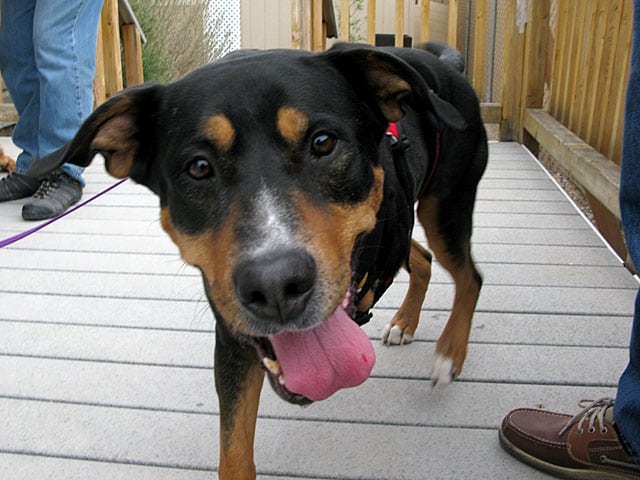 We asked Lisa about her journey with Sadie and what it's like having another Tripawd in the pack. Here's what she had to say:
What was it like when you went through cancer with Sadie? What would she say to humans about coping with cancer if she could?
I think Sadie would tell someone coping with a pet's cancer to spoil them rotten!
Seriously, she would say "I don't know what cancer is, I only know that my parents loved me just as much when I had 3 legs as when I had 4."
She would also say "Keep doing what you enjoy with your pet, don't let cancer get in the way of living."
Why did you decide to adopt Ranger? What has he taught you about coping with adversity?
I fell in love with Ranger as soon as I saw him! I think I wanted another tripawd because they are so inspirational. His story really moved me.
He was hit by a car, and neglected so badly by his owner that the only reason he was taken to the vet was to be euthanized due to his now mangled and infected leg. His behavior and love of people in the face of such neglect inspired others to save his life.
He's taught me that even if things look hopeless, there are good people that will step in and help.
He's taught me that just because one person hurts you, It's OK to trust people.
Mostly, though, he's taught me that it's possible to adapt, and thrive in the face of adversity.
What advice would you give to someone who's thinking of adopting a tripawd?
I would tell them to look at the dog's face, look in the dog's eyes. That will tell you much more than looking at the dog's legs.
You also have to be comfortable with the fact that once you adopt him, most other people will ONLY look at your dog's legs. But as a tripawd owner, you have a unique opportunity to inspire others as your tripawd will certainly inspire you!