In our ongoing pursuit of sharing inspawrational tales of Tripawds of all ages who have bounced back from amputation surgery, here is the story of Stas in Milwaukee.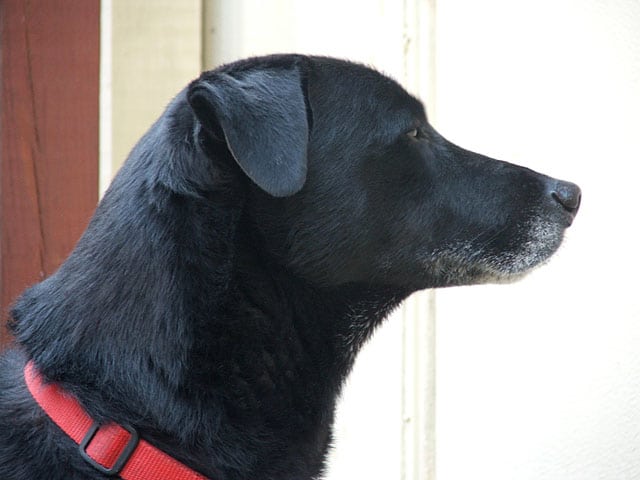 Stas is a senior boy who celebrated his one year ampuversary on October 28th, after becoming a Tripawd because of cancer. This amazing senior pup is still as hoppy and active as ever, digging holes and keeping tabs on his pack.
His Mom Christina shares his Trumphant Tail with us:
What kind of cancer does he have?
Nerve sheath cancer in front leg.
When was he diagnosed?
Sept 15, 2009. Amputation on October 28, 2009 Whole leg at shoulder.
At what age?
Unknown. We guess him to be between 9 and 11 at the time of amputation.
What kind of chemo did he have?
None
Have lung mets been discovered?
None so far! He got a clean bill of health at his last check up.
What treatments has she had since chemo?
N/A
Describe his Diet
Chicken Dinner! Stas loves his Chicken Dinner. I cook a mixture of chicken thighs, carrots, kale with rice. (deboned of course.) He knows exactly what time dinner is every day.
Sometimes he gets his favorite treat from Papa: Kishka. (Stas is a nice Polish dog!) We do leave a bowl of dry food out for him for snacking throughout the day. (Pedigree.)
What are the three things you feel has contributed to his longevity?
We work to make his quality of life as pleasant and rewarding for him with lots of excursions to his favorite places. We also make sure he gets lots of exercise, adjusted for his capabilities. He has his little "sister" who keeps him grounded. She doesn't know he's a three-legged dog; she teases, wrestles and nips him. And he her!
What advice would you give to someone facing a cancer diagnosis?
Go to tripawds.com! The advice and support we received made all the difference for us. That we felt supported and educated, we were able to support Stas.
If you would like to submit your Triumphant Tripawd's story, contact us today and answer the questions above. We can't wait to read your tails!