Do you have a pawesome veterinarian?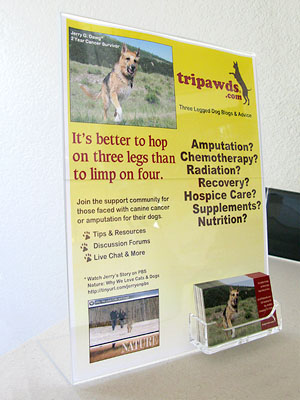 Does your vet know about the world's biggest community for 3-legged dogs and their humans?
Whenever you meet a vet, or someone who works in a vet's office, be sure to let them know about Tripawds, by passing along  a stack of Tripawds business cards, or one of these nifty countertop displays.
These cards and displays are pawsible thanks to everypawdy's generosity during our Annual Tripawds Campaign. Thank you!

Tripawds' motive with these outreach materials is to spread the word, but our other objective is to find veterinarians who can take a few minutes out of their day to help alleviate the more technical concerns of pawrents, in our Ask a Vet Discussion Forum.
Since 2008, TazzieDog has generously staffed this forum, but it would be fantastic if more vets could chime in to help free up some of her time. We know how busy vets are, and are grateful for any level of participation they might be able to offer, either in the Forum or in a monthly "Ask a Vet" Live Chat.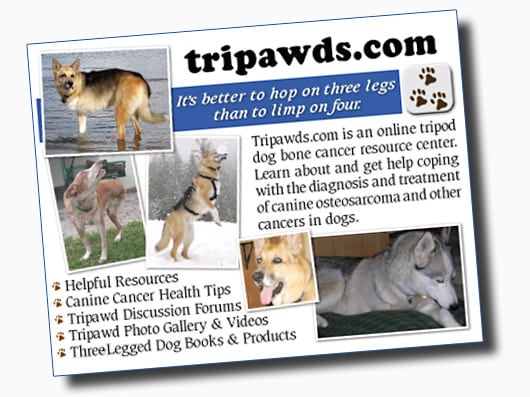 Next time you're headed for a vet appointment, remember these Tripawds business cards and flyers you can print at home. Take some along and ask them if they'd like a display! If so, we would be hoppy to ship one to their office, along with more business cards, or you can feel free to contribute to the community by ordering a vet display in our Amazon Blog.
Then, don't forget to gently persuade your vet to come visit our Forums and chime in occasionally! Thanks so much.