No animal should ever experience what Oscar went through.
Abandoned in a dumpster at eight weeks old, Oscar was found with a broken jaw, spine and hip damage. He needed extensive surgery and rehabilitation that would have cost thousands of dollars. Despite the horrible start he got in life, Oscar remained happy and joyful toward everyone who came to his aid.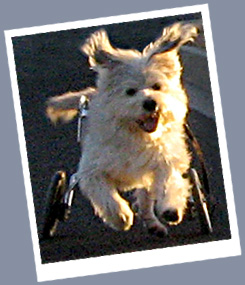 What a twist of fate that Oscar became a family member of Dr. Laura Hady, a  veterinarian certified in canine physical therapy. Dr. Hady worked on Oscar extensively, but despite the dedication of his PT team, Oscar needed a leg amputation in order to improve his mobility.
After surgery, his therapy continued, and once he was given a cart, that's when life got really good.
Oscar was finally able to roam with his buddies, showing a zest for life that's hard to match.
He became such an inspiration to Dr. Hady that she started The Oscar Foundation, which raises funds for surgery and animal rehabilitation care for pawrents who can't afford it.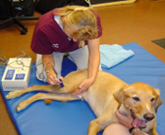 Oscar doesn't want anyone to euthanize their best friend because they can't pay for rehab. He works hard to raise funds and help friends with mobility challenges.
If you have ever known the heartbreak of not being able to afford medical care for an animal, or just want to help, we urge you to join him in his efforts, by visiting the Oscar website and learning more about this great organization.