People say it takes a village to raise a child, and we believe the same thing can be said about dogs too.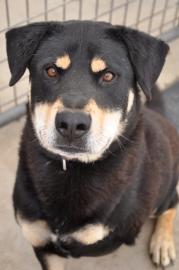 Tripawds first ever Cannonpaw Run Rescue was a huge success, but it couldn't have happened without the dedication and help of so many compassionate dog rescuers who dedicate their lives to finding homes for dogs like Miles.
Miles came to our attention when Tshuvah's Mom Beth, a Taos resident, originally discovered him at the local animal shelter. Miles caught her eye because of his unique quality. He was a Tripawd, just like Tshuvah.
Beth noticed he had been at the shelter far too long. Worried that maybe he would never get adopted because he was missing a front leg, Beth wanted to help, so she told everyone at Tripawds.com about this very patient, three legged dog.
Less than one week after Beth told the Tripawds community about Baggins, Angel Raven's Mom, Dawn, of Auburn, California, vowed to adopt the boy after seeing his photo on the Tripawds website.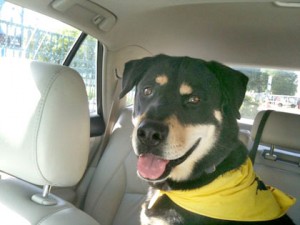 That's all it took for Tripawds members to coordinate a rescue road trip that took this lucky pup more than 1,600 miles to his new home. He was renamed "Miles" in honor of the many miles he traveled to get there.
The trip involved eight drivers across six states over a 48-hour period. We would like to thank our Cannonpaw Run drivers:
Maria from Stay Hearts Animal Shelter. She drove Miles from Taos to Santa Fe.
Dave Sarver with Basset Hound Rescue. He drove Miles from Santa Fe to Colorado Springs.
Tripawd Nikki, Sasha and Angel Buddy's pawrents, Mary and Ted, who fostered Buddy for the night in Colorado Springs, and drove him to Fort Collins.
My Dad, Jim (aka Admin Guy), who drove Buddy to Salt Lake City.
Jennifer Bunker, Dawn's Facebook friend who drove Miles to Winnemucca, Nevada.
Tamsen, Dawn's friend in Winnemucca, who safely delivered Miles to Dawn in Reno.
Please visit Miles' blog to see how he's adjusting to life with Dawn and Bulldog Betty.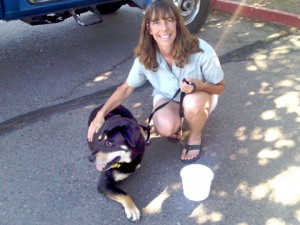 The Tripawds Rescue Forum is a free service, which often gets updated with new three legged dogs in need of adoption all over the country. Just since Miles' rescue there have been three more dogs added. Please visit the Forum to add Tripawds you know are looking for homes, and help spread the word via our Tripawds' Facebook page too.
The Cannonpaw Run was the first time Tripawds members have coordinated such a rescue road trip, and we hope there are many sequels to come!
In case you missed it, here's a touching video Dawn made about Miles' journey:
[youtube]http://www.youtube.com/watch?v=oqR52NReLbk[/youtube]