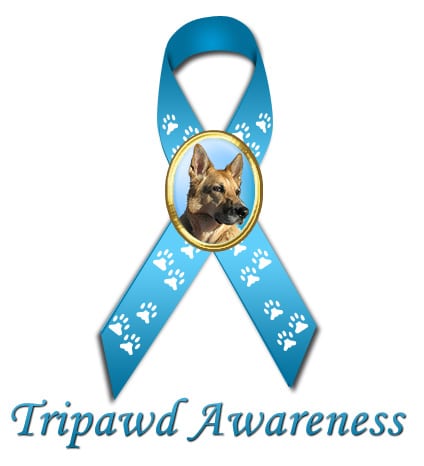 Tripawds discussion forum member Borzoid created this beautiful tribute ribbon promoting tripawd awareness. We just had to share it with you, and we hope you'll share it with others.
If you have a website or blog, please feel free to use these image as a link to our three legged dog blog or discussion forums.
Or, better yet … help us promote awareness of tripawds living happy healthy lives at your vet's office, doggy day care, or local animal shelter.
Simply download and print these tripawd awareness fliers then clip apart the contact info so people can tear off the website address and take it with them.
We offer this in our continuing efforts to promote awareness of cancer in dogs and amputation as a solution for continued health and well being. And we thank Borzoid for helping!
Don't forget about these other fliers and cards available to share with people who tell you, "Awwww, poor dog…" when out on your walks.