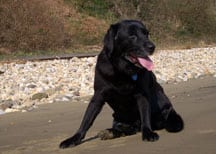 A lot of people wonder whether or not the should put their senior dog through amputation and cancer treatments. Well, I want to share a story that we received the other day, about Bracken; a dog that was diagnosed with osteosarcoma at age 7, and lived to be fifteen years old! Here is her inspiring story, as told to us by Ruth, her human:
My Labrador Bracken was diagnosed with os after several months of going back and forth to the vet's, being treated for arthritis. Eventually, I asked for a referral and got the OS diagnosis. We agreed to amputation and chemotherapy. Bracken's cancer was in the hip joint, so as well as the leg, her whole hip had to go too. The joint was so bad it fell apart in the oncologists hands as she removed it.

However she recovered in leaps and bounds, and was soon back swimming again. We changed her diet to home cooked cancer diet on the oncologists recommendation, and added in the supplements selenium, garlic tablet and Omega three oils.

We were not given false hope by the oncologist: she said we would have 6 months to a year, but it would be a pain free excellent quality of life. But miracles do happen! The cancer never came back, Bracken was diagnosed aged 7, and died two weeks before her 15th birthday from a massive stroke.

She never once missed her leg and still played and swam and dug and run and enjoyed her life to the full. She is much missed.