Last November when I had my surgery, my Mom was a little upset that my Dad posted my surgery photos on Tripawds. He wanted everyone to see my battle scar because he thought it was cool. My Mom wasn't amused.
Not too long ago, I got an email from Bear, a big ol' dawg that got the bad osteosarcoma news that he'd be a tripod dog soon. His people were worried, but his Dad said
"Both my wife and I were very happy that we had seen Jerry's pics before Bear had his surgery. It would have been much more traumatic to have seen it for the first time when we went to pick him up."
Ha! That made my Dad feel good. And then my Mom agreed, and said "well, yeah, we had never seen any post-op photos of an amputee dog either." When she first saw me come out of the hospital, she almost fainted!
So, in the interest of canine health education about bone cancer, here is Bear's story, post-amputation surgery photos and all.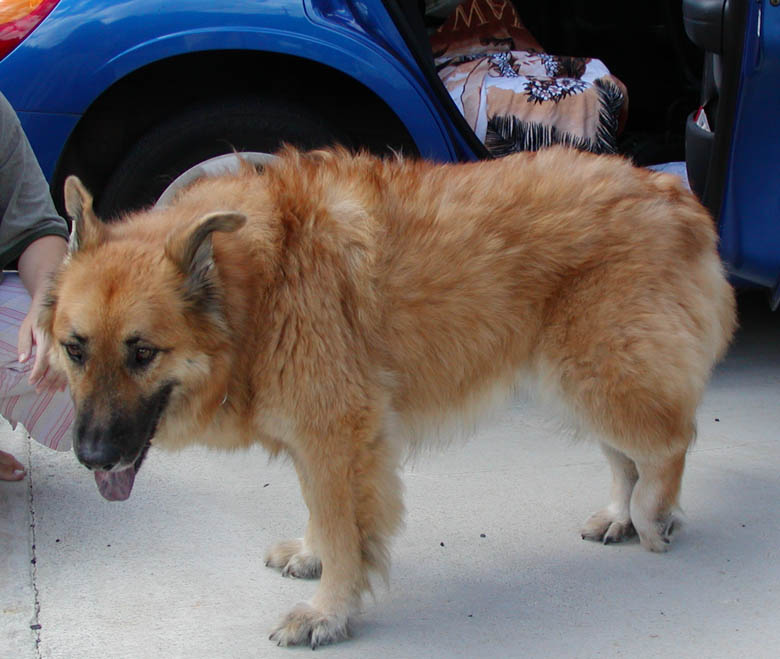 This is Bear, before his surgery. See, he's limping just like I was. Ouch!
Then, look at Bear, after his surgery.
Don't worry Bear, that big furry coat will grow back. Mine took about 6 months to come back completely, but now I'm more handsome than ever! And remember, even though you lost your leg, you're lucky it was a back one. See, when a dog loses a rear leg, it's much easier than when he loses a front leg like me. Dogs carry most of their weight on the front legs. Rear leg canine amputees have an easier time getting around. But watch out Bear, I'll bet I can still beat you in a race for a stick!
Bear is doing great now. His Dad says:
"It's been great to have him back to his old self. It's been a week now, and he barely seems to notice anymore. . . He's eating really well, and he's getting a lot better at taking walks and wanting to go check out his old haunts to make sure everything's OK and re-mark his territory."
Are dogs cool, or what? Yeay for bear! Go get 'em pal!