Join The Discussion
Learn about life on three legs in the forums below. Browse and search as a guest or register for free to take advantage of member benefits:
Instant post approval.
Private messages to members.
Subscribe to favorite topics.
Join the Live Chat and more!
Tripawd Heroes Book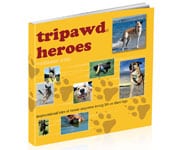 Tripawd Heroes books feature inspirational stories and photos of dogs loving life on three legs!
A
A
A
Hi all my 8 year old Great Dane Murphy was diagnosed yesterday with osteosarcoma. Waiting to hear back about his blood test results. Just wondering if amputation for his age will help him or not. Both of his ACLs are also not in great shape. Any and all information is welcomed and appreciated

Livermore, CA


Forum Posts: 2455
Member Since:
18 October 2009

Offline
Hello and welcome, your future posts will not have to wait for approval.
I'm so sorry you got the OSA diagnosis for Murphy- is it a front leg?
What does your vet think about Murphy being a tripawd? Does he think his legs will hold up? How active is he normally?
I know there are other members who decided on amputation when the other limbs were not perfect- often because of arthritis concerns, hopefully some will give input soon. 
My two rear amp tripawds both were/are small so I don't have direct input on the size issues. 
You might want to look through Jerry's Required Reading List or download one or more of the ebooks from the Tripawds Library.  Both have lots of information on what to expect with amputation and recovery.
You might also find inspiration from the Blog of Queen Nova, a front amp Dane who overcame cancer and blindness! Nova crossed the Bridge in 2013 but lived life to the fullest as a Tripawd for more than 4 years.
Karen and the Spirit Pug Girls
Tri-pug Maggie survived a 4.5 year mast cell cancer battle only to be lost to oral melanoma.
1999 to 2010

The Rainbow Bridge

Forum Posts: 21781
Member Since:
25 April 2007

Offline
Hi Katrina and Murphy,
Thanks for registering as a member, your future posts won't require approval so post away.
I'm sorry to hear about the diagnosis. What does your vet think about his candidacy for being a Tripawd? Has he been evaluated by an orthopedic surgeon? If there's any doubt, a second and even third opinion can mean all the difference between more quality time together or not. It will put your mind at ease knowing you looked at all your options too.
We've had many Danes here who lost a leg at an advanced age. Although some didn't beat the odds and live past the typical prognosis, some have. Just search for "Great Dane" and you'll see tons of examples that will give you hope.
Hang in there, others in this amazing community will chime in shortly.

Forum Posts: 1926
Member Since:
14 February 2016

Offline
We have other Danes on the site.  Eurydice's Mom is pretty active here, so you will probably hear from her soon.  My Otis is a lab/Dane mix, and "small" by comparison at 100 pounds.  He is somewhere between 8 1/2 and 9 now.   Our family vet was more in favor of a limb sparing procedure, and concerned that Otis' mild arthritis in his hips would be a problem.  The surgeon, who unfortunately sees much more of this, thought Otis was a good candidate for amputation.  And six+ months out, Otis is doing great.  We have to watch his activity level.  If he overdoes it, he does get pain.  For example, we keep the stairs gated off during the day and only open them up at night so we can all go up to bed.  Our walks are very short - about 7 houses, with a rest stop at house 5.  But, he is happy and does all his other normal doggy stuff.   So, definitely seek out a specialist who sees this a lot and who can better evaluate Murphy.
Otis - 106 pound lab/Dane mix, lost his right front leg to osteosarcoma on Febuary 9, 2016.  Four rounds of carboplatin completed in April, 2016.  Lung mets August 25, 2016.  Said goodbye too soon on September 4, 2016.   Lost his adopted sister, Tess, suddenly on October 9, 2016. likely due to hemangiosarcoma.  
Wherever they are, they are together.



Forum Posts: 1768
Member Since:
22 August 2008

Offline
My Mastiff Tazzie lost her RF leg and also had weaker rear legs (she had both ACLs repaired prior to amputation) and she did well.  She weighed 190 pounds prior to amputation.  She was able to hop around the yard and play with our other two dogs but she mostly took it easy.  I did limit stairs and she made it clear she no longer wanted to take walks but other large/giant breeds stayed quite active.
Pam
Melissablood
I'm so sorry to hear about Murphy.  I will be brutally honest here.  My 7 year old Dane, Elliegrace, was diagnosed with osteosarcoma last October, 2015.  Her rear left leg was amputated later that month and we thought we had caught the cancer before it had spread to her lungs, which is tends to do.  She was happy and healthy until March of this year and she started to go downhill.  When we took her into the vet, the cancer had spread to her lungs and we had no choice but to put her to sleep.  It broke my heart, but I simply had no other choice.  I had 5 additional months with her....but we'd hoped for longer. 
Forum Posts: 4648
Member Since:
21 May 2016

Offline
Hi Murphy and Katrina❤️
So sorry you find yourselves here but given the circumstances there is no better place for support and first hand information.
I also have an arlequin she is 150 pounds/68kg, 77kg preop and a front leg amputee.
Surgery was performed almost 4 months ago and she is doing really great.
Eurydice is only 5 and has no ACL problems so I cannot give you any specific advice there.
Nevertheless, there are many dogs here with ACL problems, arthritis, etc who went through amputation and done really well.
My girl is doing hydrotherapy which is brilliant for her muscles, maybe Murphy could do rehab as well in due course ? 
I would definitely talk to the surgeon to check Murphy is a good candidate for amputation and then discuss rehab as soon as recovery is over.
Recovery is hard for the first couple of weeks but everything gets better after stitches come out.
Crucial to have traction dealt with so Murphy doesn't slip (if you have hard wood or tiled floors), I placed carpets with rubber underlay underneath everywhere and she really sticks to those paths whilst hopping around. 
The other really important tool is a good harness. 
Eurydice wore a t-shirt with a soft harness on top 24/7 until stitches came out and then I switched to a ruff wear harness which is great as it has a handle so we can help them in and out of the car etc easily.
As for going up and down stairs, my girl doesn't do it at all and I doubt she will ever be able to.
Some biggish dogs (by our standards) like beautiful, sweet Otis have managed to tackle this but some don't, like my girl and gorgeous Happy Hannah who was a mastiff. 
We are all here for you so do not think twice in asking any questions, big or small.
I LOVE Murphy's picture, how heavy is he? 
Sending you and your gorgeous boy an avalanche of hugs and cuddles and woof woofs from Eurydice 🐾🐾

Green Bay, WI

Forum Posts: 581
Member Since:
18 May 2014

Offline
Hi Katrinia and Murphy....just wondering if there are any updates?
Paula and Nitro
Nitro 11 1/2  yr old Doberman; right front amp June 2014. Had 6 doses carboplatin, followed by metronomic therapy. Rockin' it on 3 legs!  Follow his blog entitled "Doberman's journey"
http://nitro.tr.....27_2_1.jpg
Craig Pawlik
So sorry about Murphy. Our 9.5 year old golden, Sherlock, had his rear right leg removed on July 20. He starts chemo on Monday. He was in so much pain that we had no choice but to have the leg removed. We did get two opinions. Both were the same. My wife and I both had a tough time with the decision. It was the best move that we could have made. He is doing fantastic. Back to the old Sherlock , always looking for trouble ! Yesterday he , along with his brother Watson, gave chase to a groundhog. Amazing how well he moved. The most important thing is to get as much information as possible. This site was a great help to us. I am sure you will do the best thing for Murphy.

Here and Now

Forum Posts: 10868
Member Since:
25 April 2007

Offline
Melissablood and Craig Pawlik: Thanks for the feedback! Please consider registering to take full advantage of the many resources the Tripawds Community has to offer.
Thanks all for your amazing support and making me feel welcomed! Murphy is 125lbs. We just got him on Gabapentin. He seems to be in good spirits and came running up to me when I got home from my first day back at work. He is still weight bearing on his front left leg at the time being. I am waiting to hear back from Tufts to see if he will be a good canidate for a clinical trial they are currently doing.  My primary vet did say his blood work came back fine except for (something I can't remember right now dealing with his kidneys)was a little bit low. But she did not seen too worried about it. 
I am so happy I found this website and truly am grateful for all of your support and kindness ☺️
Forum Posts: 4648
Member Since:
21 May 2016

Offline
Update on Murphy. 
He got into the clinical trial and had his left front leg amputated on Friday. Hopefully he will be coming home today necause I really miss him. 
Any tips, hints, or reccomendations for what to do to help his recovery at home. We aready laid down a trail of carpets leading outside and he has a Big Barker Bed so those areas are all set. Please I welcome any info out there! Sending out love and tail wags 💙🐶

Michigan
Forum Posts: 1262
Member Since:
2 April 2013

Offline
The big guys sometimes have a harder time getting up & about, but once they do, they do fine.  So if he's having a hard time getting going, don't freak out, it's just normal.  I think because the big guys just have more to balance. 
Make sure you get a really good harness for him.  Many of us use the Webmaster Ruffwear harness.  It has a handle on the back/top of it and really makes a difference in helping to manipulate in & out of the car, with stairs, etc.  If you haven't already, you'll need to have something down on the floors - wood/tile floors are too slippery for tripawds, so carpet, rugs, yoga mats are recommended.  The first couple of weeks are the roughest - you're going to be giving pain medications every few hours.  Our Murphy came home on Tramadol, Rimadyl & Gabapentin.  Some have Fentanyl patches and some have antibiotics.  The pain medications make them not quite themselves, and that's ok.  Right now rest is the most important thing.  So sleep & leashed potty breaks are about it for activity until the staples come out.  You can apply an ice pack, wrapped in a towel, for about 10-15 minutes a few times a day to help with pain and swelling at the incision site. 
Keep in touch!  In the evenings, there is usually someone available in the chat room, or you can always call the help line if you need to.  If his pain is not controlled, don't hesitate to call your vet.  Sometimes it's a fine line to control their pain.
Donna
Donna, Glenn & Murphy  http://murphyh......pawds.com/
Murphy had his right front leg amputated due to histiocytic sarcoma at 7 years old.  He survived 4 years, 2 months & 1 week, only to be taken by hemangiosarcoma at 11 1/2 years 6/12/17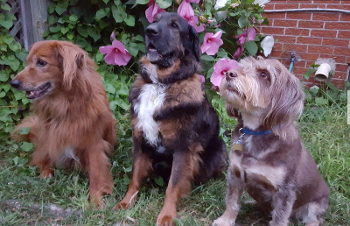 Forum Timezone:
America/Denver
Most Users Ever Online: 597
Currently Online: hester, sessy, giantsquid, henrysmami
82 Guest(s)
Currently Browsing this Page:
1 Guest(s)
Devices Used: Desktop (67), Phone (14), Tablet (5)
Member Stats:
Guest Posters: 957
Members: 10140
Moderators: 2
Admins: 3
Forum Stats:
Groups: 4
Forums: 23
Topics: 13696
Posts: 189791