Join The Discussion
Learn about life on three legs in the forums below. Browse and search as a guest or register for free to take advantage of member benefits:
Instant post approval.
Private messages to members.
Subscribe to favorite topics.
Join the Live Chat and more!
The Tripawds Library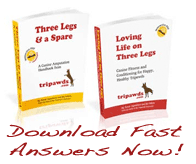 Download Tripawds e-books for fast answers to common canine recovery and care questions!
A
A
A
Diesel519
Hi there ..so glad that this site is here. It's been so helpful. My 5 year old great Dane was diagnosed with osteosarcoma in his left front leg on Monday dec 6th 2011. Luckily, we know an amazing vet /surgeon who is a specialist in this field. Got an appt for tues am and had the amputation done. We got the chest and lung xrays back and all is clean for now. Still waiting on biopsy results. We will start chemo as soon as we know the protocol needed. Any suggestions for a good cancer diet for A dog on chemo? We have had him on a raw diet his whole life but I've read it's not good durimg chemo.
Diesel came home yesterday and is doing fairly well on 3 legs. He is at 129 pounds. He is Panting a lot, I guess from the pain meds but as I read this is expected. He does get tired quickly though. And has to pee very frequently for some reason.
Does anyone have suggestions for the lean appropriate time is to leave him by himself and if we should use his crate or keep him in a isolated area? We don't want him to hurt himself. Sometimes he rolls over onto the side of where his stitches are and cries. It's the most heart breaking thing ive ever experienced, but as Ive read, we are trying to keep a positive uplifting attitude for him. Any suggestions for how to manage the heart ache in front of him? I just want to do my best to prolong his life and fight off this horrible thing called cancer.

Washington
Forum Posts: 982
Member Since:
1 February 2011

Offline
First off, welcome to the club that nobody wants to join. We have quite a few Dane's here, and I expect they'll be very helpful regarding issues specific to large dogs. Check out users Danemom or Angel, to name a couple. They both have blogs. Danemom is proud momma to Queen Nova who recently celebrated her 3 year ampuversary. Her's is a very, very inspawrational story.
I would think it would be easier to keep Diesel in an isolated area vs. a crate. That way if you need to help him get up, you have unfettered access. It sounds like you're already doing a lot of the right things. Stay pawsitive, and ask questions if you need to. We're here for you!
Micki and Rio
~ ~ Rio ~ ~
Forever in my heart...
April 2000 – January 20, 2012
Diagnosed with Mast Cell Cancer in June 2007. Left rear leg amputated Feb. 8, 2011.
Mets discovered Aug. 31, 2011. Read more of Rio's story here.
Grand Rapids, MI
Forum Posts: 65
Member Since:
21 September 2009

Offline
Welcome!  ...to the club no one really wants to join! 
Unfortunately, I can't help answer any of your questions... Our greyhound Boo is on a special diet for kidney issues, and our recovery was not the "normal" experience.  (Long story short - we had a few "greyhound-typical" post-op bleeding complications).    
The good news is - as of yesterday Boo's is 27months post-amp!  (And was running around in the snow today like a 4-legged puppy)!  Also lurking around on these forums is a Dane we refer to as "The Queen" Nova!  Here is a link to her blog:  http://nova.tripawds.com/
Hopefully you two will find each other on the forum!  They are full of great stories, and have lots of advice for Danes and their companions/owners!  
Hang in there - it does get better!   
- Amanda & Boo
Boo became a Tripawd Warrior Princess on Sept 8, 2009. She crossed over the Rainbow Bridge 2.7 years later on April 29, 2012. Run free Angel Boo!

Washington
Forum Posts: 982
Member Since:
1 February 2011

Offline
~ ~ Rio ~ ~
Forever in my heart...
April 2000 – January 20, 2012
Diagnosed with Mast Cell Cancer in June 2007. Left rear leg amputated Feb. 8, 2011.
Mets discovered Aug. 31, 2011. Read more of Rio's story here.

San Diego, CA
Forum Posts: 2503
Member Since:
29 October 2010

Offline
Hi and welcome to you and Diesel,
Not sure about the crate v. isolation question - does he like being in a crate? If so, that's probably a fine option for him. Abby is not a crate gal, so we just left her in an isolated area when we had to leave her alone (although, admittedly we were lucky and it was not often she had to be alone since I work at home).
For diet, a very important thing is to go grain free . There are good options out there.
As for managing the heartache - I know how hard it is to see your pup in pain, but you'll get through. First of all, what pain meds is in he on? Abby was on Tramadol and Metacam, but I've heard good things about Gabapentin (in fact, we are starting it tomorrow for a new issue w/ Abby.) Secondly, I know how devastating the whole diagonsis/surgery/recovery thing is. It all comes so fast and seems so unfair. But there can (and will!) still be good times ahead for you and Diesel. Hang on to that!
We're here for you if you have more questions or just need to come here and vent/have a little melt down. We've been there!
Jackie, Abby's mom
Abby: Aug 1, 2009 – Jan 10, 2012. Our beautiful rescue pup lived LARGE with osteosarcoma for 15 months – half her way-too-short life. I think our "halflistic" approach (mixing traditional meds + supplements) helped her thrive. (PM me for details. I'm happy to help.) She had lung mets for over a year. They took her from us in the end, but they cannot take her spirit! She will live forever in our hearts. She loved the beach and giving kisses and going to In-N-Out for a Flying Dutchman. Tripawds blog, and a more detailed blog here. Please also check out my novel, What the Dog Ate. Now also in paperback! Purchase it at Amazon via Tripawds and help support Tripawds!

Here and Now

Forum Posts: 11262
Member Since:
25 April 2007

Offline
Diesel519 said:
Any suggestions for a good cancer diet for A dog on chemo?
A high protein grain free diet is best for cancer dogs. Cancer feeds on carbs, and Epigen makes a totally starch free kibble.
... and if we should use his crate or keep him in a isolated area?
Confinement is indeed key to safe recovery, a small gated off area with water and a comfortable bed is best.
Any suggestions for how to manage the heart ache in front of him?
Jerry taught us laughter is the best therapy.
Best wishes for Diesel's speedy recovery. Consider registering to take full advantage of these forums, blogs and chat room .

Las Vegas, Nevada
Forum Posts: 4344
Member Since:
14 August 2009

Offline
Welcome to tripawds. I am sorry you find yourself and I'm so sorry to hear of Diesel's diagnosis. 
It is so hard to watch them in pain.  But just remember he has to heal and the pain will be gone soon.  It's just takes time.  Like admin said, laughter and happy thoughts go a long way.  You may want to try to cheer him up when he cries in pain. Maybe a treat to take his mind off of the crying.
When I went through an orthopedic knee surgery, my Comet cried and cried and cried after her surgery.  She had a morphine patch on, so there was nothing I could do more.  But we "talked" all night long.  She wasn't up to eating, but I talked to her about her favorites foods. Donuts, cookies and treats!  She loved those words. I offered them to her but she didn't wnat to eat.  However, she listened and would stop crying. I did it for hours until she fell asleep. 
Lots of healing wishes coming your way!
Comet - 1999 to 2011

She departed us unexpectedly  January 23, 2011 at the age of 12 1/2.

She was born with a deformed front leg and a tripawd all of her life.


Forum Posts: 707
Member Since:
14 April 2010

Offline
Wewlcome to the family.I found Gus was extremely uncomfortable on tramadol, we had to stop after a couple days at which point we had him on Gabpentin and Rimidyl. I bought a 50 ft. nylon rope so that he could walk around if he wanted, no weight to it but yet it kept him from overexerting as he would have been trying to do way more than he should have. My personal opinion on crate vs. confinement would be confinement so he could lay as he wants without restrictions and still mocv around if wanted. Actually, try to keep as much the same as before surgery, obviously taking precautions for traction , and maybe steps, depending on how he adjust to three legs. Gus was using steps the day he got home, but he was extremely strong and had already been using only three legs almost a good week before surgery.Your in the tough time right now, grab some sleep if you get a chance, you can get wore down pretty fast and showing little to no anxiety goes a long way in the recovery for the dogs. you will find what works best for you as you go, just like raising kids, no two exactly alike. don't be afraid to ask anything, experience gives the best answers, and usually someone here will have had to deal with something you might encounter, Paws Up, Spirit Gus and Dan 
My buddy Gus had a left front amputation on April 7, 2010 and lived a great life until July 26,2010

Forum Posts: 303
Member Since:
13 June 2011

Offline
Welcome Diesel and family. Bo was a front left amp too. Bo never used a crate but we got one after surgery. He never stepped paw in it. He did like sleeping in the guest bathroom for a couple of weeks. It's small, dark, and cool, so I think he felt safe in there.
It's hard not to be sad, but in a couple of weeks, Diesel will star feeling better and you will too. Come here to vent and be a strong pack leader in front of him.
Good luck and post some pics when you can! We love pictures around here!

Leicester, NY
Forum Posts: 422
Member Since:
11 February 2011

Offline
Nothing new to add but welcome Diesel! How bout some pictures?
Spirit Samson was Spirit Tripawd Daisys four legged "brother" and ruled as the self proclaimed head of the Monkeybutt Federations East Coast Division. Lady Chunky Monkey stayed from Oct 2011 and left for the bridge in Apr 2012. Miss Perdy is left and has some big pawprints to fill.
Do you have what it takes to be a Monkeybutt? Find out more at the Monkeybutt Federation
Forum Timezone:
America/Denver
Most Users Ever Online: 597
Currently Online: jerry
48 Guest(s)
Currently Browsing this Page:
1 Guest(s)
Devices Used: Desktop (42), Phone (6), Tablet (1)
Member Stats:
Guest Posters: 993
Members: 11800
Moderators: 2
Admins: 3
Forum Stats:
Groups: 4
Forums: 23
Topics: 14620
Posts: 205466