Join The Discussion
Learn about life on three legs in the forums below. Browse and search as a guest or register for free to take advantage of member benefits:
Instant post approval.
Private messages to members.
Subscribe to favorite topics.
Join the Live Chat and more!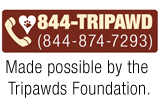 Want to talk with a friend who understands? Call the toll-free
Tripawds Helpline
!
A
A
A
Hi all! Paka Tom is blushing with all the compliments 

he says Asante Sana (thank you very much). We went to the vet yesterday, and had to spend a very long time there because he refused to co-operate with giving blood and they couldn't sedate him so soon after Monday. I have to take him back in this morning and they will have to sedate him again.. poor thing is so choked up with different medicines and chemicals, I really hope his body can take it. I hate putting him through this, but I know it's better than the alternative. Results will only come on Monday though, I really hope these small delays aren't detrimental.
He is covering up his bad arm
he licks it often and has started shaking it suddenly, he gives it a little shiver every now and then as if trying to get something off it. He hasn't started chewing it yet, but I will be very watchful of that.
I haven't yet managed to find a place that does titers here but I'll ask a couple more vets and friends, and maybe even check with the local university if that's an option. Still waiting to hear back from the vet on VAS - also going to check with his previous one for the records. It makes me so angry that VAS is an established thing and people are still made to believe that vaccinations are all good. We all think we're doing the best for our babies and then something this big catches them..
More Kiswahili lessons - 'beautiful' is 'mrembo', 'handsome' is 'mtanashati', and thank you so much you watu wazuri (wonderful people)

will update as soon as anything changes. Hope you all have a wonderful weekend
Asante Sana very updating us I looked yesterday thinking about you guys!
Paka Tom is not going to be happy poor guy we have had other kitties that had to be sedated to get anything done at the vet he is not the only one! I would TRY not worrying about the delays . There really isn't a choice and you can't move forward without good blood work. This is really good that the Vet is doing this and taking all the precautions!! I would make a mental note on proceeding and 10 days at the Vet. Sooner you can safely get Tom home the better he will not fair well with 10 days at the vet!
I am glad he isn't chewing it Purrkins started chewing his and they know something is not right and lets get it off! Purrkins groomed his often too! He didn't shake his.
I know on the VAS it is infuriating this can even happen and I am glad your looking into all the options. Keep searching someone will agree with you don't give up! It took us several vets to finally find one to agree on no vaccinations we are no longer even asked at his office !
They are out there few and far between! Titers too! Not all vets do those here either but they are out there!
We are still sending pawsitive thoughts for todays visit and Mondays results increase blood count & better liver values results!!
Mrembo Tom will need extra treats for todays visit when he gets home;) We hope you guys can have a better weekend with lots of love and spoiling!
Asante Sana for the lessons;)
Hugs!
Holly & Purrkins❤️


Forum Posts: 1176
Member Since:
27 July 2014

Offline
My tripawd cat Mona is very relaxed at the vet clinic and comforts my male, Eli, by draping her body over his. The vet somehow got a urine and blood sample from Eli with Mona on top. Mona just ignores Eli at home and does not allow him to even touch her. Once I met a dog at the same clinic and they bring their cat along to comfort the dog. Would bringing your other cat along possibly calm things down? It could be chaos but their personalities can change at a clinic.
My vet said neither of my cats will get vaccines again. They are both over 10 years old. If cats are indoors only they do not need to be re-vaccinated and titers may not be necessary. Here's an article from animal immunologists you may find helpful: http://kobifund.....axvas.html
Vaccines are effective a lot longer than 1 year. They have been able to label some as 3 year vaccines. Dr. Schultz, only re-vaccinates his dogs every 7 years. Also, some vaccines are considered core vaccines and rabies shots are required by law in some places. Then there are non-core vaccines that generally aren't necessary.  It's important to look at your cat's lifestyle to determine if vaccines are necessary after the initial kitten vaccines. It's a good discussion to have with your vet.
Back to your Paka Tom, who's making your vet work hard. You can try both cold and warm packs or face cloths on his tumour to give him some comfort.
Hugs for all,
Kerren, Eli, Tripawd Kitty Mona
Paka Tom, you are a very mtanashati Paka! I know it's difficult to be brave my love when going to dr's,

but try and be a good boy for Mum! (translation please?) 
Mrembo Tom, I so feel for you, we know you want to get rid if that painful leg sweetheart,
but you need to be in top health and be very strong. Eat lots of kuku this weekend and surround yourself with your Watu Wazuri and soak up all the love! 
We will all be praying for you this weekend and send you tons of energy full of love and strength. You will be our new Mashujaa!

Mum, Could we please have the translation for Mum, Hello, Love, Hello & Farewell?
Sloppy kisses from Stewie👅🐾
& all the very best from his adoring pack,
Petra, Paul, & his feline siblings, Mr. Spike, Chester Molester & Miss Lily 🐾🐾🐾❤️.
http://stewie20.....pawds.com/
Jambo (hello) everyone! Paka Tom has lovely news! His bloodwork came back, he has been responding to iron supplements and is no longer in anesthetic threat, which means we can 98% proceed with surgery this week! The iron has also been giving him more energy - he's less grumpy and just seems healthier! We have to take iron for 2 more days, and get a final x-ray analysed before we lock in on a date for surgery.
That's really interesting that Eli comforts Mona at the vet! We have never tried taking Tom and Leo together since they are mortal enemies at home already, but it might be worth trying - Tom seems to have come to terms with vet visits - he still gets very anxious but he seems to understand that he's going to be home soon, and if I'm waiting with him he generally fares better. But I've definitely made note for future visits.
Tom has been so brave and Mama (Mum) is very proud. He seems to enjoy warmth on the area, so I've been placing a little hot water baggie around him and he adjusts himself depending on how much heat he wants on the leg.
I spoke with his old vets about the possibility of VAS, but from my understanding the cancer develops at the site of vaccination, and he received all his vaccines on the back of his neck. But regardless, we are being very cautious with vaccinating now, and as soon as Tom is sorted and healing we are investigating alternatives and spreading the word!
I will post again as soon as we have a final word on surgery, and sending all of you hugs, face-rubs, licks and all forms of affection for all your support and love.. Thank you all for sending love, kindness, support, advice and warm thoughts across the ocean

P.S. love- upendo (this one is tricky, it changes depending on how you want to use the word); farewell- kwaheri




Yaaaaaay Paka Tom this is fantastic news!!! Of course he is feeling better having Anemia makes anyone feel lousy & tired & grumpy!
Our pawsitive thoughts and wishes made it across the ocean!! Never underestimate the tripawd nation;) 
Great job on the warm baggie you can do that after surgery too, the hospital iced Purrkins for 3 days and we had instructions for warm compresses! Our instructions were to a wet washcloth in a baggie and warmed in microwave he loved his warm compresses! I always tested it on myself first so I knew it wasn't going to be too hot. 
As for the vaccines did you see this when you were in the VAS forum? Kerren Mom to Mona is a front leg VAS survivor .
As disgusting as it is we vaccinate in those areas because we can take legs if they get VAS! Do some more looking into it for both your kitties!! Titers too. As Kerren mentioned vaccines are proven to last a lot longer, some are not even needed, depending on life style. We are over vaccinating cats ! Immunity for some vaccines are life long in cats! Thats where the titers help! They determine if they are needed! With Tom in my opinion only;) I would say no more! 
Thanks for the update & keep us posted!
Much upendo to Paka Tom & Leo
Hugs! Holly & Purrkins 

P.S. Another article 
How to Help Make Your Home a No-Feuding Territory

Virginia


Forum Posts: 16024
Member Since:
22 February 2013

Offline
YAAAAAAAAAY FOR TOM!!!!       So glad to hear the Iron is doing its job 🙂 🙂 🙂
Geez Holly...vaccinate in the leg because rhey can always amputate later.....sooooo wrong on so many levels!!
Happy Hannah had a glorious additional bonus time of over one yr & two months after amp for osteo! She made me laugh everyday! Joined April's Angels after send off meal of steak, ice cream, M&Ms & deer poop!

The Rainbow Bridge

Forum Posts: 23385
Member Since:
25 April 2007

Offline
Hooray for Paka Tom! What a pawsitive update to a tense situation, I'm so glad his body is fighting back and ready to rock life on three legs! Must be all that Tripawd Power 🙂
And what a great thing that this community can help you spread the word about VAS in your country. The more people who know, the less kitties will suffer from the consequences. 
Let us know when the big day happens!
Jambo Mama &  mtanashati Paka Tom!
Good lad for coming back strong! Keep up the good work little fella. Mama you're his angel! Well done for keeping these vets on their toes and doing your investigations! We will keep you in our thoughts and hope that all continues to stay pawsitive. Please keep us updated.... we're on this path with you and your mrembo Tom and cheering you along the whole way!
Upendo to you all and asante sana for the continued Kiswahili lessons! Kwaheri for now Paka Tom & Mama!
Sloppy kisses from Mbwa Stewie👅🐾
& all the very best from his adoring pack,
Petra, Paul, & his Paka siblings, Mr. Spike, Chester Molester & Miss Lily 🐾🐾🐾❤️.
http://stewie20.....pawds.com/


Forum Posts: 1176
Member Since:
27 July 2014

Offline
Hey Paka Tom and Mama,
That's great news! I'm happy to hear Tom enjoys the warm packs and it gives him some comfort. After Mona's amputation she seemed to like coolness on the incision and would choose to sleep on tile on her amputated side.
It really is wonderful that there is a team of tripawd mamas and papas that can share their experiences with you. It was new to all of us at one time.
Hugs to all,
Kerren and Tripawd Kitty Mona
As disgusting as it is we vaccinate in those areas because we can take legs if they get VAS!
Oh god, that's horrible.. things really do need to change.. The thing about tumors developing on vaccine sites was here.
We are tentatively scheduled to go in for surgery on Saturday morning. The vet is really busy this week, and has been a little unresponsive, it's currently a little frustrating although I understand he's not doing it deliberately. Tom's swelling has gotten alarmingly big and seems to be causing him a lot of discomfort, but it's so soon and we are just hanging on and spoiling him as much as possible. He's on a regular painkiller schedule, and his x-ray looks good, the tissue is swollen but no other terrible changes (touchwood!).
I spoke to the vet about bringing Tom home sooner, but he insists on keeping him until stitches are out just so he can monitor him (he lives in the place where he practices). I can go visit everyday, and will be sending him with a blankie and taking him treats and love all through.
Warmth and hugs to all of you, will update as soon as the date is fixed!
Thanks for updating us!
We are going to keep sending pawsitive thoughts your way & we will touch wood too!  Tripawd Power is still coming!;)
Your keeping Tom comfortable which is most important until the surgeon can get him in.
I would be frustrated too!! Hang in there we are almost to Saturday!!
Glad you asked as long as Tom is supervised 24/7 the first few days, he will be under great care! Visiting will help you both! 
Much Upendo to Paka Tom & Leo
Hugs!!
Holly & Purrkins

Jambo Paka Tom Mama & Leo
we are all sending as much upendo and healing power to mtanashati Tom! We are hoping for no more delays on your surgery brave Tom. Stay strong sweetheart!
Asante sana Mama for keeping us updated. Keeping you in our thoughts. Kwaheri for now...
Sloppy kisses from Stewie👅🐾
& all the very best from his adoring pack,
Petra, Paul, & his feline siblings, Mr. Spike, Chester Molester & Miss Lily 🐾🐾🐾❤️.
http://stewie20.....pawds.com/

The Rainbow Bridge

Forum Posts: 23385
Member Since:
25 April 2007

Offline
Saturday can't come soon enough I'm sure! But yes, you are keeping him well-medicated and feeling loved and comfortable. And what care he will have when he has his very own vet butler! 
Hang in there and let us know how things are going.
Forum Timezone:
America/Denver
Most Users Ever Online: 597
Currently Online: Michelle, dobemom, henleygirl
65 Guest(s)
Currently Browsing this Page:
1 Guest(s)
Devices Used: Desktop (61), Phone (7)
Member Stats:
Guest Posters: 1000
Members: 12161
Moderators: 2
Admins: 3
Forum Stats:
Groups: 4
Forums: 23
Topics: 14806
Posts: 207870