Join The Discussion
Learn about life on three legs in the forums below. Browse and search as a guest or register for free to take advantage of member benefits:
Instant post approval.
Private messages to members.
Subscribe to favorite topics.
Join the Live Chat and more!
Looking For A Harness?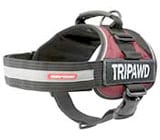 Shop Tripawds Gear for the best harnesses for three legged dogs!
A
A
A
Orange County, CA
Forum Posts: 237
Member Since:
2 January 2010

Offline
At 4:55pm today, Max died in our arms. The fluid from the tumors was causing too much pressure in his chest, and making it uncomfortable for him to breathe. Using ultrasound to drain it would have been a temporary option at best. I'll post more tomorrow, but for now I can say only this:
He was the best dog we ever had, and he loved every second of his life. His final decline came very quickly, without a long, drawn-out, agonizing process. He was gone before he ever felt any real pain, and that's more than many others can say. Hard as it is to see any good in this now, I know we'll be grateful for that later. And most important, the last thing he saw before his eyes closed forever was us, telling him how much we love him.
And to all of you on the Tripawds forum, we can't thank you enough for everything you've done for us since he was diagnosed. Fourteen months ago, Diane and I felt completely alone, like we were the only people in the world to suddenly find themselves with a three-legged dog with cancer. Then we found this forum and realized how wrong we were, and we've been grateful for it every day since. You've been there for us and become more than a support system – you became our online family. We could never have made it without you, and it means more than we can say to have met so many of you in person. From the bottom of our broken hearts, we thank you for all you've done.
And to Max… we will love you forever. Goodbye, old friend.

Edmonton
Forum Posts: 430
Member Since:
16 February 2008

Offline
Dear John & Di, I am so sorry that you had to say goodbye to Max. Take comfort that he was not in much pain. Blessed are your selflessness and courage to make the decision to release him from his broken body. He was a brave boy who fought a good fight.
He is now with his new friends in Heaven where there is no pain...no tears.
My thoughts and prayers are with you. HUGS.

Forum Posts: 407
Member Since:
5 April 2009

Offline
Oh guys , no, no, no, no. We have tears in our eyes as we sit here. We are so sorry Max is gone, we are so happy we got to meet and pawty with the 4 of you. We could see and feel how much you loved him. Everyone knew he was special and he knew how much he was loved.
We are sending love and pawsitive thought's your way. Hug each other and Linda to, alot. Thanks for sharing your wonderful friend Max with us.
Shelby and her crew.

Arizona
Forum Posts: 696
Member Since:
28 September 2009

Offline
I am so very sorry to hear that Max lost his battle today. My thoughts and prayers are with you tonight. Rest in peace beautiful Max.
Jo Ann & Tasha
Tasha 8 years old, First cancer diagnosis 6/26/09, Last cancer diagnosis 9/26/09, Amputation 10/01/09, Loving our girl moment by moment.
Tasha lost her battle and became my Angel on May 4 2011. Forever in my heart….

Kirkland, WA
Forum Posts: 741
Member Since:
2 June 2009

Offline
It's not goodbye, it's goodnight. One day you will wake up, and this life will be a dream, and Max will be beside you, wagging his tail and ready to play. Until then, he will always be with you in the memories of the times you shared. He made your family the people that you are, and for that, he will live on forever. We're thinking about you.
<3 Laura and Jacaroni

Sacramento
Forum Posts: 52
Member Since:
2 March 2009

Offline

Forum Posts: 1218
Member Since:
20 May 2009

Offline
Dear John and Di,
I am so so sorry to read about Max. Through your posts I almost felt like I knew him. I know that you will miss him terribly. Your unselfish decision to let him go was the most loving thing you could do. My prayers are with you. No longer do I need to pray for Max He is happy and healthy once again.
Debra & Angel Emily
Debra & Emily, a five year old doberman mix, who was diagnosed with an osteosaecoma. She had a right rear leg amputation on May 19, 2009. On November 10, 2009 she earned her wings and regained her fourth leg.



Forum Posts: 1768
Member Since:
22 August 2008

Offline

Winnipeg
Forum Posts: 1355
Member Since:
13 July 2009

Offline

Di and John
I am sorry and stunned to read your post. I really did not know the time was so close. I did not imagine Max following Tazzie's pawsteps for a long time to come.
But I am glad Max lived out his entire life as a happy dog and the end was peaceful. You and our superhero Max have been so special to Tazzie and me since we starting talking when you helped us find doggy Drs. this fall. I will think of Max every morning when I see his business card over Tazzie's food bowl - the food bowl and pictures will stay that way for as long as I can imagine the future. I know how hard it will be for you now. You were such good parents and friends to Max. I hope Linda does what she is so good at and that is cheering everyone up.
Susan and Tazzie

Livermore CA
Forum Posts: 684
Member Since:
24 January 2009

Offline

John and Di...I join you in tears. Beautiful spirit Max--how glad I am that you came up to see us last weekend so we could meet you. I'm glad you got to go in the midst of love, before any pain hurt you, but I'm so sorry it had to be. I like what Laura said about it being Goodnight and not Goodbye.
Goodnight, sweet Max. Peace.
Mary
Cemil and mom Mary, Mujde and Radzi….appreciating and enjoying Today

Forum Posts: 932
Member Since:
26 November 2008

Offline
Di and John,
Words are once more failing me when I attempt to describe the extreme sorrow that we are feeling here in Northern California and throughout this entire community. Please accept our deepest sympathy at this very hard time. From all your postings, it was clear that Max enjoyed a very unique love, and it was our privilege to be able to share that relationship. I cannot tell you how wonderful it was to be able to meet all your family at our recent TriPawd Party. I will cherish that memory as I view all the wonderful photos that were taken that day. Max clearly enjoyed meeting everyone and I know that you will always remember the smile on Max's face as well as the smiles he put on the faces of others. Just like some of my last and most cherished memories of Cherry, these memories will be with you forever and they are memories of great times.
Listen closely and you will hear the howling of pain eminating from the Bay Area. Max was a true warrior, you were spectacular pawrents, and this loss is felt by all of us. Know that we will not forget Max and know that you will really never be without Max, for the gifts that he has given you will live with you forever.
Through a tear covered screen once more, I send prayers of peace. I have found great comfort in retracing many of the special things Cherry and I did.
Hugs, Love, and Tears
Spirit Cherry's Dad

Here and Now

Forum Posts: 10870
Member Since:
25 April 2007

Offline
Oh Max... you will always be our hero. We are honored to have met you. Run free of pain, be at peace, and tell Jerry we miss him.
John and Di: We know words cannot begin to soothe any of your pain right now, but please feel free to call if you feel like talking.

East Bay, CA
Forum Posts: 186
Member Since:
6 August 2009

Offline
Oh Max.
I'm so glad I got the chance to meet this amazing dog. I count the trip you guys took up here as very very precious. You are both very strong for what you went through today. Max was lucky to have come into such an amazing family.
May 2001-Jan 21, 2010.....I'm a dog and I'm AWESOME!..... Always.

Las Vegas, Nevada
Forum Posts: 4386
Member Since:
14 August 2009

Offline
Oh my heart is breaking for the loss of Max. I am so very sorry. Please reach out to our community to get you through the tough time of grieving.
Again, I am so sorry.
Ge'Lena
Comet - 1999 to 2011

She departed us unexpectedly  January 23, 2011 at the age of 12 1/2.

She was born with a deformed front leg and a tripawd all of her life.


Oakland, CA
Forum Posts: 640
Member Since:
20 December 2008

Offline
Spirit Cherry's dad said it all most beautifully. All we can do here is howl in grief.
Rest in Peace dearest blue-eyed Max. We are so happy we got to meet you. Thank you John and Diane for being the best tripawd pawrents ever. Your love for Max shines bright through our stormy skies tonight.
You will be in our thoughts in the days to come and Max will be in our hearts forever. Thank you so much for sharing Max with us. If we can be of any help at all please don't hesitate to reach out a paw.
The Oaktown Pack
Woohoo! Tripawds Rule!
Regulator of the Oaktown Pack, Sheriff of the Oaktown Pawsse, Founding member and President of the Tripawd Girldogs With 2 Names ROCK Club, and ... Tripawd Girldog Extraordinaire!
Forum Timezone:
America/Denver
Most Users Ever Online: 597
Currently Online:
67 Guest(s)
Currently Browsing this Page:
1 Guest(s)
Devices Used: Desktop (54), Phone (10), Tablet (3)
Member Stats:
Guest Posters: 957
Members: 10157
Moderators: 2
Admins: 3
Forum Stats:
Groups: 4
Forums: 23
Topics: 13697
Posts: 189851