Join The Discussion
Learn about life on three legs in the forums below. Browse and search as a guest or register for free to take advantage of member benefits:
Instant post approval.
Private messages to members.
Subscribe to favorite topics.
Join the Live Chat and more!
Tripawds News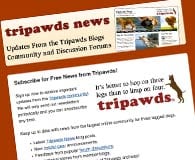 Subscribe to newsletter for email updates. Unsubscribe any time and keep free gift!
A
A
A
Forum Posts: 2
Member Since:
26 January 2017

Offline
My dog Dasher is a 5 year old chocolate lab with tramatic arthritis in his front elbow.  We've been dealing with this for a good 6 months with numerous vet visits, x-rays, and a lot of pain medication.  He is just getting worse.  The pain meds just don't seem to be working very well for him.  He is a very strong, energetic, wanting to please dog.  I feel like he would have the best out come if we took his leg.  I've been doing a lot of research and it really seems like dogs adapt and over come the loss of the leg pretty well.  Our vet was not against taking his leg, but is hesitant because he has a torn crucia?, not sure spelled right, on his hind knee on the same side as his bad elbow.  Her thoughts were to get him comfortable with pain medication with his front leg, do surgery on his hind knee, and then see where we're at with dealing again with the front leg.  I just don't think we're going to get him to where he's comfortable and can put a large amount of weight on his front leg.  Then, last night he jumped off of the couch and fell and now his front leg is even worse.  I just feel lost with what is best for him at this point.  Euthanasia has come up, but I just don't feel like I'm ready to give up on him yet. I feel like he is a strong dog, who can tolerate the losing the front leg and coping with the limp in the back, and possibly once he's healed and acclimated to losing the front leg we can address fixing the hind leg, and if euthanasia on the table why not try to take the leg...am I'm being selfish?  I'm just looking for opinions/other peoples thoughts on what to do.

The Rainbow Bridge

Forum Posts: 23087
Member Since:
25 April 2007

Offline
Hi Doggiemomma, I'm in the chat room right now if you want to talk. I have some thoughts for you, back in a sec.

The Rainbow Bridge

Forum Posts: 23087
Member Since:
25 April 2007

Offline
I'm sorry to hear about Dasher! Hope you don't mind but I put your post here because we've had a few dogs with arthritis that led to amputation, so this is a good place to discuss this tricky situation.
It sounds like you've been to numerous vets, but I have to ask, are the board-certified orthopedic vets?  Has the torn cruciate been diagnosed by one? Is the vet who wants to do the cruciate tear repair job an orthopedic vet? I'm guessing but thought I'd ask. If this vet isn't, then that's what I would do next, get a board-certified ortho doc to examine him and review his case. 
Not all cruciate tears need to result in surgery. Some can be managed. But it takes dedication and of course financial resources to manage soft tissue injuries like this. Sometimes rehab therapy can cost as much as the surgery itself. I'm guessing the vet told you that oftentimes when a cruciate tear happens in one leg, it happens in the other one too.
One other thing I want to ask: is Dasher overweight at all? I have to ask, because he's a Lab of course! Managing his weight is a huge priority as a Tripawd so that's something to consider.
No, you're not being selfish by exploring your options and following your heart. Dasher IS a young dog, I know I would do the same to try to give him a chance. You know him better than anyone else so don't let others try to make this decision for you. It does sound like he's tolerated all of the vet visits so far, that's a big plus! If you do amputate, after recovery there's usually not too many visits related to the surgery itself, so all of you can get a break for a while (hopefully!). Amputation isn't right for every situation but for the majority of dogs, especially younger dogs, it gives them a chance at a good quality of life.
OK I 'm sure others will chime in too. Be sure to scroll through this forum for other stories like yours. 
Forum Posts: 2
Member Since:
26 January 2017

Offline
Dasher technically has been seen by 2 vets in the same clinic, and then our main vet has talked with a couple of other vets regarding dashers condition and to get advice.  The tear in the cruciate is a new diagnosis, 2 weeks.  She found that while he was put out to get updated x-rays.  She did mention that it can happen in his other leg.  She is not an orthopedic vet, so I would have to look into a local orthopedic vet.  Dasher is about 85lbs, she is ok with his weight, but does not want it to go any higher.  We have cut back his food a little, to help maintain his weight, especially since exercise is not something he gets much of right now because he can't get around very well, and he really misses his walks.  I'm trying to do the best for him to give him the best outcome.  I've bought him an orthopedic bed, and just bought him traction booties, our house is all wood floors and I think that is how he fell this morning, his other foot slipped out from under him.  I watch him closely and he is already not relying much on that leg, only to steady himself at times.  He has tolerated all of this so well, that is why I believe he would be a success as a tri-paw

Idaho
Forum Posts: 1592
Member Since:
12 March 2013

Offline
I don't know where you are located, but thought I would throw this out there. Our Murphy saw Dr. Randy Acker at the Sun Valley Animal Center in Idaho. He is the inventor of the TATE elbow replacement. It is named after Dr Acker's own Lab who suffered from severe elbow dysplasia. Perhaps your orthopedist might do a consultation with Dr Acker. We think he's wonderful.
http://www.svan.....w-surgery/
Kathi and the Turbotail April Angel...and the Labradork
Murphy is a five year old Lab/Chessie cross. He was hit by a car on 10/29/12 and became a Tripawd on 11/24/12. On 2/5/13, he had a total hip replacement on his remaining back leg. He has absolutely no idea that he has only three legs!
UPDATE: Murphy lived his life to the fullest, right up until an aggressive bone lesion took him across the Rainbow Bridge on April 9, 2015 and he gained his membership in the April Angels. Run free, my love. You deserve it!
Forum Timezone:
America/Denver
Most Users Ever Online: 597
Currently Online: vohman821
52 Guest(s)
Currently Browsing this Page:
1 Guest(s)
Devices Used: Desktop (48), Phone (5)
Member Stats:
Guest Posters: 993
Members: 11808
Moderators: 2
Admins: 3
Forum Stats:
Groups: 4
Forums: 23
Topics: 14626
Posts: 205529