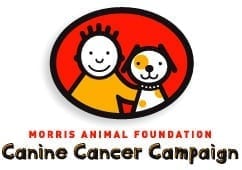 This article first appeared in:

Animal News
The Morris Animal Foundation
Vol. 7, Issue 4
Written by Heidi Jeter
"Osteosarcoma." Greyhound lovers are all too familiar with this dreaded word. For yet unknown reasons, this beloved breed is highly susceptible to bone cancer. Unfortunately, treatment options haven't changed much in the past 20 years. The good news, though, is that new therapies lie on the horizon. In a current clinical trial, scientists are evaluating an already available drug to determine its effectiveness in helping dogs diagnosed with bone cancer, including greyhounds.
The clinical trial is part of Morris Animal Foundation's (MAF) recently launched Canine Cancer Campaign, whose goal is to cure canine cancer within a dog's lifetime – the next 10 to 20 years. World-renown scientists will work together on MAF-funded research projects that will lead to breakthroughs in prevention and treatment for dogs with cancer.
"One in four dogs will die of cancer and half of all dogs will suffer from it," says Dr. Patricia N. Olson, president/CEO of MAF. "This clinical trial is part of a large-scale effort to encourage collaboration on a national level to address this serious health problem."