Caring for a Three Legged Dog or Cat
Tripawds is your home to learn how to care for a three legged dog or cat, with answers about dog leg amputation, and cat amputation recovery from many years of member experiences.
Learn how to help three legged dogs and cats in the forums below. Browse and search as a guest or register for free and get full member benefits:
Instant post approval.
Private messages to members.
Subscribe to favorite topics.
Live Chat and much more!
Ok everyone, it's offical. Please join us for a Tripawd pawty in Santa Barbara on December 26th, in beautiful Santa Barbara!
We'll meet at Arroyo Burro Beach, otherwise known as Hendy's Beach. It's dog friendly and a great place to romp.
Here's a link to infomation and directions.
Looks like we'll meet between 12:30 and 1:30 pm and play in the sand until whenever we poop out!
Surf's up everyone! Hope to see you there.

Northern CA
Member Since:
23 December 2008
Offline
Not only a "Southern CA Tripawds Pawty" but a Canadian Tripawds go wild in Sunny CA! After arriving in Santa Barbara tonight (finally, that is another story for another day), I did a nocturnal tour of Arroyo Burro Beach and nearby spots. It does seem to be All Things Doggy. In addition to the off-leash beach, there is even a doggy spa, whatever that means.
Arroyo Burro Beach is on the Mesa, a well known and gorgeous part of Santa Barbara. If you take Los Positas from 101, turn north or right onto Cliff Drive (that is at the four-way stop which also has a light). The entrance is pretty much the second drive way on the left (but don't go in the exit which comes first, or your tires will suffer!). I was told there is a sign, but I couldn't see that in the dark. Anyway, go further into the parking lot so it takes you to the ocean (versus the part that keeps you near CLiff Drive).
Once you get to the beach, you will see a sign for off-leash dogs LEFT of the parking lot and on-leash right of the parking lot. There is also a Boathouse which looks to have fine food and patio (perhaps a bit too fine for those of us saving our pennies for the dogs). But I heard of another place, which is a basic restaurant that lets dog on the patio. I wonder how many dogs they allow at one time on the patio . . .
The one catch is that low tide is around noon and the beach will be at its best when the tide is low. SO it is probably best if we try to get there more towards 1 than 2, although the dog-friendly waitress (who just happened to have the tide tables with her) said we should be okay until about 3. THere will still be a beach play area after 3 or 4, but you can't walk as far along the beach.
I hope to meet some of Tazzie's virtual buddies! So far, Maximutt, Caira Sue and Wyatt are coming. Yippee!
Susan
(Sorry, but despite my false advertising I'll probably be the lone Canadian representative - couldn't convince Oslo to make the trek this time.)
p.s. if you happen to be looking for things like grocery or other stores, head south just a bit on Cliff Drive from Los Positas until you see Meigs, another stop light. There is an Albertsons and other stores around that corner.

Mesa, AZ
Member Since:
27 April 2009
Offline

Wish I could be there, but it's Mom's birthday and Dad won't tell her what he has planned.

Chuy, showing everyone that Tripawds do everything 3 times better than regular dogs!

Oakland, CA
Member Since:
20 December 2008
Offline
Aaaaw, I sure wish I could be there. Have BIG FUN and mom says, for those of you who remember the good old disco days.....Dont Stop 'til You Get Enough!
Pawty On Tripawds!
xoxox
Codie Rae
Woohoo! Tripawds Rule!
Regulator of the Oaktown Pack, Sheriff of the Oaktown Pawsse, Founding member and President of the Tripawd Girldogs With 2 Names ROCK Club, and ... Tripawd Girldog Extraordinaire!
Okay fellow tripawds. Get ready for a momentous event. My mum is gonna try to upload photos from her computer to Photobucket and then post them here! Got that Barney?!?
Santa Barbara Tripawd Beach Pawty: Dec 26 2009
Yesterday, at the dog beach in Santa Barbara, we got to meet the adorable WYATT RAY DAWG!!!
Way to go Wyatt!!
Wyatt loves herding Hazel, successor to a founding tripawd father Dane Moose
Catch me if you can!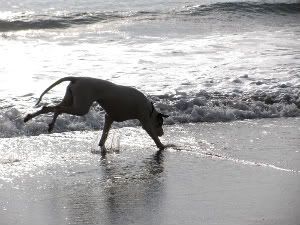 Maximutt, his favorite toy Linda and their human father check out the surf
What's this?!
Wyatt in characteristically reflective mood
Susan and Spirit Tazzie reminisce about a sunny warm beach day in November.
Tripawd group in sunny Southern California!
(Wyatt – can you please fit into my suitcase?)
Apre-beach: kissy kissy
Our Fearless Leaders including the mystery woman nearly always behind the camera
A good day. ZZZZ.
(Tazzie, Nov 8 – Grand Beach at Lake Winnipeg, Manitoba)
Awwww, what terrific photos Susan, thank you so much! We will get to posting ours too, very soon.
We had a BLAST and Wyatt is still recuperating. We can't tell you how great it was to meet you in pawson, and see Max and his pack, Hazel and hers, once more. While it was heartbreaking not having Tazzie there, his spirit was strong. I know he was watching over all of us on that beach.
I do believe that this may have been the first meeting of Tripawd members from two different countries. An historic event, for sure!
I just slipped a couple more pics, one of Hazel and one of Wyatt pondering the good life, into my previous post.
Also - 'underappreciated' was most definitely the wrong adjective to use for Wyatt. I'm not sure what the right one is, but he is definitelly highly appreciated!! I guess we will have to let Jerry and Barney and Wyatt figure that one out.
I remember just how very insane Tazzie (aka Tazmaniac, Scooby Doo) was when I first adopted him, after having a calm cool Marlon Brando dog before him. Like Jerry, Orko was calm and cool as a 6 mo old pup. In contrast, Tazzie's name should have been Anikin - capable of extreme good and love but also with a deep dark side. Thankfully I haven't seen that side in many years. It is far enough behind me that it is difficult to remember and explain just how neurotic he was. But in any case and regardless of any dark side, he had (still "has" in my mind) the very BIGGEST heart in the world.

Montréal , Canada
Member Since:
31 July 2009
Offline
Forum Timezone:
America/Denver
Most Users Ever Online:
946
Currently Browsing this Page:
1
Guest(s)
Member Stats:
Guest Posters: 1225
Members: 16202
Moderators: 2
Admins: 3
Forum Stats:
Groups: 4
Forums: 23
Topics: 17940
Posts: 248769
©
Simple:Press
—