Join The Discussion
Learn about life on three legs in the forums below. Browse and search as a guest or register for free to take advantage of member benefits:
Instant post approval.
Private messages to members.
Subscribe to favorite topics.
Join the Live Chat and more!
The Tripawds Library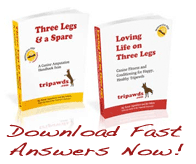 Download Tripawds e-books for fast answers to common canine recovery and care questions!
A
A
A

Forum Posts: 3
Member Since:
19 February 2018

Offline
Hello everyone. I am so happy to have found this forum! My 7 year old (almost 8) Boston/Frenchie mix Vigo just had his front right limb amputated one week ago due to a grade 3 soft tissue sarcoma they found near his paw. Immediately after the surgery, and the few days following it, I struggled with whether or not I made the right choice for him, as he seemed really depressed and cried out in pain often. However, a week later I am amazed to see how his personality is slowly coming back and he is figuring things out. He's a tough little guy. 
Today we met with the oncologist who talked about a preventative measure of starting him on doxorubicin, IV, for 5 treatments every three weeks. They do not see cancer anywhere in the body for now, and got good margins with the amputation. however, since he has a grade 3 sarcoma, there is a 50% chance of metastasis. As most know, there is not guarantee about whether or not this treatment will help or do anything. My husband and I are struggling with what to do at this point. I worry about side effects (vet stated 1 in 3 dogs will experience them) since our guy is a boston frenchie mix, and I must say, he is sensitive! He is already fickle about eating in general and the thought of him feeling like crap or going through even more stuff than he has already gone through this past month (amputation and before that, a biopsy) breaks my heart. On the other hand, taking the chance of not doing the treatment and hoping he falls in the 50% of dogs that beat cancer seems risky. If there is something we can do for him, why wouldn't we at least try? In addition to all of this, it sounded like from what the vet said, the data does not really support either option as being the more effective one.
Has anyone had experiences with doxyrubicin and how have your dogs tolerated this medication? Am I a terrible dog mom if I choose to ride this out and take the "lets get X-rays every three months" approach? Should I just start him on this and see how it goes, knowing we can stop at anytime? I feel like I have selfish reasons for possibly starting him on this chemo treatment (of course, we all want our fur babies to live forever) but I am not sure if that is the "right" thing to do for my pup. 
I would love to hear from anyone who has had similar experiences. Thanks for reading 🙂

The Rainbow Bridge

Forum Posts: 23805
Member Since:
25 April 2007

Offline
Hi Vigo and family, welcome. We're glad you found us too! Your future posts won't need approval so post away.
You ask great questions, which means you are a pawesome doggy momma! There's no harm in looking at all avenues right now, and the one thing to remember is there are no right or wrong choices. What is your gut feeling in all this? What do you think Vigo wants? 
Chemo isn't for everyone but if your gut feeling is telling you Vigo can do well (for instance, dogs who like going to the vet, or at least don't seem to mind, are much more likely to tolerate chemo pretty well), then it's worth considering. Also you need to make sure that whatever you decide, it's a choice you can live with no matter what happens. 
The thing about chemo is, yes, you can stop any time depending on how it goes. Sometimes that happens and there's no shame in it. No matter what you decide, we will support you either way.
As for doxorubicin, that comes with it's own challenges. See:
Did your vet recommend any other treatments? You may want to check out Travis Ray's story. They pursued a different treatment protocol after his STS was removed, and it's something worth considering with your vet. See:

Livermore, CA

Forum Posts: 3207
Member Since:
18 October 2009

Offline
Hello and welcome.
A Boston x Frenchie? Must see pictures!
I've had Pugs for 19 years and now I've added a pug mix.
In my opinion you are smart for looking at all options for Vigo.  I've dealt with 3 cancers in two of my pugs, once I did chemo and twice I declined.  Maggie lost her back leg to a mast cell tumor.  I had gone into the surgery somehow thinking it would be curative, but cancerous mast cells in the lymph node removed with her leg said otherwise.  WITH chemo her prognosis was 6 to 9 months.  Different drugs than you are looking at though.  I did do the chemo for her and she lived for almost 4 years. She did have some side effects which meds took care of, she was sometimes tired.  She never had diarrhea or throw up, she did have some nausea. 
Maggie developed a second cancer later, and her younger sis Tani developed mast cell cancer.  In both cases I went the holistic route.  There were some other health issues, but neither of them did well at the vet and that was a big consideration for me.
The most important thing is that you do what you think is right for you and Vigo.  There are no guarantees either way.  I've seen dogs here do chemo and live a few months, and I've seen dogs not do chemo and live years.  Maggie's survival was exceptional- was it the chemo?  There is no way to know.  As Jerry said you have to live with your decision, no matter what happens.
I would suggest that you make some type of pros/cons list of chemo vs not vs other treatments.  Document your thought process.  I did this when Mag was diagnosed with her second cancer and I chose not to treat aggressively.  Mag passed just 3 months later and for the most part I was fine with my decisions.  But because I am human those 'what if?' thoughts would occasionally creep into my mind.  I could look at my notes and confirm that my choices were right.
I hope Vigo's recovery continues smoothly!
Karen and the Spirit Pug Girls
Tri-pug Maggie survived a 4.5 year mast cell cancer battle only to be lost to oral melanoma.
1999 to 2010

Forum Posts: 361
Member Since:
26 January 2017

Offline
Did the oncologist mention any other types of chemo?
When we first saw the oncologist, she recommended either Doxorubicin or Carboplatin. She said Doxo can be hard on the heart and since Rocky had heartworm when he was younger, we opted for the Carboplatin. When his cancer started spreading, we looked again at the Doxo, but opted for Palladia instead. 
We didn't have any issues with the Carboplatin, other than some low blood counts. I know others here have used Doxo without any side effects. 
David and Rocky (and Baxter now too!)
Rocky had his right front leg amputated on Valentine's Day 2017 after being diagnosed with osteosarcoma.
He joined the September Saints on September 3, 2017.
He is the toughest, bravest, sweetest and best friend I'll ever know. 

Germany
Forum Posts: 506
Member Since:
14 December 2016

Offline
We had 5 rounds of chemo, alternating between carboplatin and doxorubicin. In our case it was osteosarcoma though. My vet said that the doxorubicin does take a higher toll on the body than the carboplatin but he also said that they do lots of chemo and only one dog every five years had side-effects. 
We sailed through chemo with no problems whatsoever so I would do it again in a heartbeat, especially since Manni made it way beyond any prognosis. However, we alternated between the two different chemos so there's that. I appreciate that this is a very personal decision and there are no wrongs -we just won't ever be able to tell what the future brings. I just always wanted to be able to say I tried everything even though I really was scared of the whole thing. But then again: yes, you can always stop. 
Go with your heart and your experience with your dog. All the best 
tina 
Guardian of Manni the Wonderdog. -Or was it the other way around?
Osteo and amputation in Dec 2015. Second, inoperable, primary osteosarcoma found in June 2017.
The end of our adventures came Dec 10, 2017. 2 years to the day.

Forum Posts: 3
Member Since:
19 February 2018

Offline
Thanks everyone for your thoughtful and honest responses. It really meant a lot to hear about your experiences. During the consultation the oncologist did not mention any other drugs, but said that if Vigo seemed to not tolerate the doxorubicin well that they would try another drug. 
I really like the idea of writing a pros/cons list. I feel like my gut is telling me "dont do it" just because the thought of putting Vigo through more discomfort makes my heart break. The chemo might help, I wouldn't want his time to be spent feeling terrible, if this is even something that he experiences on the medication. The doc also did not really give us a clear prognosis, saying that he could have up to one year left, or that the amputation could have been curative. Who knows!
What really resonated with me is hearing how all of you felt that in the end, you were at peace with the decisions you made. I think that is something I am currently struggling with. What does Vigo want, and what is the right thing to do? I figure I need to give this a few more days to sink in, especially since he couldn't be started on the chemo until next week at the earliest. 
Thanks again for all of your kind words and stories!
Forum Timezone:
America/Denver
Most Users Ever Online: 597
Currently Online: admin, Michelle, dobemom, Jay
51 Guest(s)
Currently Browsing this Page:
1 Guest(s)
Devices Used: Desktop (47), Phone (8)
Member Stats:
Guest Posters: 1005
Members: 12608
Moderators: 2
Admins: 3
Forum Stats:
Groups: 4
Forums: 23
Topics: 14974
Posts: 210873