Join The Discussion
Learn about life on three legs in the forums below. Browse and search as a guest or register for free to take advantage of member benefits:
Instant post approval.
Private messages to members.
Subscribe to favorite topics.
Join the Live Chat and more!
Tripawds News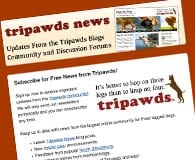 Subscribe to newsletter for email updates. Unsubscribe any time and keep free gift!
A
A
A
Hi. I have a 6 yr old Saint Bernard, Moose, who was diagnosed last week with osterosarcoma in his right shoulder. I'm struggling with what my best options are. Not having a definitive time frame of life expectancy after treatments (I know that that's not possible), I'm not sure what I should do. I know, no one can tell me what to do here, but maybe some advice might help me make my decision.
His xray shows no visible cancer in his lungs, but he's not had a CT scan of other soft tissue. I've had two visits to two different oncologist and they didn't push me in any particular direction, which I wasn't expecting, but it's so difficult to make this decision.
Up until last night, I had decided I was just going to manage his pain and when the time came, I'd say goodbye. I was not considering amputation at all. I had been leaning towards some type of radiation treatment. Either palliative or stereotactic radiation, w/o chemo, but the radiation cost is so high and I'm struggling with knowing that I will still only get 4-5 months with Moose. I feel awful for obsessing on costs, but it's a big thing. Palliative is upwards of $3,000. Stereotactic is upwards of $8-$9,000 (including scans, etc). This does not include chemo costs.
If I do the stereotactic radiation plus chemo, maybe I get a year. But, if I do amputation and chemo, I may get a year or more. But, that's a total crap shoot since this cancer can be so aggressive.
I am putting the idea of amputation back on the table because I was naively ignoring the intense pain bone cancer causes and the possibility of the bone breaking. He's on pain meds and anti inflammatory meds and it's helping currently. Last night I read up on how giant breeds truly handle front leg amputation and I had just dismissed the idea that he'd be able to handle only one front leg. Luckily he's not over weight and on the small side for a male Saint. Although people flip out thinking he's the biggest dog they've ever seen.

I'm waiting on a quote from one of the oncologist I've talked with regarding the cost of amputation and chemo. I'm not sure what to expect cost wise. I just feel awful for even considering that.
If anyone has a story or insight they might share, I'd love to hear it. I understand that every situation is different and what one dog experiences doesn't mean another will, but I'm hoping something I read may help with my decision.
Thanks so much.

The Rainbow Bridge

Forum Posts: 24049
Member Since:
25 April 2007

Offline
Hi Moose's Mom, welcome. Your future posts won't need approval so post away.
We understand your struggle, it's so much to think about and the guilt of having to make this decision for our animal who can't make it for themselves, is tremendous. Totally get it. 
It sounds like you're really doing your research, which is fantastic. Have you seen our stories about other Tripawd Saints here? Like Chuck's story? His people went the palliative route, be sure to read it. Others like Patchy had their leg amputated and did really well. After speaking with numerous forward-thinking vets through the years, the general consensus is that as long as the dog is otherwise healthy, size shouldn't be the limiting factor. 
Do not ever feel guilty about considering the cost factor. It's life. And if we are stressed about paying for treatment, that will lower our dog's quality of life. They want us to be happy, not working all the time to pay off debt and feeling overwhelmed about it. Yes, palliative care with stereotactic radiation and chemo is incredibly expensive, around $15k for both according to Hazel's people. Thankfully their pet insurance company paid the bill. I'm guessing you don't have insurance on Moose? You're not alone, we didn't have it on our Jerry when he was diagnosed. 
What I hear in your voice is that you are concerned about the timeframe for the prognosis no matter what way you decide. You're not alone, we all were at first. But what most of us see as we go through this journey, is that our pets do  not concern themselves with time, dates or prognosis. Every day is the best day to them as long as they are living a happy, pain-free life with the people who love them. It's a valuable lesson that cancer teaches us. Remember that none of us, animal or human, have time stamps on our butts. Nobody can predict an expiration date so why obsess about something we cannot predict? It's out of our hands and we must learn to Be More Dog to give our pets (and ourselves) the best quality of life possible.
If you haven't already, please check out Questions to Ask Your Oncologist, and our Size and Age Matters Forum to read about the experiences of giant breed Tripawds. Our Tripawds e-books library has great info for you as well. And stay tuned, others will chime in soon.

Forum Posts: 6592
Member Since:
21 May 2016

Offline
Hi there and welcome to our family 🌺
I'm very sorry you find yourself here but rest assure we are all here to help and guide anyway we can.
You've already got great advice from Rene! 
I have to say I'm impressed with the depth of the research you've done. 
You've pretty much covered every main option and are aware of the down sides as well. 
For most of us, amputation was the elected  choice (unless impossible) because that is the only solution to eliminate 100% of osteo pain. 
Following amputation some of us went the chemo route (like my girl Eurydice) some of us didn't (like Jerry), some of us had long lives with chemo, some didn't and the same goes for no chemo …
But where we all agree is in providing a pain free life for our babies regardless of how long we may have together. 
I can't really "point out" a treatment route as that is a very personal question but would say I never saw anybody here regretting having gone for amputation as that guarantees quality of life for our beloved boys and girls. 
Sure, it is a hell of a decision to make, especially when it is a giant breed loosing a front leg but they DO adapt and can have deliriously happy lives just like my own adored baby did and she was truly enormous. 
I'm sure others will chime in soon and I hope we will be able to help you make your decision.
Whichever route you may take, we ain't going anywhere so ask any questions, big or small, anytime, we're here. 
Sending you a big hug and XL cuddles to your sweetie 😘😘😘🐮💫✨🌟🌹
Eurydice 77kg/170lb Great Dane limping end of April 2016, amputation (right front leg/osteosarcoma) 4 May 2016 6 courses of carboplatin followed by metronomic therapy, lung mets found 30 Nov 2016. 3 courses of doxorubicin, PET scan 26 Jan 2017 showed more mets so stopped chemo. Holistic route April 2017. Lung X-ray 5 May 2017 showed several tennis ball size mets, started cortisone and diuretics. Miss Cow earned her XXL silver wings 12 June 2017, 13 months and 1 week after amputation and 6 1/2 months after lung mets, she was the goofiest dawg ever and is now happily flying from cloud to cloud woof woofing away :-) 
Thanks for the positive, supportive feedback.  I'm still waiting on a call from an oncologist, for a cost breakdown for amputation/chemo. In the interim I'll call the other oncologists. Hopefully I hear back today.
Thanks for the link to Chuck's story. So similar to Moose. If a big guy like Chuck can handle only one front leg, I'm sure Moose can.

Forum Posts: 6592
Member Since:
21 May 2016

Offline
Sure he can, seeetie pie 🌺
We'll be waiting for your updates and in the meantime give Moose an XL cuddle from us and big hug to you  😘😘🐮💫✨🌟🌹
Eurydice 77kg/170lb Great Dane limping end of April 2016, amputation (right front leg/osteosarcoma) 4 May 2016 6 courses of carboplatin followed by metronomic therapy, lung mets found 30 Nov 2016. 3 courses of doxorubicin, PET scan 26 Jan 2017 showed more mets so stopped chemo. Holistic route April 2017. Lung X-ray 5 May 2017 showed several tennis ball size mets, started cortisone and diuretics. Miss Cow earned her XXL silver wings 12 June 2017, 13 months and 1 week after amputation and 6 1/2 months after lung mets, she was the goofiest dawg ever and is now happily flying from cloud to cloud woof woofing away :-) 

Forum Posts: 191
Member Since:
31 May 2016

Offline
Hi moosesmom! I mainly lurk around here these days, but wanted to offer my experience. My guy is not Saint Bernard size, but is a good size fella, about 68 pounds pre amputation. As we all are, I was devastated with his preliminary diagnosis of osteosarcoma. My vet wanted to test for valley fever, and when that came back negative, it was time to decide. I could not afford chemo, leaving me with amputation or palliative care. What tipped the scales for me was the risk of fracture to his leg – he's home alone when I work, and I was just sick thinking about him breaking the leg while I was away and lying there with a broken leg until I could get home. So we went the amputation route. Luckily, he had an uneventful recovery.
But the best thing of all is that his amputation was a year and a half ago and he's still going strong. I was told 3-6 months because no chemo. So you never know – the saying around here about no one having a date stamped on their butt is so true! I know I've been very lucky, but even if I had only gotten a few more months with him, the surgery would've been worth it. He's slowed down a little, but he's now 11 and I think he would've slowed down some even if this hadn't happened. He's still happy and goofy, and loves every minute of his life. Good luck to you – whatever decision you make will be the "right" one for your and your pup.
My baby boy passed away Thursday morning, totally unexpectedly and I'm not sure I fully believe it yet.
Not exactly sure how it happened, but it ended up being a pneumothorax issue .
Last Saturday (Dec 16) I took him to the emergency vet because he started panting differently and was horribly uncomfortable and seemed short of breath.  A set of chest xrays showed a kind of dark "something" on a lung, that wasn't there on his first set of chest xrays 3 weeks previous, but the dark spot was only visible from one angle of an xray and not on other angles so the radiologist could not say with 100% certainty that it was metastasis. Other than that his lungs were clear of any signs of other dark spots. So, we went home with other pain meds thinking the panting was a pain issue not a lung issue. Two days later, Monday, he went in for an ultra sound to see if anything else was going on in soft tissue. That was fine and I then decided, because of the uncertainty of what the dark spot was on the xray, to do palliative radiation.
(Up until last Saturday, Moose was 100% his normal self, minus some pain, but that didn't slow him down much, if at all. He was on some pain meds and they worked wonders. He pushed for his normal long walks, but I didn't indulge, but once. And I had come around to the possibility of doing amputation if his scans came up clear). 
He had his first radiation treatment last Tuesday (one day after his ultra sound, two days after first e-vet visit), went fully under for it and from that point on, after the anesthesia wore off early Wednesday morning, his panting got worse and worse. I totally thought it was a pain issue and finally at 3:30am on Thursday morning I took him back to the e-vet, which is part of the oncology clinic.
I got a call later that morning telling me he had a collapsed lung and even after expelling the air around his lung and his lung going back to normal, within 20 minutes, it deflated again. Two times this happened. After a few more hours, I got another call from his primary oncology vet telling me the situation was dire and they had no idea what was causing his lung to continually collapse and it was time to say goodbye. (A tube inserted to his chest cavity was a very brief option, but for reasons I won't get into, it wasn't going to help). He was suffering horribly and  that's what brings me to uncontrollable tears knowing that he suffered in one of the worst ways possible–gasping for air. Even hooked up to oxygen and sedated to calm him, his breathing was heart wrenching.
I had wanted him to be home to say goodbye but there was no way he could have been taken home, so the thing I never wanted to do, which was say goodbye in a vet clinic, I had to. Luckily the faces around him were somewhat familiar and the techs and vets were incredibly, incredibly kind and compassionate and were so sweet to him and supportive of me. They had only met him two weeks previous and he stole everyone's heart at the clinic and there were tears all around as I held him.
Sorry this is so long, but I think I needed to get it out. I've not shared details with family and friends yet. I don't think I'm ready to actually speak out loud about it. I can't even think about vacuuming up the remaining dog fur on the floor. That feels like it will completely erase his presence.
Thank you for your immediate support as I posed my dilemma to this forum. It's nice knowing there's such a great support group out there for our fur babies.
-Moose's mom.

I tried posting a pic of my baby boy, but no luck.

London, UK

Forum Posts: 1534
Member Since:
15 December 2015

Offline
Goodness me, please do NOT apologise. I'm pleased that you set this down, and I hope that the writing of it, deeply upsetting as it is, was also in some small way, cathartic. I'm so terribly sorry for the loss of your sweet boy. Moose was clearly a very special dog, and so enormously loved. Your concern for him and determination to do whatever was in his best interests comes strongly through your posts. I'm so sorry that you did not get more time together, but pleased that Moose died surrounded by people who showed him and you such care and compassion.
I'm sorry about the struggle with breathing. That must have been extremely upsetting to watch, though given that he was under sedation at the time, he may not have been as aware of what was happening as you imagine. My beloved Billie died in very distressing circumstances (in her case an extremely rare reaction to the euthanasia drug). I totally get how it plays on your mind and how easy it is to torment yourself. Please try not to (though PLEASE talk to us if you find yourself doing so). Moose has a wonderful life with you and is now at peace and not in any pain. Though, of course, you will never forget what happened, nor the terrible grief you are feeling right now, in time the joy of your memories, the six precious years you spent together will move back into the foreground.
And no, I wouldn't vacuum either. 
Don't worry re the photo. You don't want to be dealing with that right now. I will pm you my email, and if you send me a picture, then I would be honoured to post it for you – not to mention that I (we ALL) just really want to see him 

Big hug and lots of love,
Meg, Clare and Elsie Pie (and Angel Billie, forever loved) xxxx
Meg, Mutt, aged around 9, adopted 31/12/2009. Sudden explosive right elbow fracture 06/12 (caused by IOHC), diagnosed with End Stage Arthritis 03/15, Total Elbow Replacement 08/15, problems with healing leading to skin graft & skin flap surgery, Chronic Infection leading to implant breakdown. Became a Tripawd 9th March 2016. 
Lives with Mum, Clare, watched over by Angel Pie and Angel Billie
My life as a MEG-A-STAR 




Forum Posts: 95
Member Since:
15 December 2017

Offline
I was reading your story as we prepare for Otis' amputation. I'm so, so sorry for your loss. Please know that you were a wonderful mom to Moose– I have no doubts that, although it was heart wrenching for you, he knew he was loved to the ends of the earth. 
There is a lovely passage in the book "What's a dog for?" that I refer back to often, knowing that my time with Otis may be cut short and that there is no certainty in osteosarcoma diagnosis. Maybe it can help you in the days and months to come as you grieve the loss of sweet Moose: 
"Dogs know the way to the next world — and often have some say in who inhabits it. . . Many Old and New World cultures thought the Milky Way was a path that led souls from this world to the next. In some traditions, dogs have their own path in the sky that runs parallel; in others, like that of the Delaware (the tribe that once inhabited Manhattan), they guard a bridge on the Milky Way, deciding who gets to cross. The Cherokee thought it was the route that a little dog traveled after being discovered stealing cornmeal; the smudged white path was said to be the cornmeal falling out of its mouth. It's called, in their language, Where the Dog Ran. Sirius, the dog star, is the most well-known legacy of these mythic traditions. The brightest star in the sky, Sirius is ever searching for his master, Orion "
Thinking of you, 
Camille & Otis

Schofield, WI
Forum Posts: 1417
Member Since:
13 August 2015

Offline
I'm so so sorry for your loss!  Please don't beat yourself up about the where's or how's it happened.  Sometimes these things are beyond our control.  Just know you did your best for your beautiful Moose…he knew he was loved.  Know your boy was greeted by all our Angels and made welcome.  Tonight look into the heavens and find the brightest star and know that's your Moose shining his love down on you.  Fly free new Angel!  Sending hugs and healing light to you!
Linda & Spirit Mighty Max

The Rainbow Bridge

Forum Posts: 24049
Member Since:
25 April 2007

Offline
Oh Moose and family, we grieve with you and are deeply sorry. What a terrible tragedy to lose him so quickly, there's just no way to prepare for something like this. I'm so sorry.
There's no way to know why it happened or how, but what is 100% crystal clear is the love you had for Moose and he, for you. To be surrounded by his favorite humans as he transitioned on is the greatest way to send a loving spirit into the universe. You did your best to make sure he didn't suffer any longer, and for that, his loving energy will forever surround you. As hard as it is, try your best to recall the happy times you shared together and remember that the last moments of his life do not define who he was as a dog. You had many great days together no doubt, so let those memories flood your heart and mind as you grieve.
Meanwhile, allow yourself to take time to heal. There's no rush to vacuum or move or get rid of his things, you set your own time table and know that however long you need to cope with his loss, that is the best way to do it for you and you alone. In the meantime we are here for you however you'd like. If and when you're ready feel free to post a tribute and all the happier times you shared in our "Coping with Loss" forum discussion OK? 

Livermore, CA

Forum Posts: 3270
Member Since:
18 October 2009

Offline
Tri-pug Maggie survived a 4.5 year mast cell cancer battle only to be lost to oral melanoma.
1999 to 2010

Canada
Forum Posts: 1071
Member Since:
7 July 2017

Offline
I am sending heartfelt sympathies to you and your family! Moose was a stunning looking boy! I am so sorry that you had such a difficult time with moose at the end of his earthly journey, but as Clare mentioned, the sedation would have made him oblivious to the pain. The most important factor for him at the time, was that you were there with him! He was not alone!!! You were right by his side, just like he was and always will be with you in life! The Rainbow 🌈 Bridge is a pretty special place and I believe, like one of the old traditions suggests, that the bridge does run parallel to ours and our fur babies can run with us whenever they want! Pain free!!! Eating all the T-bone steaks that they want and surround us with their love when we need it. Which is most of the time right?! We just have to be open to feel them and see them and sometimes even smell them! I swear I am still finding Mojo's fur and I don't mind at all that it makes me look like a sloppy housekeeper! I see him constantly out of the corner of my eye and I am sure to say hello to him every time!
Warm hugs are embracing you from Western Canada, and with this community, you will be surrounded with love from all corners of the earth! 
Petra, her big lug Stewie and his Prideful Pack 

Virginia


Forum Posts: 16601
Member Since:
22 February 2013

Offline
Absolutely heartbroken to read this, heartbroken.  So very, very, very sorry.   I'm just stunned.  Speechless.
I was just coming back to catch up on Moose.  You jad getten such good suppprt and advice already, I could only add my @oce and support.
And then to read this just now brings me tears falling hard.    Moose is oir family.  You are our family.  And we all grive with you.
And yet again youvew already gotten words that will hopefully bring you some tiny bit of comfort in the upcoming weeks.  There is notr we can do to take your pain away right now.   Many of us know all too well the intensity of his passing will play over and over in your mind.  You will be stuck on that for a few days..and that happens no matter what circumstances surround the transition.  It's just something we humans do because we feel like we shouod be able ro "co trol" every aspect of life's joirney somehow.  We cannot.
A couple of things come to mind when a dog ismi. This journey and transitions before the surgery, or even on the surgery table.  In many cases, it became evident that the piece of crap disease had already taken hold in ways that were not yet discovered.  Something was going on with precious Moose that was not het fully understood.  To jave proceeded with amputation and for this to happen within the first several days ofmpainful recovery….I don't even know what I'm trying to say.  Moose's Soul  knew it was his time and he did not want to pursue any further treatment.
I also want to reiterate that Moose was, indeed, u der sedation and what you were witnessing is NOT what HE was feeling.  He was a bit in la-,la land seeing a few pink elephants.  But make no mistake….he KNEW you were there with him!
The good memories, the thousands and thiusands of good memories will soon start settling in thst hole in your heart.  Moose is nestled in there forever.  He WILL make his presence k own to you.  He is still with you in an energy form. 
When you can, please share more of Moose and his wonderful life with you.  
It is soooooo clear how dearly loved Moose is.  And he clearly touched the hearts of everyone he met!   :That photo…..it doesn't get any cuter than thst!!  🙂 How couod you not fall in love with that smoochable mug!
And just so you'll know, .Moose was greeted at the Bridge with a WELCOME WAGON FULL.OF APPLES!   APPLE PIE, APPLE ICE CREAM, RED DELICIOUS APPLES!!!   Ya' see, all the Spirit Angels at the Bridge have jobs.  I  happen to know that my Happy Hannah, along with so many others, ihelps to put together the Welcome Wagon.  She puts in all sorts of "junk food" that was "not allowed" while in their earth clothes.  Some are in charge of passing out tennis balls and squeaky toys.   Some are in charge of giving non-stop tummy rubs and butt scratches.
Surrounding you with our love and Moose's eternal grace
Sally and My Chunky Spiritual Being Happy Hannah and Merry Myrtle and Frankie
Happy Hannah had a glorious additional bonus time of over one yr & two months after amp for osteo! She made me laugh everyday! Joined April's Angels after send off meal of steak, ice cream, M&Ms & deer poop!
Forum Timezone:
America/Denver
Most Users Ever Online: 597
Currently Online:
65 Guest(s)
Currently Browsing this Page:
1 Guest(s)
Devices Used: Desktop (57), Phone (7), Tablet (1)
Member Stats:
Guest Posters: 1008
Members: 12917
Moderators: 2
Admins: 3
Forum Stats:
Groups: 4
Forums: 23
Topics: 15074
Posts: 212387