Caring for a Three Legged Dog or Cat
Tripawds is the place to learn how to care for a three legged dog or cat, with answers about dog leg amputation, and cat amputation recovery from many years of member experiences.
JUMP TO FORUMS ↓
Join The Tripawds Community
Learn how to help three legged dogs and cats in the forums below. Browse and search as a guest or register for free and get full member benefits:
Instant post approval.
Private messages to members.
Subscribe to favorite topics.
Live Chat and much more!
Find out in Be More Dog: Learning to Live in the Now by Tripawds founders Rene and Jim. Learn life lessons learned from their Chief Fun Officer Jerry G. Dawg! Get the book and find fun gifts in the Be More Dog Bookstore.
Hi my name is Leanne and I picked up a dog on the road who had been run over..his front leg was all broken and an amputation was performed (they wanted to euthanize him but he is young maybe about a year if that) So to cut along story short he is now a very expensive Tripawd dog I got him home today and the vet put on a pressure bandage and told me to take it off after24 hours...I phoned them as it seems there isnt anything else under the pressure bandage and they told me that when I take it off the wound should be completely uncovered...and to just keep it dry and not worry about it...please can anyone let me know if this was true of your amputees...I hate to just leave him around the house in case he gets dirt in it..leaks on stuff...you know the basics...he will sleep with us tonight and I will put a cone of shame on him or a do nut tomorrow but the wound just open to the air like that it just doesn't seem right...any help gratefully received thanks loads L

On The Road
Member Since:
24 September 2009
Offline
Welcome! Your future forum posts will not require moderation.
It is perfectly normal to not bandage the incision. Jerry came home without a bandage and did fine. In fact, we have heard of recovery with certain dogs being more difficult due to complications from a pressure bandage. (Please keep in mind that we are not vets!)
Be sure to bookmark Jerry's Required Reading List for lots of helpful advice. For instance, on front leg Tripawds you can use an old t-shirt to keep the surgery site clean.
It seems like many vets will apply a bandage more for the people's sake than the dog's. The wound does need to breathe – and be kept clean – in order to heal quickly.
Hope this helps! Please keep us posted.
San Diego, CA
Member Since:
29 October 2010
Offline
Welcome to tripawds! How sweet you are to save him! What is his name?
Abby came home w/ no bandage, but she had a drain in - which would leak everywhere for the first few days when she would get up and hop around. We put a baggy t-shirt on her to keep dirt from getting in the wound and also to keep her from getting drops of ick everywhere. We would take it off at times when she was lying down to let the wound breathe. That seemed to work well for us.
Once he is done recovering, he'll begin to amaze you. It's an awesome thing to be a tripawd pawrent. Welcome to our special club!
Jackie, Angel Abby's mom
Abby: Aug 1, 2009 – Jan 10, 2012. Our beautiful rescue pup lived LARGE with osteosarcoma for 15 months – half her way-too-short life. I think our "halflistic" approach (mixing traditional meds + supplements) helped her thrive. (PM me for details. I'm happy to help.) She had lung mets for over a year. They took her from us in the end, but they cannot take her spirit! She will live forever in our hearts. She loved the beach and giving kisses and going to In-N-Out for a Flying Dutchman. Tripawds blog, and a more detailed blog here. Please also check out my novel, What the Dog Ate. Now also in paperback! Purchase it at Amazon via Tripawds and help support Tripawds!

Chicago, IL
Member Since:
5 March 2011
Offline
Well bless you for saving the little guy!  You'll have to tell us all about him.
I felt the same way as you about uncovered, seems dirt would get in there.  But everyone is right, uncovered is better.  I just wanted to add that is is very important not to let him mess with it.  Cone, cone, cone.  Or maybe T-shirt, T-shirt, T-shirt (if that works).
We were not strict enough about the cone and Tate kept licking the end of his incision.  If we took the cone off for a minute, he'd do damage to that spot.  He detested the cone but we finally had to have the discipline to make him wear it all the time.  Even at night.  Especially at night.
Best of luck to you and your new boy, if you have any more questions, we're here to help.

Edmond, Oklahoma
Member Since:
7 January 2011
Offline
Scout came home with no bandage and no drain-- he was one of those self-mutilating dogs that was always ripping huge raw spots in his side, so we were very concerned post op.  However, we put a t-shirt on him and it worked great-- not one lick or tear 😉  Highly recommend the t-shirt!
Scout: January 31, 2002 to November 7, 2011
Scout's diagnosis was "poorly differentiated sarcoma"; amputation 1/11/2011.  Scout enjoyed 9 fantastic years on 4 legs and 9 glorious months on 3 legs.  If love alone could have saved you…

knoxville, tn
Member Since:
12 February 2010
Offline
welcome, how wonderful of you to take care of this pup and give him a safe home!!  we were a front amp, and gayle would not wear the cone without having a total tizzy fit.  we went with the t-shirt, and it worked great.  good luck, hoping to hear more about your pup and his recovery.
charon & spirit gayle
Life is good, so very, very good!!! Gayle enjoyed each and every moment of each and every wonderful day (naps included).  She left this world December 12, 2011 – off on a new adventure.
Love Never Ends

Columbia, MO
Member Since:
10 December 2011
Offline
My vet sent Daisy home in a pressure bandage.  She's a front amp, too.  They said it would help with swelling and help prevent seromas from developing.  They had me leave it on for 2-3 days.  I was scared to remove the thing myself (kind of squeamish) so I took her to the vet and had them remove it.  Her incision looked really good and there was hardly any swelling or bruising.  After that I didn't put anything on her.  I didn't need to use a cone of shame or t-shirt.  I was lucky as Daisy didn't seem interested in her incision at all.
What a kind and generous soul you are to save him like that.  Best of luck with your recovery!
Marla and Daisy
My Two Tripawds...Biscuit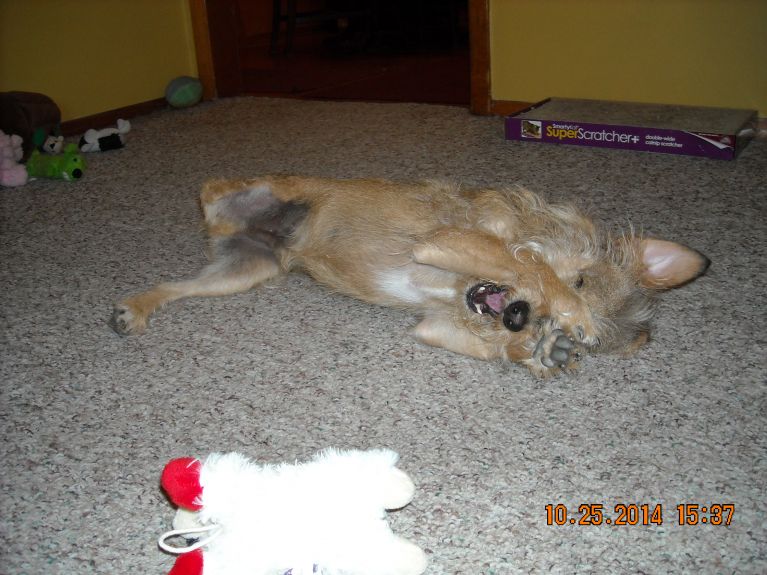 and Spirit Daisy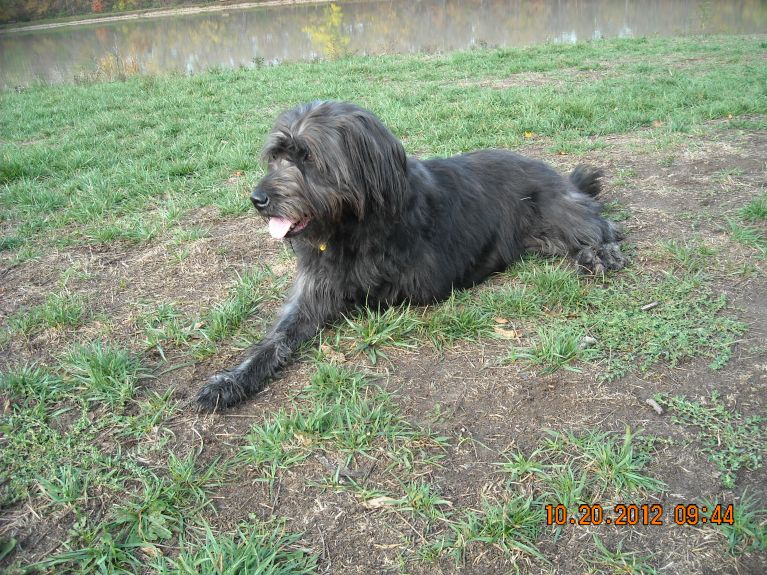 My heart lives at Rainbow Bridge
Member Since:
28 November 2008
Offline
Trouble also came home with no bandage, no drain, no cone of shame . Almost immediately she wanted to lay outside on the incision. I bought her a toddler t-shirt to wear. Usually just outside, but sometimes she wore it all day. I think it made me feel better, not sure it made any difference otherwise 😉
Shanna & Spirit Trouble ~ Trouble gained her wings 3/16/2011, a 27 1/2 month cancer survivor, tail wagging. RIP sweetheart, you are my heart and soul.  Run free at Rainbow Bridge.
The November Five - Spirits Max, Cherry, Tika, Trouble & Nova. 11/2008 - 3/2013 An era ends as Queen Nova crossed the Bridge.


Member Since:
22 August 2008
Offline
Tshirts are usually adequate although I will say for the breeds with heavy muscles (Rotties, Mastiffs, etc) a pressure bandage left on for a few days does seem to help reduce the chances of a seroma .
Pam

Member Since:
10 January 2012
Offline
The T-shirt i put on Rooster helped keep i=his incision clean and left him no chance of scratching it with claws or rubbing trees and what not , I left it on him all the time until his hair started growing back and it seemed to comfort him also,noticing a bit of insecurity when it was removed. Now he has some hair and after a day or so without the shirt he seems fine .Rooster also had no drain and a bandage i removed the day after . his incision looked real good and didn't require any neosporan ,to which i wold have substituted with Honey........and healed up just fine ...

Peoria, IL
Member Since:
8 November 2010
Offline
Sammy showed no interest in licking his wound after he tried once and I told him no. Although the incision looked a little Frankensteinish and he had a seroma the size of Chicago, he didn't seep. Just in case, we had him lie on clean sheets that we changed often. He was a front-leg amputee and had the surgery mid-November so we were also concerned about the cold on his bare skin. We ordered several sweater vests, but he had such a fit that we soon left them off. Despite lying in the snow and ground, he had no problems.
You will be pleasantly surprised by how fast he will heal and how "normal" he will be! Good luck!
— Beth and Spirit Smilin' Sammy
Smilin' Sammy, March 16, 2004 – Dec. 5, 2011
Golden retriever, diagnosed with osteosarcoma in September 2010 — right front leg amputated November 2010. He fought valiantly to stay with us; but a second diagnosis of osteosarcoma, this time in his left front leg, was more than our golden warrior could overcome. He loved his pack — and everyone else he met.

We loved him even more.
Thanks for the pennies, Sammy. They helped.
Member Since:
9 February 2012
Offline
Thank you for asking that question...I was wondering about the open stitches too. Frankie licked the bottom of the incision but we told him to stop. I love the idea for a t-shirt. I think I will do that when he goes outside since he loves to lay in the dirt (even though I keep telling him no). You are a wonderful person for accepting the new member to your family.
krun15

Washington
Member Since:
1 February 2011
Offline
We had no bandage or drain either, and as Rio was a rear amp, the T-shirt coverage didn't really work for her. We just monitored her for licking (which she didn't do until about day 10, and I think that was due to the fact that the staples were starting to irritate her), changed her bedding daily, since she had some seepage, and made certain the wound was kept clean and dry. We used alternating warm compress and cold packs to relieve her swelling (and considerable bruising).
Good luck with the healing, and tell your pup to take it slow and easy. We look forward to hearing more from you soon.
Rio's momma, Micki
~ ~ Rio ~ ~
Forever in my heart...
April 2000 – January 20, 2012
Diagnosed with Mast Cell Cancer in June 2007. Left rear leg amputated Feb. 8, 2011.
Mets discovered Aug. 31, 2011. Read more of Rio's story here.
Thanks for the advice everyone...Shinobi is his name I was dodging between Ninja or Shadow as he is very quiet and mostly black being a border collie and all...Ninja means "a study in perseverance" and Shinobi (the Japanese word for Ninja) means "a walker of shadows" both are very fitting but Shinobi sounded cooler to my Fiance and seemed to suit him better (he is super soft natured)...so Shinobi he is...He is a total mummys boy and suffers a little anxiety when I am not in sight...as for the Bandage I did as the vet told me and took it of on Sunday 24 hours after his surgery and he seemed to be fine...I modded him an old t shirt on the sewing machine which he hates and tried to mess with it...without the shirt he hasn't tried to mess with the wound so he is shirtless...he very much made it known that he wasn't impressed with the shirt lol...he looks a little Frankendog at the moment with the huge stapled zipper on his side...and he was doing ok until today...when  my fiance came home he said he seemed a little down...tonight in the Kitchen he was laying quietly and then he suddenly jumped up and yelped...then later we were in the lounge and he was relaxed when he suddenly rolled over looked at me and took a little crying fit and began to shake...it took a minute to calm him and then he wasn't really happy just mollified by the attention he really does seem depressed poor love...I was wondering if anyone else have had similar issues...my Fiance C had his toe amputated and he thought he may be having phantom pain since C has a similar issue and will suddenly jump in a similar manner he thinks Shinobi may be experiencing it also?....he is on tramadol and an antibiotic..and other than tiring quickly he doesn't seem to be too bad off...he is super lovey and wants to be near me all the time...mind you I cant blame him so far its the only place he feels safe...I am still searching for his original owners but so far no joy...he has a home here anyway..but I just hate to think someone may be out of their head worrying after him..even if they don't want a tripaws back when they know he is missing a limb they would still know he is well and cared for..on another note how many of you have had people tell you you are mental and should have had your dog put down rather than amputated?...several people have offered this opinion and I was wondering if it was just because I live in Baton Rouge Louisiana...I am from the UK its all abut the animals where I come from so it was a surprise to find people are bigoted about Special dogs...As for me and mine we have myself Leanne fully functioning if you discount the fact that I am Irish have red hair and some faint insanity...My Fiance C Built like Big foot with 9 toes...Keats Akita with spinal Injury walks like Sammy Davis Jr. (nicknamed Quazimodog) Mr. Tiki rescued Red Lored Amazon (only loves his mummy and is basically a flying three year old with an axe on his face)...and Shinobi three legs but extra heart (nicknamed Frankendog) We are happy to meet you all and grateful to have all your advice and help and experience...Licks and Wags L
Forum Timezone:
America/Denver
Most Users Ever Online:
946
Currently Browsing this Page:
1
Guest(s)
Member Stats:
Guest Posters: 1192
Members: 15203
Moderators: 2
Admins: 3
Forum Stats:
Groups: 4
Forums: 23
Topics: 17638
Posts: 245565
©
Simple:Press
—