Caring for a Three Legged Dog or Cat
Tripawds is the place to learn how to care for a three legged dog or cat, with answers about dog leg amputation, and cat amputation recovery from many years of member experiences.
JUMP TO FORUMS ↓
Join The Tripawds Community
Learn how to help three legged dogs and cats in the forums below. Browse and search as a guest or register for free and get full member benefits:
Instant post approval.
Private messages to members.
Subscribe to favorite topics.
Live Chat and much more!
Find out in Be More Dog: Learning to Live in the Now by Tripawds founders Rene and Jim. Learn life lessons learned from their Chief Fun Officer Jerry G. Dawg! Get the book and find fun gifts in the Be More Dog Bookstore.
abnersdad
Abner was recovering remarkably well from his right rear leg amputation at the two week point when we started Carboplatin chemotherapy two days ago.  He was given 350mg of Carboplatin and sent home with me on Tuesday afternoon.  Within 7 hours he appeared to be exhausted and was unable to walk anywhere near the distances he had been doing routinely the day before.  He now has very little interest in food or water, lies around all day long looking exhausted and uninterested in anything. 
I have him on Cerenia and Pepcid AC to combat possible stomach distress although he hasn't actually vomitted.  We are almost exactly 48 hours after our first session and I am curious to know what other people's experiences have been like.  Little of what I have read or what the Vets have told me to expect indicated this kind of response.  Most predict little to no reaction and if there is one it is predicted to occur 2-5 days post chemo, not 7 hours.  I am somewhat demoralized by this.  We are facing 4 more sessions and I have no idea how long he will feel lousy after each of them.  Any input others have on this issue would be most helpful.
If it helps to know, Abner is 9 years and 8 months old and his post-amp weight is around 80-82 pounds.  His pre-amp weight was 88 pounds.

On The Road
Member Since:
24 September 2009
Offline
I'm sorry Abner isn't feeling well. So few dogs get side effects and when they do, they can be doozies but rarely life-threatening. From what I understand if a dog doesn't experience side effects the same day, typically they'll show up around day 3. 
Our blog posts have more info about coping with chemo side effects: 
Cisplatin and Doxorubicin Side Effects in Dogs (not specifically about carboplatin but good info regardless)
Others here with direct chemotherapy experience can help you with more ideas. I just want to add that, if you feel that Abner is not doing well after the 2nd treatment, you don't have to continue. Chemo is optional it is not a must. What matters to Abner is that you are not worried and you both share your time together in the best ways possible. If chemo is going to be ruff on you both, you may want to think about whether or not it's worth it to continue.

Member Since:
22 August 2011
Offline
Awww poor Abner. Is it possible this is just residual tiredness from his recent amputation and it is coincidentally occurring at the same time as his chemo? You are right that most side effects happen in the 2 to 5 days following chemo. Cadence lost her appetite around day 1 or 2 after having the Carboplatin, but never threw up or had diarrhea. Overall it was a smooth time during her chemo treatments. She always resumed eating her food again on the second day. We did end up having to change her protein though because we believe she started to associate that food with the nausea caused by the chemo and she never had the same zest for that particular protein. In the middle of the treatments she did hack a lot which we assumed was nausea from the chemo. Nothing did ever come up. So, I gave her ginger tea to help cut the nausea. Cut up ginger and boiled it in water, chilled it down and served mixed into her regular water. It was a diluted tea. Then in between chemos 5 and 6, she was just standing in the kitchen and I heard this unusual noise. I turned and she had vomited up a huge amount of this clear liquid. We attributed this to her chemo building up and realized that it was most likely affecting her now. After getting no real information about the difference between 5 treatments compared to 6 treatments (mainly because no studies have been done on that according to her oncologist), we did not go ahead with the 6th treatment. Instead we are giving her a good high protein diet with no grains, fillers, etc, and supplements like mushroom therapy and k9 Immunity plus daily with her meals. I would keep an eye on him. Drinking water is important, so maybe it might be a good idea to try to fix him a slurry of baby food and water mixed, and if he doesn't improve, talk to the oncologist. I know that is disheartening to see after just starting treatment. I was too holding my breath waiting for something to happen when we started Cadence's chemo. 
Cadence's Mom
Cadence Faye: Born 10/30/04, stepped into our hearts 12/23/2004. Rear leg tumor found 7/24/11 by mom and dad, Xray on 7/25/11, Osteosarcoma suspected 7/26/11, amputation 7/29/11, Carboplatin started 8/23. Met free so far! 
abnersdad
Thanks for the input.  I really don't know what to expect anymore.  He isn't reacting at all like most experts and people who have been through this report, so no one seems to be able to give me an idea of how long this will last.  He ate a little food this morning and drank a little water this afternoon but mostly he lies around on his bed immobile.  Once every couple of hours he gets up, circles on the bed and lies down again but in a slightly different spot. 
The last walk was slightly better but it still was very short and he needed a rest stop just past halfway.  I feel really awful for him.  Probably all he can remember of the last 7 weeks is trips to various vet establishments where they did something terrible to him.  Not much of a quality of life.  It is frustrating not being able to explain to him what is going on and that it is being done to make him better.

Columbia, MO
Member Since:
10 December 2011
Offline
I'm sorry to hear that Abner is having a tough time right now.  I'm with Cadence's mom on this one.  We have no experience w/chemo as Daisy lost her leg to arthritis.  However, her first two weeks of recovery were pretty much uneventful.  It wasn't until her third week that she became depressed and wouldn't do anything except sleep on the couch.  I had to practically force her to get up to go out and do her business.  She didn't have much of an appetite either.  Could only get her to eat boiled chicken, cheese and hotdogs and drink a little water.  Maybe it is all just now catching up with him.
Good luck and I hope Abner is feeling better soon!
Marla and Daisy
My Two Tripawds...Biscuit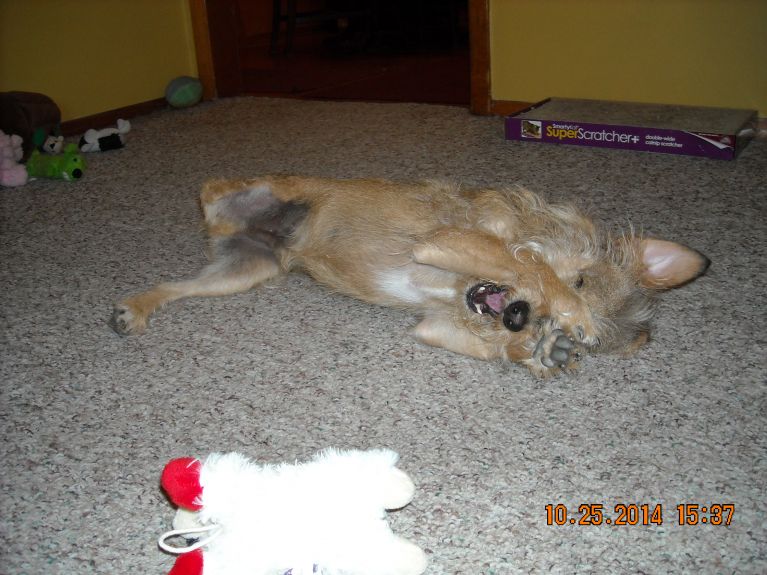 and Spirit Daisy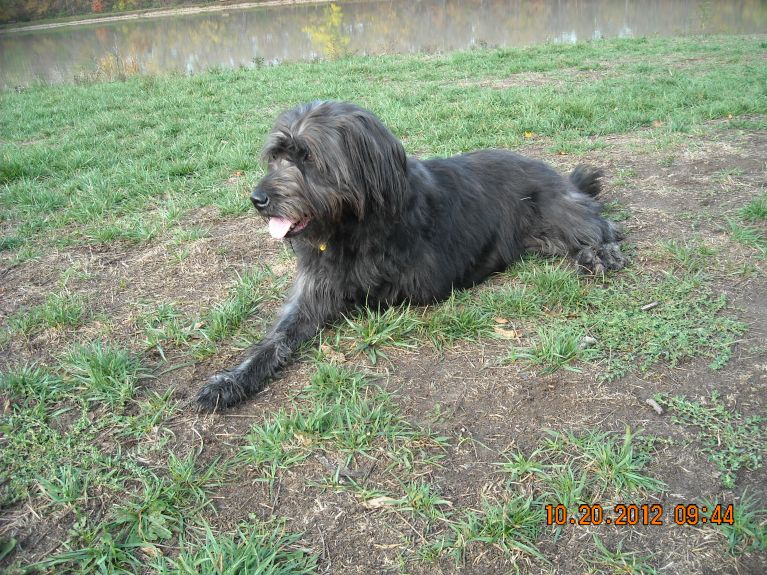 St. Louis, MO
Member Since:
16 September 2011
Offline
I'm sorry that Abner is not feeling so well.  My Charley had 5 rounds of Carboplatin and he did not experience side effects.  Charley was about 65 pounds and he received 290mL of Carboplatin per dose.  He received Carboplatin every 3 weeks (he did not need any rounds delayed, although it is quite common to have to postpone a dose until the blood counts are back up).  Did Abner have a baseline CBC (bloodwork) done?  Is he getting his bloodwork done before his next scheduled chemo?
Our oncologist did blood work after his first chemo at 7 days which came back fine (but Charley had no side effects from the chemo).  After his 2nd chemo he had blood work at day 10 which is nadir (the low point for white blood cells and platelets following Carboplatin) to see how Charley was responding (the results came out fine and he did not require any antibiotics).
I would call Abner's oncologist and see what he/she recommends that you do.  Chemo is tolerated well in most dogs, but not all.
If Abner is using a metal bowl, I would change them out to glass.  Humans report a metallic taste in their mouth after chemo.
Sending lots of positive thoughts and prayers to Abner.
Hugs and chocolate labby kisses,
Ellen & Charley
Charley's Blog:  CHOCOLATE KISSES


DOB: 3-29-08, male chocolate lab  
Dx: OSA L proximal humerus 10-19-10

Amputation: L front leg & scapula 10-28-10

Chemo: 5 rounds of Carboplatin

Video (12 weeks post amp):Tripaw Charley Playing

♥♥♥ Lots of supplements and love!!! ♥♥♥
abnersdad
Thanks for the replies.  Abner had blood panels done prior to his Carboplatin session and everything was within normal limits.  He is scheduled to have a CBC done 7 days after each and every session and another chest x-ray (his 3rd since this started) between treatment 2 and treatment 3.  At this point I have him on Cerenia as an anti-nausea drug in case his malaise is caused by stomach distress. 
I have been feeding him in metal bowls and will switch to ceramic or glass but his lack of interest in food is partly just the way he is.  In his whole life he has never been very interested in food.  I leave a full bowl of food out for him all the time and he just comes along from time to time, takes a few bites and then moves onto some other activity.  He didn't eat until about the 4th day after surgery and hadn't gotten up to his routine amount yet when we started chemo so if I can just get him to eat a little bit each day and drink some water or broth I think eventually he will get back to his normal consumption.
He weighed about 82 pounds the morning of the chemo and they gave him a dose that both the oncologists treating him agreed was probably appropriate but we are now talking about cutting back to 300-310 next time.  Perhaps that will lessen the impact on his system.  I just would love to have an idea of how long this fatigued state lasts when this happens.

Rock Hill, SC
Member Since:
28 November 2011
Offline
abnersdad said
He isn't reacting at all like most experts and people who have been through this report
It's not just Abner.  First, let me say that the posts above are right on target - Zeus took an energy nosedive a week after amp and didn't start to act normal until one month post amp, so it very well could be that and have nothing to do with chemo.  As for chemo, here's what we experienced:
-After treatment #1, he seemed a bit more lethargic around days 6 & 7 only and had little interest in his food
-After #2 he seemed feel bad immediately and stayed lethargic/weak the entire three weeks (he would get up to potty, etc, but nowhere near his normal bouncy self).  No interest in food or water.  When we went for #3 his WBCs were too low and it was postponed for one week.  (*See note below)
-After #3 he was again quite lethargic the entire time.  When we went for #4 the WBCs were again too low and we had to postpone a week.
-At #4 the vet lowered his dose some b/c the last two times his WBC stayed too low for too long.  After this treatment he has done FABULOUS.  Great energy, great appetite, drinking normal amounts of water again.  We go tomorrow for #5 and hopefully since we did a lower dose last time his WBCs will not be too low again.
*I also feel that I should mention his diet change.  We wanted to switch diets to low grain but most vets recommend that you do not change diet during chemo in case of side effects they won't know whether the new diet or the chemo is causing it.  After chemo two Zeus would not eat.  We proceeded with the diet change (1/2 Halo kibble and 1/2 homecooked).  The vet also put him on a daily multivitamin and a probiotic.  Zeus has been nothing but a PIG since then.  He wakes me up at 5:30 every morning and speeds to the kitchen to demand breakfast.  I know not everyone is willing to cook for the dogs, but I truly believe that it made a huge difference for him.  After reducing the last chemo dose a bit at trmt 4, there was a HUGE change in his energy - so happy and bouncy again.  I have to attribute it to the initial three trmts being too strong and the WBC staying too low.
Sorry to be so lengthy, but I was also discouraged when we were having the symptoms with Zeus that it was so abnormal from everything I was reading.  Just wanted you to know that it's not just you guys.  Good luck!
Lisa
Zeus was a Husky mix diagnosed with Osteosarcoma at age 11.  A visible lung met and suspicious spot on his liver meant a poor prognosis-six weeks was our vet's best guess. We decided to fight for our boy and his right front leg was amputated on 12/1/11. We did six rounds of chemo, changed his diet and spoiled him completely rotten. We were blessed with 10 great months after diagnosis. Against the odds, the lung met remained a single met and grew very little over those months. A wonderful furbaby with the most gentle spirit, he fought with a strength that we never imagined he possessed. We have no regrets...
http://zeuspod......pawds.com/
You have gotten some good advice, but I just wanted to chime in on the food thing. The night and next day after her chemo Abby didn't really want to eat anything. We tried to tempt her with lots of things, but the only thing she ended up wanting was some plain pasta noodles. When she finally ate that I remembered the vet had given me some stuff to read, which I then realized said to try plain pasta or rice if the pup has no appetite after treatment.
Also, Abby was the same as Abner - she never was much of a chow hound. Even before she got cancer, it would sometimes take her the whole day to get around to eating her breakfast.
All the best.
Jackie, Angel Abby's mom
Abby: Aug 1, 2009 – Jan 10, 2012. Our beautiful rescue pup lived LARGE with osteosarcoma for 15 months – half her way-too-short life. I think our "halflistic" approach (mixing traditional meds + supplements) helped her thrive. (PM me for details. I'm happy to help.) She had lung mets for over a year. They took her from us in the end, but they cannot take her spirit! She will live forever in our hearts. She loved the beach and giving kisses and going to In-N-Out for a Flying Dutchman. Tripawds blog, and a more detailed blog here. Please also check out my novel, What the Dog Ate. Now also in paperback! Purchase it at Amazon via Tripawds and help support Tripawds!

Member Since:
22 August 2008
Offline
Tazzie often was off her food for a few days after chemo (ate about half) but she did not need nausea meds.  She did get a little soft stool which responded well to probiotics.  You could ask your oncologist about a mushroom supplement and/or fish oil both of which can boost the immune system.  The carboplatin dose seems right since my Tazzie weighed about 185 pounds and her dose was in the 550 mg range.
Your dog is a little older (Tazzie was 6 1/2 years old) and some giant breeds are sensitive to meds.
Pam
Hello.I don't have any advice about the chemo because we chose not to do it but I sure am sorry that Abner is feeling so bad.  
  I know how awful it is to see them suffer and not be able to explain it to them. Valentina was pretty lethargic for about a month after her amp. She did have some complications though but I think she may have still been like that even without the complications. The amputation can certainly take alot out of them the first few weeks or so. And combined with the chemo it could just be magnified. I hope he feels better soon. I will be praying for both of you and your family.
abnersdad
Making decisions about how to proceed becomes a more difficult process with each passing day.  Abner has actually started eating and drinking again although certainly not much.  He never did lose his taste for some hand baked treats he gets from the local 3-Dog Bakery.  They are made with rice flower and some have vanilla frosting, others have small peanut chunks on them.  Even when he wouldn't eat anything else he would eat those.
We are now approaching 3 days out from his Carboplatin session and he still is weak in the hindquarters (where he has only one leg to work with).  His walking this morning was marginally better.  He didn't need as much assistance but the duration and distance are still a fraction of what he was handling unassisted before chemo.  He also seems to want to do nothing but lie around on his bed in a near sleep state.
One oncologist (who is an old friend from CA who is just consulting long distance) has proposed a reduction in dose the next time, and the other one who actually is treating Abner is unavailable because he went home sick on Wednesday and won't be back in until Monday at the earliest.  I am giving Abner daily doses of Cerenia just in case there is some nausea connected with his fatigue but I am at a loss as to whether this reaction is enough to consider discontinuing chemo, or at least discontinuing Carboplatin.  I have read so many posts from so many people and it seems that they all differ greatly.  All in all, this experience has left me wondering if I did the right thing in the first place.  Perhaps he would have been better off just having palliative care for the few months he might have had and then being allowed to go.  Having put him through the amputation already there is no going back so I find myself wanting it not to have been for nothing.


knoxville, tn
Member Since:
12 February 2010
Offline
good to read that abner is appearing to eat and drink a little better...it can be very frustating, especially when the shoulda, coulda, woulda thoughts take over.  every thing you've done and you will do in the future is because you care so much for abner.  don't doubt that, and don't doubt his love for you.  reducing the dosage of chemo sounds like a good option, and there's no one saying you can't just quit the treatments if they are making abner's quality of life suffer.  sending best wishes for a turn-around.
charon & spirit gayle
Life is good, so very, very good!!! Gayle enjoyed each and every moment of each and every wonderful day (naps included).  She left this world December 12, 2011 – off on a new adventure.
Love Never Ends

Member Since:
18 January 2012
Offline
In my opinion - you absolutely did the right thing!  Bone cancer is so painful and you acted quickly to get rid of the pain by getting rid of the leg.  As far as the chemo, yes there are a lot of opinions and it's tough to decide what to do.  We've  chosen not to do chemo, but we're not far enough post op. to be the poster child for that decision.
I do know someone who rescues and works with large breeds (not a vet AT ALL) who has a vet who has told her that, contrary to all logic, large breeds do best on a much smaller dose than others.  Abner's not as large as our giants, but pyrs. in general are considered a large breed.  I'll try to find out the name of the vet -  some east coast doc who's doing a lot of research.
Whatever you decide is the right decision because you love Abner and you're doing the best you can for him.  That's all any of us can do.  3 days of weakness feels like a long time, but it's really not.  He could wake up tomorrow feeling loads better.  The hardest part is that dogs are so sensitive to our moods.  Stay as cheerful and upbeat as you can around Abner, then go let down away from him.
Hang in there,
Judy and Baby
I'm sorry Abner's having a rough time of it - but you absolutely didn't do the wrong thing. The pain of the cancer is gone now and I'm sure that is a great relief to Abner.
The chemo thing is a much harder decision. We did chemo, but you hear of many dogs who last longer than Abby did who did no chemo. I think it's very reasonable to consider giving up on the chemo. (Either that, or maybe trying one more at the lower dose. If he's still doing poorly, then you would know it's a good idea to stop.)
There are other things you could try - artemisinin or metronomic protocol (low-dose chemo pills that you give every other day at home). MP is much easier on the system, as is artemisinin . Arte has been used for years and years, starting out as a malaria treatment, so it is known to have very low instances of side effects.
Hang in there. It still hasn't really been all that long since his amp. Give him some time.
Jackie, Angel Abby's mom
Abby: Aug 1, 2009 – Jan 10, 2012. Our beautiful rescue pup lived LARGE with osteosarcoma for 15 months – half her way-too-short life. I think our "halflistic" approach (mixing traditional meds + supplements) helped her thrive. (PM me for details. I'm happy to help.) She had lung mets for over a year. They took her from us in the end, but they cannot take her spirit! She will live forever in our hearts. She loved the beach and giving kisses and going to In-N-Out for a Flying Dutchman. Tripawds blog, and a more detailed blog here. Please also check out my novel, What the Dog Ate. Now also in paperback! Purchase it at Amazon via Tripawds and help support Tripawds!
Forum Timezone:
America/Denver
Most Users Ever Online:
946
Currently Browsing this Page:
1
Guest(s)
Member Stats:
Guest Posters: 1192
Members: 15203
Moderators: 2
Admins: 3
Forum Stats:
Groups: 4
Forums: 23
Topics: 17638
Posts: 245565
©
Simple:Press
—