Caring for a Three Legged Dog or Cat
Tripawds is your home to learn how to care for a three legged dog or cat, with answers about dog leg amputation, and cat amputation recovery from many years of member experiences.
Learn how to help three legged dogs and cats in the forums below. Browse and search as a guest or register for free and get full member benefits:
Instant post approval.
Private messages to members.
Subscribe to favorite topics.
Live Chat and much more!
We sometimes receive emails from members and guests who find the Tripawds website helpful when faced with the difficult decisions regarding a cancer diagnosis and/or amputation for their dogs. We're starting this topic to share these comments and invite others to include their own feedback.
For starters, we just received this wonderful shout out from Glenn who's dog Sasha underwent amputation a year ago …
Please post the following somewhere on your website. Your site was extraordinarily helpful to me a year ago when my dog was to undergo surgery, and i would like to make the following available to others considering surgery. Thanks.

Hi. .My dog Sasha had a scapula ("shoulder") bone tumor about a year ago and we were faced with the prospect of amputation. I found this website incredibly helpful (as well as one of the books i found from the website). The decision regarding amputation is a agonizing one to some, and I am writing mainly to offer to discuss the issue if you are going through that same decision. Feel free to email me. By the way, Sasha is doing great, going for walks, going up and down the stairs, hopping up on the bed, and swimming just as well as she did before the surgery.

-Glenn
We just received this beautiful letter from Ruthie in Sarasota, Florida. She is the pawrent of Abby who was just diagnosed. . .
I just wanted to let you know how much I appreciate your website.

Thursday my nearly 6 year old lab Abby was diagnosed with Osteosarcoma of the left hind leg. I have been devastated and struggling with the best course of action. I decided that amputation is the best way to ensure she spends the rest of her time with us as pain free as possible and your website has been such a huge resource and comfort.

I live alone with her on a third floor apartment with my closest friends and family hours away so I was relieved to read about the Ruff Wear harness which I think will help me help my precious girl through her rehabilitation.

Tripawds.com has given me hope that Abby will be able to overcome the loss of a limb and the 3 legged dog songs even brought a smile to my face in this difficult time. I hope that soon my little girl will be one of these success stories!
Just received this letter from Chantelle, who purchased a Ruff Wear harness for her sister's dog, Cattiva:
"Just want to share how my gift of your Web Master harness really lifted the spirits of my sister, Michelle.  She recently lost her husband due to cancer.  Her close relationship with her Great Dane, Cattiva,was helping her cope with her tremendous loss.  Just last week, Michelle found out Cattiva had cancer in her front leg and is currently nursing, Cattiva, back to health from a very recent let amputation. 




Michelle usually takes Cattiva with her just about everywhere she goes.  Michelle was feeling depressed because she was thinking that she wouldn't be able to take Cattiva with her anywhere like for rides in her SUV, and up to her 20 acre property for walks.  When Michelle opened my "Get Well Soon Cattiva" email, saw the picture of my harness gift, the video on how to use it, and links to your Tripawds website, it really lifted her spirits and gave her hope.  And it made me feel like I was finally able to do something to help her.

 

Cattiva is off the strong pain meds now.  She's getting up and around and doing pretty well.  Michelle and Cattiva really look forward to receiving the harness in the mail.  Since Cattiva loves to dress up, she's sure to love her new apparel!

 

Thank you from all of us for providing such a great product for amputee dogs!

 

Take Care!

Chantelle"
Jerry just received this comment on the Tripawds YouTube Channel ...
You're a blessing to this world. This is how to tell real dog lovers from people who shouldn't have dogs.
Thanks for posting the video, there are so many sad situations all over the world and surprising, the dogs in your video are almost in luxury and he looks like a happy Dog. ♥

You are truly a person with a large heart. It's extremely generous, all that you're doing. You're giving these animals a second chance. They are living, feeling unique individuals who have a so much right to live and be on this planet as we do. That really, rocks.
*...Saving just one pet won't change the world ...but, surely, the world will change for that one pet...*
Have a nice Day Bob from New Zealand
♥
New member anjo just gave Tripawds this heartfelt shout-out:
I just wanted to join to let you all know that this site is quite simply wonderful.

We have two Great Pyrenean Mountain dogs, Toby 8.5 and Ella 11.5. Toby was diagnosed with an osteosarcoma one week ago. We felt a lump when we were stroking him. He was in no pain at all, no limp.

When we were told we were devastated. I saw this site and it helped my husband and I to make the very difficult decisions that were required. Toby had his left fore leg amputated this morning. He is in recovery at the moment.
We received this touching letter from Spirit Cinderella's pawrents today:
This was my beautiful princess, Cinderella. Today would have been Cinder's 4month ampuversary, unfortunately she is no longer with us as of Monday.

Cinder's amputation never slowed her down. She was going downstairs just two days after her amputation, which shocked us all as myfamily blocked the stairway, but Cinder found a way aro…undit. She was always a very happy dog! But the cancer kept spreadingthroughout her body. During the last month she had quite large lumps onher body and during her last days she was blind in one eye and goingblind in the other. Even with all of these obstacles she had a smile onher face moments before the end.

We miss her terribly! When myfamily was deciding if amputation was the right thing for her, we usedthe tripawds website to learn more about it, and we would do it againin a heartbeat. I would like to thank this site and the people using itfor sharing their stories.
Every week we get such sweet letters, I keep forgetting to post them. Here's one we received today from Big Barney's pawrents.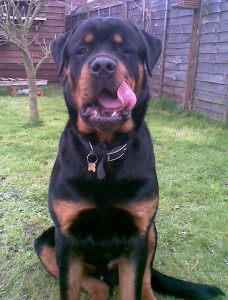 Barney was a very sweet Rottie who left us far too soon, less than 2 months after his surgery. His loss was so heartbreaking. Read his pawrent's last post "
Would We Do It All Again
?" for details.
Here is the note from his Mom.
—— Forwarded Message
From: Christine Weston

"I have the utmost respect in what you do and how you helped me and my family though such a hard time. I know there will be many more dog owners out there that will find your website and find it an absolutely god send.

Thank you once more and kind regards, Chris Weston (Big Barney)
Letters like this are so beautiful . . .
Tripawds member Colleen recently wrote to us to share her experience discovering Tripawds, when she had to contemplate amputation for Kenya, her senior Tripawd:
"I don't know WHAT I would have done if I hadn't found your site!

Since you read Kenya's story, you know we had to make a snap decision about amputation with no prior clue this might be a possibility so we never got to do any research or get a clue whatsoever about all this before we left our beloved little pooper at the vets to be tripawd-ed.

I was a wreck. I couldn't even remember seeing a 3 legged dog walking / running - (I'm sure I had) and I couldn't even imagine how it worked, how she could run or get up or anything with only 1 front leg.

When I found your site, I could see a future for her!!! I saw happy dogs who had JUST been through what we were facing. And - ANSWERS to questions ... and people who were right there with us ... a few days ahead or behind but having the same bad dream we were having and helping each other through it."

Portage Lake, Maine
Member Since:
8 December 2009
Offline
I love reading these Rene..they make your "work" sooooo worthwhile I'm betting 🙂
XOXO
Tracy & Maggie
Maggie was amputated for soft tissue sarcoma 10-20-09
Maggie lost her battle with kidney disease on 8-24-13
Finding Moose the Great Dane Tripawd on YouTube was how we decided to proceed with Jerry's amputation. Here is a post from Lira's Mom who found us when she too was looking for hope:
I have to say that I am glad this site exists. I happened to find it after i checked out 3 legged dogs on youtube.

This site has been so helpful in so many ways. It is very comforting to know that I can get advice, ideas and just hear other stories. I don't feel alone at all and for that I am grateful.
Sasha's pawrents, who are coping with the loss of their three-legged Saint, were kind enough to write this in our Shout Outs Forum today:
I just wanted to thank everyone involved with this website. I was luck enough to find this website when my Saint Bernard Sasha was diagnosed with osteosarcoma. It has been a godsend!!! From information about cancer to recuperation and even an outlet for my worries and frustrations in the blogs, this website is the best!!! I tell everyone I meet about it and the help and support it provides. Thank you so much and bless all of you!!!!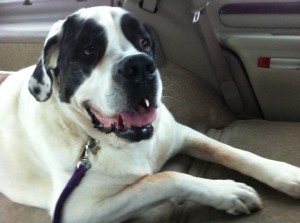 Forum Timezone:
America/Denver
Most Users Ever Online:
946
Currently Browsing this Page:
1
Guest(s)
Member Stats:
Guest Posters: 1254
Members: 17237
Moderators: 5
Admins: 3
Forum Stats:
Groups: 4
Forums: 24
Topics: 18408
Posts: 254008
©
Simple:Press
—