Join The Discussion
Learn about life on three legs in the forums below. Browse and search as a guest or register for free to take advantage of member benefits:
Instant post approval.
Private messages to members.
Subscribe to favorite topics.
Join the Live Chat and more!
Tripawd Heroes Book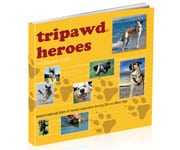 Tripawd Heroes books feature inspirational stories and photos of dogs loving life on three legs!
A
A
A
Because Tazzie 2 is such a special dog, having the only subQ mets that we have heard of for OSA dogs on this website (is this for real?), I thought I should post an update. Another tripawd might come along in another two years and look for a buddy who shares his story.
It is now 7 weeks since I found the first subQ met below the hip area on the right hind leg. It was removed 2 weeks later, but is growing back along with a few of its friends in the same general region.
Downside: The lumps grew a lot this week. You can easily see it, given the shaved skin, so I don't really feel around the area because that would just be depressing. As of this week, that leg has started to quiver and Tazzie sometimes adopts a true tripod position, putting less weight on that leg.
Upside: He still feels good. He is ravenous (desperately ravenous so I can't really call this 'good'), but at least that is a powerfully motivating drive. Lots of vim and vigor when food is around. Twice in the last week I have observed this "whirling dervish" behaviour that he did when he was younger. If you are at the park and no other human or dog is around, he will start running past you, doubling back and running as if he will tackle you like a deer, again and again. I haven't seen this in years! It is not for the faint of heart to see a large dog hurtling at you ready for the kill.
New drugs and supplements:
We are now:
Week 3 of metronomics (Cytoxan and Actos) and sure hope these drugs kick into effect before the lumps grow too large.
Day 5 of Artemisinin .
Day 3 of Health Concerns power Mushrooms, the ones recommended by Pam and her Tazzie, which we are now using instead of K9 immunity . My Tazzie (is this confusing enough!) seemed more energetic within hours of taking the first one, but that is probably my imagination. I tried to increase from 1 to 2 pills on Day 2, and that did not agree with him (salivating as if nauseous), so they definitely are making themselves known. Back down to 1 pill until he gets used to is.
We are using the Ruffwear harness more often to prepare for the slippery sidewalks that will arrive with the snow and ice. Does anyone have suggestions to reduce the slippage for front leg amputees? Maybe once I get my winter coat, I can safety pin the harness to the coat.
That's it for now, Happy Halloween all you dawgs!
Tazzie 2

Wesley Chapel, FL
Forum Posts: 1104
Member Since:
13 September 2009

Offline
Hi Tazzie 2… Glad to hear you're doing well!! Hope the lumps stay in check and not grow any bigger!
Jake also had sub Q lumps (lipomas) ever since we adopted him 5 years ago. They have been slowly growing. So, I'm not too worried about them being OS mets right now… (they would have done him in long time ago)… But he is having some problems lately… with walking on all 3 of his legs. Can't tell if it's just extra strain from when he excerts himself too much, or something worse…
Which company did Pam recommend for purchasing the power mushrooms? There are many on the internet… They are definitely way cheaper than the K9 Immunity . Also, the drug rep finally got back to me… He said they only work in combination…
Jake's Mom
Jake, 10yr old golden retriever (fractured his front right leg on 9/1, bone biopsy revealed osteosarcoma on 9/10, amputation on 9/17) and his family Marguerite, Jacques and Wolfie, 5yr old german shepherd and the newest addition to the family, Nala, a 7mth old Bengal mix kittie. Jake lost his battle on 11/9/2009, almost 8 weeks after his surgery. We will never forget our sweet golden angel… http://jakesjou.....ipawds.com ….. CANCER SUCKS!

Kirkland, WA
Forum Posts: 739
Member Since:
2 June 2009

Offline
Tazzie (2), I am glad you are feeling so grrrrreat! Perhaps your mum could take a video of you trying to hunt a "deer"? That would be pretty cute to see 🙂 I, too, am interested in where you get your power mushrooms and artemisinin . I've asked at the vitamin stores, and they try to sell me Wormwood (I actually bought some in tincture form, but tasted it myself and refuse to give any to Jack…naaasty). I hope your mets start reacting to your medication so your mommy stops worrying, but I'm stoked you are keeping an awesome attitude! You rock!
<3 Laura and Jack
Hi Lumpy Mutts,
Yes, I too have lots of lipomas including a really big one that I've had for two years on my abdomen. My special lumps are not lipomas or sebaceous cysts (I have lots of those too!). These are new, nasty and hard, and they have been confirmed to be OSA (I can see you still do not believe me!). I'd be proud for being so special, except my mum would be much happier if I were not so special. But all of you with routine, round, movable cysts, do not worry! Most of us dogs have those things, so they do not give you truly special status. (But they are much much better for your life expectancy.)
Google "Health Concerns power mushrooms" and the company will come up. I think I ordered from Acupuncture Atlanta. They sent the shipment the next day and it arrived (even getting across customs) later that week. That is quick. We ran out of K9 immunity before so I thought we would try this instead (and I think it is much cheaper based on the information Pam gave earlier). Pam mentioned that her Tazzie's fur grew back nicely, so that was a great hook for us.
I found an old post on a dog from 'Jenna and Zak' in last year's archives on a related topic, and I'll paste the relevant information below. It seems that their oncologist was Dr. Ogilvie (of cancer diet fame). At that time, it appeared that the jury was out on K9 immunity , testing was only in progress but Jerry can add insight into that.
I think I was wrong about the mushrooms causing excessive salivation. I also gave Tazzie an extra glucosamine at the same time, which I thought would be innocent. I gave him a 2nd glucosamine tonight, and the heavy drooling began again! Has that happened to anyone? Normally I only start one thing at a time (and now I see why!), but it is so tempting to get everything started.
Last, Zak's oncologist also recommended IP6, which Jackers keeps mentioning but I haven't heard anyone else bring it up.
Jackers – we ordered Artemisinin from the same companies that Pam recommended. Tazzie takes 1 pill "Artemix" (the most important because it has the potent "Artemether", 1 Artemin (which is straight-up Artemisinin ) and 1 Butyrate (sp) to increase absorption just before bedtime with a bunch of fatty stuff (cream cheese and cottage cheese). I do not have the company names handy, but it is easy to find if you search the forums for "Artemisinin ". I gave Jake my dosage before because we are about the same size. How much smaller are you (I'm 75 lbs). Let me know if you do not find them, okay? I think the mushrooms were inexpensive. I think Artemisinin is probably pretty expensive (I spend so much money on this mutt, I can't even remember what is what anymore). If you are really keen to try Artemisinin , send me a PM, okay?
Susan & Tazzie 2
From Zak's Dr:
"Agaricus Bio from the company Atlas World & IP-6.
He said to forget other mushroom blends being sold at nutrition stores. Apparently, they did testing at CSU when he was there on the mushrooms that are being sold & they aren't of value useless made through some type of 'water process' that Atlas World does with their Agaricus Bio."
(Note from Tazzie 2: I think the Health Concerns mushrooms might also be made with a water process because they mention steaming as the form of manufacturing.)
Tazzie said:
Google "Health Concerns power mushrooms" and the company will come up. I think I ordered from Acupuncture Atlanta.
---
[Image Can Not Be Found]FYI: You can order Health Concerns Power Mushrooms right here, and help support Tripawds at the same time!
We also found Power Mushrooms sold online here:

My heart lives at Rainbow Bridge
Forum Posts: 3754
Member Since:
28 November 2008

Offline
I've not seen the IP6 mentioned here, but a friend on another group who has a dog with lymphoma uses the IP6 and recommended it to me, but I am holding off on most supplements because of ther allergies.
I did start giving her Cherry Flex this week for the arthritis. A friend of mine takes it and has had good results, so she order the canine version for her dog. Patchie wouldn't take it, so she sent it to me for Trouble. I'll update after I get a few more doses behind us and can evaluate whether or not I see a difference.
Shanna & Spirit Trouble ~ Trouble gained her wings 3/16/2011, a 27 1/2 month cancer survivor, tail wagging. RIP sweetheart, you are my heart and soul.  Run free at Rainbow Bridge.
The November Five - Spirits Max, Cherry, Tika, Trouble & Nova. 11/2008 - 3/2013 An era ends as Queen Nova crossed the Bridge.


Wesley Chapel, FL
Forum Posts: 1104
Member Since:
13 September 2009

Offline
Thanks for all the info. I just ordered the power mushrooms through the Tripawds link.
I took Jake outside to pee and poop this morning… He did his stuff, and then just stood there with his legs trembling… Usually he starts to hop back towards the patio… He's going swimming in a few hours… Hopefully he will have fun… I'm just starting to worry now that he doesn't have that much time left…

I hope that its just a short setback, and that he at least gets back to how he was just last week. I don't want him to suffer and be miserable… He seems to be fine when he's lying down and we're cuddling with him…
Jake's Mom
Jake, 10yr old golden retriever (fractured his front right leg on 9/1, bone biopsy revealed osteosarcoma on 9/10, amputation on 9/17) and his family Marguerite, Jacques and Wolfie, 5yr old german shepherd and the newest addition to the family, Nala, a 7mth old Bengal mix kittie. Jake lost his battle on 11/9/2009, almost 8 weeks after his surgery. We will never forget our sweet golden angel… http://jakesjou.....ipawds.com ….. CANCER SUCKS!

Mesa, AZ
Forum Posts: 353
Member Since:
27 April 2009

Offline

Hi Tazzie, You asked about traction for a frt. leg amputee, have you tried doggie boots? This company makes boots that are 8″ in height so they don't fall off the feet. They come with a double clasp too for extra security. Check it out!
Chuy & Eleanor
Chuy, showing everyone that Tripawds do everything 3 times better than regular dogs!

Kirkland, WA
Forum Posts: 739
Member Since:
2 June 2009

Offline
Just so people know, I have had Jack in IP6 and Inositol (available at your vitamin/supplement store…comes in pill form) for a couple months now I think – ever since we mentioned it the first time. At first he started acting all crazy on it, like, he got crazy eyes for a bit, so I just gave him 1 pill every other day and we are now up to 2 pills every morning. I think I am going to start doing 2 in the morning and 1 at night (adult dosing is 4 pills daily) since he's doing well on the 2. I have noticed he has a TON of energy now, but don't know if it's due to the IP6, the Inositol, or the othe 2 supplements he's on…or the fact that he has no bone tumor 🙂
FYI: I found IP-6 (Inositol Hexophosphate) online at the following sites …
I also came across this IP6 Wtih Inositol Question & Answer Book
.
Hi everyone
I know Jack is on IP6 (what are you not on, Jack?
), but I have not read anything about it until seeing an old post by Zak the other day in which Dr. Ogilivie seemed to recommend it. Thanks 'Admin" for the reading material – Tazzie and I will read up on it.
My comment about slippage was confusing. I meant the way the ruffwear harness slips away from the amputated side, because there is no other fore leg to hold it in place. Any solutions for this minor inconvenience? I'll definitely check out those boots, Chuy – they sound great.
To finish our update, this morning I found a new rocky lump or two, immediately next to his big lipoma on the left abdomen. Until now, the subQ mets were confined to one body region, the right hind leg (there is not right fore leg!). We have two other new lumps, but they are soft and mobile like lipomas, so I will not make any assumptions about them.
Very energetic on a long outing at the park this morning.
Happy Halloween everyone

Susan & Tazzie 2
Tazzie said:
…the way the ruffwear harness slips away from the amputated side…
---
This is just a fact of life with front leg amputees. It's easily adjusted and is merely aesthetic, but we found no real way to avoid it. Perhaps duct tape would work.
Just kidding, of course … we started this topic about fitting the harness on front leg amputee dogs early last year.

Forum Posts: 729
Member Since:
28 May 2008

Offline
Hey there Taz pal – Just checking in, it's been a while since mom and I were on (she is um…well, hanging in there as best as she can!)…but we MISS YOU AND EVERYONE ELSE, so I came to her in a dream and told her to BUCK UP because we love tripawds soooo much and she has to get on getting on you know?
Anyway – it sounds like you are doing A-OK and even better than that. I had a lot of those lumpy thingies too as I got older – mom aspirated each and every one of them (I have a crazy, neurotic mommy). They were just fatty lumps, but yes, coupled with the cancer – it makes for extra worry for our pawrents…we don't even notice them do we?
Hope you had a HAPPY HALLOWEEN…we had a pawty up here and a lot of us dressed up as pirates (I thought I was being original, but Oh well….with a bunch of tripawds up here, we all have the same sense of humor I guess).
Mom sends her love and I send "Hi Paws"
Spirit Zeus
Heather and Spirit Zeus - Our life changing journey…from the earth to the heavens…one day at a time…always together
Just giving an update on our subQ journey. We are now 2 & 1/2 months since I found the first subQ met. We went to the vet yesterday after not being there for an entire month! I am afraid these are all specific tidbits that won't matter much unless another dog finds him or herself in Tazzie's pawsteps some day.
Bloodwork had some good non-cancer related things, including a return to normal for kidney values. That is kind of surprising given he is on two drugs that aren't particularly good for kidneys, Metacam and Cytoxan, and of course had minor kidney issues going into this.
He is slightly anemic which she thought might be due to Cytoxan, although I recall he was slightly anemic before. I am also wondering if it could be related to the iron killing effects of Artemisinin , but I don't know if Artemisinin has the potential to induce anemia.
Probably the worst bloodwork news was high AlkPhos, which I know can bring a poor prognosis for cancer patients. Although it can be high for a few different reasons, this value has not been high recently so my guess is that it relates to the "c". She said it is 'only' 220 (vs normal ends at 155) and they don't get particularly bothered until it doubles. But this is a big change from 4 weeks ago. I'm not too happy about that, but what can you do. We are lucky that his mets have not caused any real problems yet.
Lump situation: the original lump is big, kind of like a big hot hard lumpy grapefruit with small extensions above it. It seems a bit sore if probed, although he does not react strongly and he still sleeps on it. We are starting to use tramadol for the pain related to that lump.
His other lumps (2-3), which starting growing after this one, are not growing nearly so quickly. I just wish we could somehow get rid of the first big lump on the leg or find a way to get rid of pain related to that one place on his body. This week, he has seemed more hesitant on walks and before tackling stairs although he won't really accept my help. He is still bright and happy, gets around well and is perky enough to be naughty (this week it was an empty – but small – bag of Hershey kisses and a pizza container that I found on the living room floor).
Well, time to leave the specifics behind and enjoy things,
Susan on behalf of Tazzie 2
Forum Timezone:
America/Denver
Most Users Ever Online: 597
Currently Online: admin, jerry, murphsmom
44 Guest(s)
Currently Browsing this Page:
1 Guest(s)
Devices Used: Desktop (39), Phone (7), Tablet (1)
Member Stats:
Guest Posters: 1005
Members: 12615
Moderators: 2
Admins: 3
Forum Stats:
Groups: 4
Forums: 23
Topics: 14974
Posts: 210886