Join The Discussion
Learn about life on three legs in the forums below. Browse and search as a guest or register for free to take advantage of member benefits:
Instant post approval.
Private messages to members.
Subscribe to favorite topics.
Join the Live Chat and more!
Tripawds Jewelry & Art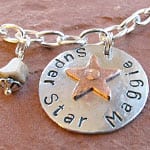 Visit our Etsy Store for custom pendants, charms and unique handmade gifts!
A
A
A
Hi everyone. I'm brand new here because my brand new puppy is about to get a new look. My poor Penny, a 6-month, female, miniature pinscher full breed, had a sad freak accident two weeks ago. She went to jump down from the top of our sofa (something she's already done many times) and simply fell wrong, suffering a complete fracture of her left radius and ulna. We took her to the 24 hour emergency vet, who set and splinted her leg and told us it was an extremely expensive plate and screw surgery or amputation. We were horrified by the news, and took her for a second opinion the next day. This next vet told us we could try keeping it bandaged and check her X-rays again in 1-2 weeks. Well, we went in on Thursday expecting that some healing would've begun to occur, but unfortunately the break had slipped right back to its original position. It will be a non-unionized fracture and will In fact require one of two bad options. 
After doing lots of research on both the surgery and amputation, and speaking with a good friend of our breeder who has actually had two dogs WITH surgery and one amputee, we've opted to remove her leg. The person we spoke with told us that the surgery required both dogs to be crated almost nonstop and sedated heavily for several months to recover. Additionally, they both had complications-infection, a shorter repaired leg, a slightly twisted leg. One ended up needing amputation after the surgery. After learning about how well dogs adapt to three legs and how much faster and easier the recovery is, my husband and I just feel better about amputation–she will suffer for a much shorter time with much lower risk of complications. Cost is a big concern for us, but even if we had the money I still wouldn't feel good about putting her through the surgery, especially at such a young age (this girl has an insane amount of energy! Typical min pin). 
So, I'm sad to say, Penny will be losing her leg sometime in the next week. I know lots of people here do this to prevent the spread of cancer, but anyone who just doesn't think the surgery is worth the pain/stress/recovery? Also, how have people managed puppy energy post-op? We plan to keep her either crated or in a small pen we set up in the living room after she got hurt. 
We also have a 5-year-old min pin who she loves to play rough with. Would it be a good idea to have him stay with family for the first week of recovery? We wouldn't allow them to play together, of course, but our big boy is quite high strung and barks at any noise off the street, which always gets the puppy riled up and jumping around. 
Any advice or support would be appreciated! This has been so hard. 

Here and Now

Forum Posts: 11425
Member Since:
25 April 2007

Offline
minpinmomma said
Any advice or support would be appreciated!
Welcome and best wishes for Penny! You've come to the right place for plenty of tips and support from others. Start here for help finding the many Tripawds resources and assistance programs.
While you wait for comments from others, use the Advanced Search above to refine your forum search results with specific phrases, and you're sure to find lots of helpful feedback. You can also search all blogs here . Or, consider downloading the Tripawds e-books for fast answers to common concerns and feel free to call the toll-free Tripawds Helpline anytime!
Please keep us posted, your future forum posts will not require moderation.
Hello and welcome.
I'm sorry to hear about Penny's accident.  I've had small dogs for years now and keeping them from jumping off things is really hard, especially when they are young.
My current Tripawd is a small pug mix named Elly, she weights about 15 pounds. Elly was hit by a car when she was 7 months old and lost her right rear leg, I adopted her as a Tripawd so I did not have a say in the amputation decision.  I did see one x-ray the rescue group posted on line and the break looked pretty bad.  I don't know if there was an option to try and repair the leg, but I don't think the rescue group could afford to pay for a repair surgery. 
As far as managing her energy during recovery and beyond- I'm a huge advocate of food puzzles and games. Elly has several types of games that work her mind and work on her balance.  We also do Nose Work which is great for challenging body and mind.  You will have to wait for Penny to heal up before doing most of these activities, but some should be OK,  check with your vet on timing.  When my first Tripug Maggie lost her rear leg to mast cell cancer our surgeon said only short, leashed potty breaks for the first two weeks after surgery.
On keeping the two dogs apart- when Maggie had her amp my parents keep my other pug Tani for a few days.  Tani was very mopey without her big sis.  After a scuffle when we re-introduced them (alpha pug thing) they were fine together.  But my girls were older, Mag was 7.5 and Tani was 6 at the time, and Maggie was a slug during her recovery so I didn't have to worry about keeping her calm.
Good luck with the surgery next week and keep us posted.
Karen and the Spirit Pug Girls
Tri-pug Maggie survived a 4.5 year mast cell cancer battle only to be lost to oral melanoma.
1999 to 2010
Thanks for your response! Penny is now set to have her operation on Thursday 10/19. It's almost a relief at this point because the last couple days she's been sending some definite pain signals from her broken leg. At least we know she should be feeling much better im the next two or three weeks. 
What kind of food puzzles do you like? Penny already has a Buster Cube, though she does tend to get quite rambunctious with it. She'd rather throw it around the room to hear it rattle than actually crack the code lol. I've considered one of those Snuffle Rugs bc they look a little more low-key. 
We've decided to send Rusty (the BigBoy) away for a few days because any time he's been allowed to be with Penny, she's used her big cast basically as a baseball bat to whomp on him! It's kinda cute but mostly really stressful. 
What kind of space to roam did you give Maggie after her surgery? Penny is crate trained and also has a small enclosure set up in the front room that's about 4×4 feet. I'm not sure if that's too much or not enough space for her. Another of my concerns is that while she's such a big girl now, she occasionally still has an accident in her crate–I don't want to leave her in there and have her get urine on the incision. I was thinking about setting up her crate inside the enclosure and using a potty pad ~just in case~. We never did pads with her to help encourage faster house-training, so I don't know if she'd even use it, but it seems like it's worth a shot. 
Hi again, sorry for the late response.
As far as toys- we have a variety.  Some are the type like Twister (that's my quad boy Obie playing a few years ago!) or the Activity Mat where the toy is stationary and Elly has to work around it.  Great for balance and core strength.  Some toys are the 'chase' type like this Mushroom toy and a variety of balls and bottles that I fill with treats and she has to knock around to get the food out.  She does sometimes lay down with the ball toys so not much exercise, but it still keeps her busy and her mind working.  These might be hard at first for a new front amp.
Maggie had the run of the house after surgery.  She was 7.5 years old at the time of surgery and a total SLUG!  It was all I could do to get her to get up for potty breaks so keeping her calm was not an issue at all!  You are going to be challenged with Penny because she is so young.  If you could block off a room, or maybe a half a room with not access to stairs or furniture that should be fine.  When quad pug Obie has his knee surgeries I made a small pen for him with an xpen (with the vet's approval as Obie can not be crated).  I have found that after I have potty trained my dogs to go outside they won't use pee pads again.  However they are useful during recovery as accidents are not uncommon during recovery.
It looks like surgery was today- I hope all went well.  Please update when you can.
Karen and the Spirit Pug Girls
Tri-pug Maggie survived a 4.5 year mast cell cancer battle only to be lost to oral melanoma.
1999 to 2010
Great recommendations! The activity mat looks perfect. Min pins are quite hyper, so she'll definitely want something like that to keep her occupied. 
So surgery was Thursday and omg, the first night was awful. She cried and cried, and had a lot of anxiety from her drugs. However, when we had her pressure bandage taken off the next day she immediately started to feel better. I'm amazed by how well everything has gone. On day two she started walking around with her little tail wagging, ate food, and even went poop!!! I expected a few days without poo and for her appetite to be worse. Every day she's gotten better—puppies sure do have an incredible ability to adapt and heal. She's mostly been really good about staying calm and hanging out in her tricked out recovery pen, but she's already tried chasing the Big Boy and can hustle around on 3 legs pretty quickly already. 
We've followed the awesome advice I've seen here—Penny has a new firm bed, elevated feeding station, a comfy donut instead of the E-cone, and a couple new rugs and runners for our ultra slippery polished concrete floor. 
She had her checkup today to have her fentanyl patch removed and the vet says her incision is looking great. We had been a little concerned about some fluid buildup below her incision, but the doc said it was actually less than he would've expected, so this is good news! The staples come out on Monday as long as everything keeps progressing smoothly. 
Good news! 
I'm glad things are going so smoothly and yes, puppies seem to just sail through recovery.  And poop already- yay! 
The fluid build up is a seroma and quite normal.  Keep an eye on it but most times the body will re-absorb the fluid as healing progresses.
Pictures?
Karen and the Spirit Pug Girls
Tri-pug Maggie survived a 4.5 year mast cell cancer battle only to be lost to oral melanoma.
1999 to 2010

Forum Posts: 9
Member Since:
3 November 2017

Offline
How is Penny doing?
The story of my dog, Maple, should show up here soon.  I was truly amazed how she recovered and handles her change as if nothing is different now.
In case you have the same thing, let me warn you:
It took about a month for Maple to move around and stop feeling pain often.
It took two months for her personality to fully return.
And then in three months, she was moving at warp speed all over the house and yard, and she is still faster than her sisters.
Be extra careful of stairs – it took a while to understand the change in her balance and to have the strength to stop her downhill weight with one front leg.
Forum Timezone:
America/Denver
Most Users Ever Online: 597
Currently Online: benny55, howard, joni
98 Guest(s)
Currently Browsing this Page:
1 Guest(s)
Devices Used: Desktop (86), Phone (14), Tablet (1)
Member Stats:
Guest Posters: 1005
Members: 12573
Moderators: 2
Admins: 3
Forum Stats:
Groups: 4
Forums: 23
Topics: 14963
Posts: 210678