Join The Discussion
Learn about life on three legs in the forums below. Browse and search as a guest or register for free to take advantage of member benefits:
Instant post approval.
Private messages to members.
Subscribe to favorite topics.
Join the Live Chat and more!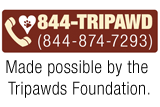 Want to talk with a friend who understands? Call the toll-free
Tripawds Helpline
!
A
A
A
Hi everybody, thought i'd introduce us both to this amazing community. I'm Jill mum to ilean, an old tyme bulldog x breed.  
This is all so new to me (i've never owned a tripaw before), It all started 6 month's ago when I was browsing through facebook, I wasn't really even looking to get a dog at the time (my previous dog had gone to the rainbow bridge & I just couldn't face getting another) but I follow my local dog rescue centre, they always post new dogs that need re-homing on there that they've found abandoned & roaming the streets.  A picture popped up of ilean (who they had named tri-pod) I fell in love with her instantly!
The following day I went to the rescue centre to meet her hoping that somebody hadn't already taken her, she came bounding out, gave me the biggest kiss and jumped all over me, i knew straight away that she was definately the furbaby for me. I could'nt bring her home with me straight away though as she had a few issues, ear infections, a really bad case of cherry eye & kennel cough.
This actually gave me time to get my house all sorted out for her arrival though, I had wooden floor but got it covered with carpet to make sure she didn't hurt herself sliding everywhere.
The rescue centre had arranged with local vets to get her cherry eye done before I collected her & were supposed to be calling me to let me know how everything went, but after a few days of not hearing anything (I was beginning to get worried that something had gone wrong with the operation) I was calling them about 20 times a day & just getting an answerphone, somebody eventually got back in touch. The cherry eye was too serious for their vet to do so were going to refer her somewhere else, so I could go & collect her.
I could'nt wait to get her home & out of the cold kennels, she took a little while to settle in everything was obviously new to her & I have absolutely no idea of her background.  All I know is she was found roaming the streets & picked up by the dog warden. I do know that if she was lost though she would'nt be hard to find would she with 3 legs, so nobody has bothered looking for her.
My beautiful little furbaby has now had her cherry eye fixed(i've been told it could still pop out again though), the vets have told me that her 3 legs are due to a birth defect and think that she's between 18 months/2 years old.  She is the happiest, friendliest loving dog ever, she loves everybody she meets.
I've done so much research for the best harness for front leg tripawd dogs & eventually bought one called a perfect fit harness, problem is with ilean she still has a little stump where her 4th leg should be so where the harness fits right behind her legs, her stump rubs, I thought i'd solved the problem by cutting up fleece fabric & stitching it over where her stump goes, it did work for a while.  Now when the harness gets wet & mud sticks to the fleece it rubs on her like mad its like sandpaper on her soft skin.  I don't know what to do, does anybody have advice about harnesses that sit further back from right behind a dogs front legs?  Or do would a t-shirt put on before the harness help, I'm worried once that gets dirty that might rub like mad as well.
I'm so glad to have found this site there's so much information for new mums/dads of tripaws
Thanks Ilean & Jill x

Here and Now

Forum Posts: 11458
Member Since:
25 April 2007

Offline
Welcome and bet wishes for ilean!

You will find all our best harness recommendations and review videos in the Tripawds Gear Shop . You would just need to find international distributors for Ruffwear and EzyDog products.
While you wait for comments from others, use the Advanced Search above to refine your forum search results with specific phrases, and you're sure to find lots of helpful feedback. You can also search all blogs here . Or, consider downloading the Tripawds e-books for fast answers to common concerns.
Please keep us posted, your future forum posts will not require moderation.
Thank you for your quick response

I'll have a look in the tripawds gear shop, fingers crossed there will be something there that can help her.  I've even bought the sticky bandage stuff that vets use & microporous tape to try & cover her stump but trying to chase her round & put that on before we go out is really difficult (for me anyway, ilean thinks it's a game

)
Ilean & Jill x

Forum Posts: 121
Member Since:
4 October 2016

Offline

Forum Posts: 6476
Member Since:
21 May 2016

Offline
Hey there Ilean and darling Mom 🌺💕
Welcome to the Tripawd family 💗
Lovely to see another Tripawd find a wonderful home especially with no cancer behind amputation 👍🏽
I'm sure you'll both have a happy, happy life together 😍
As for the harness, I bough a ruffwear harness in the UK  for my beloved Eurydice through a site called MuddyPaws, they have next day delivery and a good selection of ruffwear harnesses. 
Haven't checked EasyDog as Ruffwear is stronger (she was a very large Great Dane) my baby was also a front legger but in her case all was removed so there was no stump to rub against the harness. 
Sadly couldn't see your baby's picture, there is only a blank square under your text, maybe it's because I'm using iPhone and not computer? …
Please keep us posted on how your girl settles in and, of course, pictures, lots and lots of pictures!
Sending you a big hug and lots of ear scratches to Ilean 😘😘😘🐮💫✨🌟🌹 
Eurydice 77kg/170lb Great Dane limping end of April 2016, amputation (right front leg/osteosarcoma) 4 May 2016 6 courses of carboplatin followed by metronomic therapy, lung mets found 30 Nov 2016. 3 courses of doxorubicin, PET scan 26 Jan 2017 showed more mets so stopped chemo. Holistic route April 2017. Lung X-ray 5 May 2017 showed several tennis ball size mets, started cortisone and diuretics. Miss Cow earned her XXL silver wings 12 June 2017, 13 months and 1 week after amputation and 6 1/2 months after lung mets, she was the goofiest dawg ever and is now happily flying from cloud to cloud woof woofing away :-) 
Hi guys sorry for the late reply!
Thanks chanceypants

Hello eurydice, thank you so much for the reply

Me & Ilean have had an eventful few month's since I was last on here, Ilean was out playing in the garden & managed to get
attacked by the local tom cat, he scratched her nose/face & it looked as though he'd got her in the eye, quick trip to the vets lucky
enough it was only her eyelid & not eyeball he scratched!
A few weeks later she got upstairs (which I didn't think she could do, I've been carrying her up & down them since I've got her

) and managed to get into a airtight lid on a box of quality street chocolates & helped herself to loads including the wrappers, the cheeky

another trip to the vets to get her stomach pumped

Then finally she's just been spayed, she's fully recovered now & is back to her crazy self haha.
I've still not found a solution to the harness rubbing for her, i'm just waiting for a reply from ruffwear about their cloud chaser coat,
to see if it can be worn under a harness, fingers crossed it can.

Virginia


Forum Posts: 16477
Member Since:
22 February 2013

Offline
Oh my bood ess!  Just catching up!!   What a handfull you jave eith the adventurous lbean!! 🙂 🙂  
Glad everything is working out okay with that feisty guy!
Hugs
Sally and Alumni Happy Hannah and Merry Myrtle and Frankie too!
Happy Hannah had a glorious additional bonus time of over one yr & two months after amp for osteo! She made me laugh everyday! Joined April's Angels after send off meal of steak, ice cream, M&Ms & deer poop!
Forum Timezone:
America/Denver
Most Users Ever Online: 597
Currently Online:
52 Guest(s)
Currently Browsing this Page:
1 Guest(s)
Devices Used: Desktop (45), Phone (7)
Member Stats:
Guest Posters: 1005
Members: 12751
Moderators: 2
Admins: 3
Forum Stats:
Groups: 4
Forums: 23
Topics: 15021
Posts: 211499