Join The Discussion
Learn about life on three legs in the forums below. Browse and search as a guest or register for free to take advantage of member benefits:
Instant post approval.
Private messages to members.
Subscribe to favorite topics.
Join the Live Chat and more!
Help Tripawds Everywhere!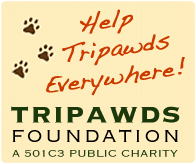 Help all amputee pets and their people with a charitable contribution to the Tripawds Foundation.
A
A
A

Forum Posts: 6
Member Since:
14 April 2018

Offline
My 14 year old Chihuahua/Boston Terrier mix was seen today for a large lump on his front leg. They said it's most likely soft tissue sarcoma. We were told his best option would be amputation, but that his quality of life would definitely suffer due to pain from arthritis in both his hind legs and past ligament tears.
Ive had Buckeye since he was six weeks old, and he will be 14 years old next month. About 4 years ago a growth began on His front leg. He had quite a few lumps and bumps here and there (mostly lipomas and other benign lumps). Vet said this was probably the same, and we were told to keep an eye on it. For 3.5 years it just seemed to slowly grow a little, and didn't bother Buckeye at all. 
I had his "growth" looked at again about 6 months ago, because it seemed like it was wiggling when he moved and I wanted to see if it hurt him at all, and we were at the vet for another issue anyway (a torn rear ligament). At that time my vet said, it's most likely benign, and will just grow slowly the rest if his life. She said we could amputate the leg, but since he's rather old she thought it'd be fine to just let it be. 
Well, since that last visit something has majorly changed. It has grown 3-4x in size just over the past 5 months and is looking a little raw and red in some areas. I know it hurts him a little (though he never complains), and he winces a bit if I press on it. Something has to be done at this point!
I took him to a different hospital today and they said this is most likely a sarcoma that has become malignant and they need to see if it has metastasized. If it has not they will need to amputate his leg. 
Has anyone had experience needing to have a limb amputated from an older arthritic dog? 
I can't explain how much my heart hurts right now not knowing what the best choice for him is.

The Rainbow Bridge

Forum Posts: 23934
Member Since:
25 April 2007

Offline
Hi Buckeye and family, welcome. I'm on my phone now and will write more later but wanted to get your post approved so others could see it. 
Yes we've had many older dogs here who did great on 3 legs! See our size and age matters forum for examples.
More tomorrow, talk soon!

Forum Posts: 6483
Member Since:
21 May 2016

Offline
Hi sweetie 🌺
Amputation is always hard to come to terms with but you mustn't be scared as our babies do recover, especially if they are little like Buckeye.
What you have to focus on is stopping his pain and getting him better and that seems to be what surgery will do for your sweet bundle of joy. 
I do not have any first hand experience with an older dog being amputated as my baby girl was only five when she had surgery but there are lots of others who had surgery performed on their older dogs so just stay tuned for their comments. 
Wishing you and Buckeye all the best, lots of kisses and cuddles going your way 😘😘🐮💫✨🌟🌹
Eurydice 77kg/170lb Great Dane limping end of April 2016, amputation (right front leg/osteosarcoma) 4 May 2016 6 courses of carboplatin followed by metronomic therapy, lung mets found 30 Nov 2016. 3 courses of doxorubicin, PET scan 26 Jan 2017 showed more mets so stopped chemo. Holistic route April 2017. Lung X-ray 5 May 2017 showed several tennis ball size mets, started cortisone and diuretics. Miss Cow earned her XXL silver wings 12 June 2017, 13 months and 1 week after amputation and 6 1/2 months after lung mets, she was the goofiest dawg ever and is now happily flying from cloud to cloud woof woofing away :-) 

The Rainbow Bridge

Forum Posts: 23934
Member Since:
25 April 2007

Offline
I'm back and so sorry you and Buckeye find yourself here. What I would suggest is that if you haven't already, have him evaluated by an orthopedic surgeon, to see if he's a good candidate for being a Tripawd.
Many dogs, even with some other condition, can do well on three legs. As I mentioned, our Size and Age Matters Forum topic has lots of examples of large or older dogs with arthritis.
What is your gut instinct about Buckeye? Does he seem strong enough to deal with recovery? What's his spunk level like? Does he have the fire in his belly that helps him overcome any challenges? Age is so relative when it comes to dogs, especially smaller ones. It's all about the dogs' individual personality, and yours too. If you go into it with a pawsitive outlook, it makes a huge difference. So how do you feel about it?

Livermore, CA

Forum Posts: 3250
Member Since:
18 October 2009

Offline
Hello and welcome.  I'm sorry you are facing such a hard decision.
How mobile is Buckeye now?  Other than the front leg with the tumor does he limp on his other limbs?
My first pug Maggie lost a back leg to mast cell cancer when she was 7.5 years old.  Mag's younger sister Tani was also diagnosed with mast cell tumors shortly after Mag's amputation.  Tani was 6 at the time and had just been diagnosed with arthritis in all four legs and her back.  At that point if Tani had a tumor on one of her legs I would have considered amputation.
Fast forward 6 years and Tani is now 12.  She is on multiple meds and supplements for her arthritis but still is sometimes still sore.  She has a recurrence of the mast cell cancer but luckily all the tumors were on her torso.  Honestly at that point if she had a tumor on one of her legs I would not have amputated.  A caveat here though- Tani also had a congenital brain injury which caused her to have a proprioception deficit- so she was not as steady on her feet as a normal dog, she sometimes knuckled her feet and dragged them. She did not have any injuries to her legs.
That being said- is Buckeye on any meds or supplements for his arthritis?  I found them very helpful in managing Tani's pain.  Adaquan injections gave us two more years- but it does not work for every dog and is expensive.
You have to decide what is Buckeye's minimum life quality is, then if you think you can maintain a good life quality with amputation then you might consider it as an option. 
I like Jerry's idea of having him evaluated by ortho vet. 
Karen and the Spirit Pug Girls
Tri-pug Maggie survived a 4.5 year mast cell cancer battle only to be lost to oral melanoma.
1999 to 2010
Forum Timezone:
America/Denver
Most Users Ever Online: 597
Currently Online: rebeccac
51 Guest(s)
Currently Browsing this Page:
1 Guest(s)
Devices Used: Desktop (48), Phone (4)
Member Stats:
Guest Posters: 1006
Members: 12778
Moderators: 2
Admins: 3
Forum Stats:
Groups: 4
Forums: 23
Topics: 15028
Posts: 211628