Caring for a Three Legged Dog or Cat
Tripawds is the place to learn how to care for a three legged dog or cat, with answers about dog leg amputation, and cat amputation recovery from many years of member experiences.
JUMP TO FORUMS ↓
Join The Tripawds Community
Learn how to help three legged dogs and cats in the forums below. Browse and search as a guest or register for free and get full member benefits:
Instant post approval.
Private messages to members.
Subscribe to favorite topics.
Live Chat and much more!
Find out in Be More Dog: Learning to Live in the Now by Tripawds founders Rene and Jim. Learn life lessons learned from their Chief Fun Officer Jerry G. Dawg! Get the book and find fun gifts in the Be More Dog Bookstore.
Welovemolly
Our beautiful Black Lab was diagnosed with bone cancer in her front right leg. The first vet gave her a 3-4 month timeframe. We then took her to a second opinion, who basically said the cancer has most likey spread to her lungs. I have been doing a lot of research online and found a wonderful vet in madison at the university school of veterinary. They did xrays today and her lungs are clear. HOWEVER, he did state the the staticis after amputation and chemo, she may live for only a few more months. 97% DO NOT last long. But in the waiting room, we talked with 2 different dog parents, and their dogs are still here after 4 years. With amputation, and chemo. We are so,undecided. Do I put my dog through all that pain for her to live only 3 more months? She is 9 years old. If anyone can share with me their story, I would greatly appreciate it. This is the most difficult decision we have ever had to make.
also, if anyone has knowledge on the side effects dogs expierence during chemo, I would love any feedback.
Hi folks. Please consider registering so your posts won't require approval OK?
I'm sorry to hear about Molly. Yes, your vets are correct. Statistically speaking, those are the facts. We got them too, along with everyone else here who's dealing with osteo. But take a look around and you'll see that many dogs' stories don't follow statistics, and a great deal of our members far exceed those odds. Our own Jerry made it 2 years with amputation and no chemo. Others have gone longer, both with and without chemo. That's not to say that there aren't heartbreaking stories here; even with chemo some dogs don't make it. But when it comes down to it, dogs don't count days on the calendar, only we do. Silly humans!
Cancer treatment, well it's a roll of the dice and you have to feel comfortable living with whatever you decide. Fact is, most dogs do great after surgery and with chemo, and every day after recovery is icing on the cake, a gift to live our days together without pain, making the most of our beautiful lives together. Right now, what you need to decide is, how will you help her deal with that horribly painful leg? You can decide about chemo later, but first, deal with that pain, it only gets worse, and fast.
If your vet thinks that Molly is a good candidate for surgery and will recover well, then that's terrific. If you're comfortable giving her a shot, then I'd bet that she would agree. But only you know her best and only you can decide. No matter which way you go, we'll be here to support you.
I'll tell you that UW is a GREAT school and you're in fantastic care there.
Please check out Jerry's Required Reading List for our best tips about coping with the diagnosis and life on three legs. Our Tripawds e-book library is another great resource. And stay tuned, others will chime in OK?

Columbia, MO
Member Since:
10 December 2011
Offline
I am so sorry about Molly's diagnosis.  That sucks.  Neither of my dogs were tripawds due to cancer.  However, when I originally presented Daisy to the vet with a swollen leg and lameness the xrays showed the characteristic OSA lytic lesion on her bone.  My first instinct was to NOT remove her leg.  I just couldn't imagine it.  I was given the same "statistics" -- 3 months to a year.  In less than 24 hours I decided that I would have her leg amputated but not do chemo after doing research on the internet. Just let her live out her days pain free even if it was for a short time.
In Daisy's case it ultimately turned out not to be cancer (was I thankful and glad I amputated!!!). The pathologist said that the lytic lesion was actually bone destruction from arthritis.
I guess what I'm trying to say is what is "right" is different for everyone.  Only you know Molly best and go with what your heart tells you.
Hugs,
Marla, Biscuit and Spirit Daisy
My Two Tripawds...Biscuit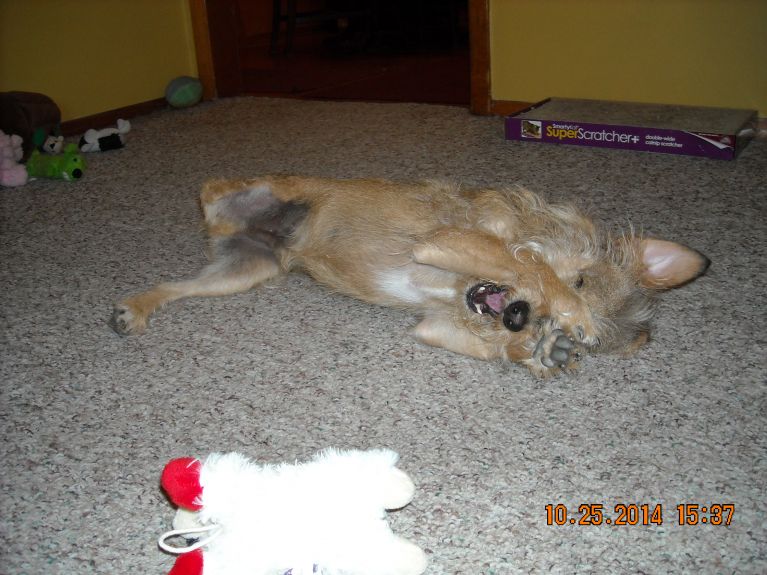 and Spirit Daisy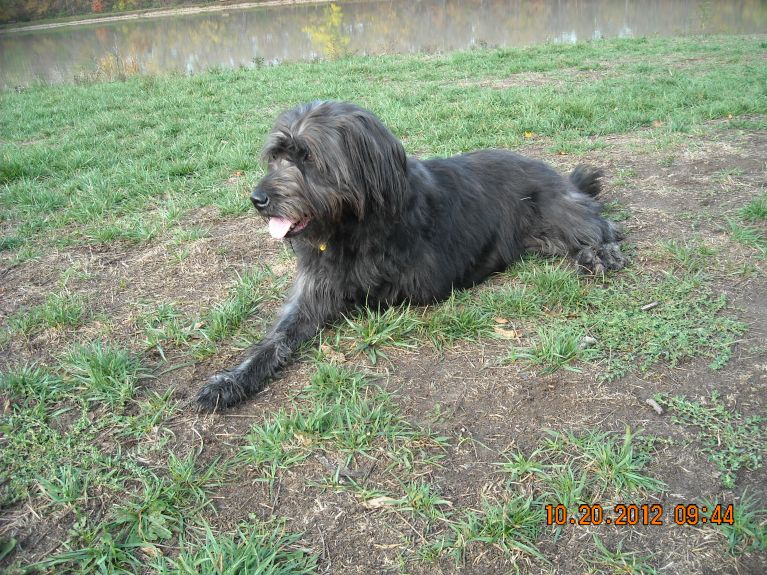 Virginia
Member Since:
22 February 2013
Offline
Sorry you and Molly have to be here but, under the circumstances there is no better place to be!
As always, you've gotten great advice from Daisy and Jerry. You know Molly best. As stange as this may sound, have a "talk" with Molly. Let Molly "tell" you what she wants to do! Is she still enjoying life and still being a happy girl?
Statistics really don't mean much around here. Every dog is so different! As Jerry said, some dogs far exceed the "statistics" by many more months, and even years! Some do not. It really is a crap shoot!
This is how I arrived at my decision to ampute my beloved Happy Hannah's leg. At the time, she was eight yrs. old and a "Plus Size Model" Bull Mastiff! I AGONIZED, and I do mean AGONIZED about what to do! I cried and cried and was just sick over the situation. I had not found this site at the time.
Once her leg started becoming more and more painful and I had to inrease the pain meds that I made my decision to proceed. If I did not, she would be leaving me in a matter of weeks, or less. I scheduled the amputation date.....and then cancelled it!! Yeah, I was that scared and indecisive!
Everything about my Happy Hannah showed me she was not done with life! She wanted to hang around for more loving, spoiling, treats, tummy rubs, sunbathing, ice cream snd deer poop!
I had to try....I had to give her a chance at pain free QUALITY!
Recovery was no picnic and I second guessed my decision for two or three weeks! But once recovery was over and I saw her slarkle come back bigger and brighter than before I KNEW I had made the right decision!! I did this FOR her, not TO her!
She did have four rounds of Carbop@atin chemo and sailed through each treatment. I proceeded with that, knowing I could stop anytime if she had issues.
For now though, just keep things chunked down. Do your research, check in with Molly snd decide how you want to proceed.
It IS major surgery and is not without risks.
My Happy Hannah and I had an additional bonus time of ONE YEAR AND TWO MONTHS! We had THE most spectacular time just loving snd laughing and being together! In doggynhears, that's over SEVEN YEARS!!
Whatever decision you make, it will be made out of love and that is ALWAYS the right decision!!!!
You are not alone!! We are right here by your side! Now go give Molly a big ole smooch and watch her tail wag! All is well in Molly's world!
Sending lots of hugs!
Sally and Alumni Happy Hannah and Merry Myrtle too!
Happy Hannah had a glorious additional bonus time of over one yr & two months after amp for osteo! She made me laugh everyday! Joined April's Angels after send off meal of steak, ice cream, M&Ms & deer poop!
Member Since:
15 July 2015
Offline
My German Shepherd Samson was diagnosed with Osteosarcoma in his right leg. Sam is a very large German Shepherd, the largest my family and anyone we've ever encountered have ever seen. Because of his size, there were reservations with the vet staff about amputating his front leg. It was explained to us that dogs place the majority of their weight on their front legs and large dogs have a greater challenge with mobility when a front leg is amputated. We opted to amputate his right leg and not pursue chemo. Sam's leg was amputated on May 4th, 2015.
Our vet explained that Osteosarcoma nearly always spreads to the lungs next. Same had x-rays of his lungs taken - twice. Because the cancer had grown so large in his leg, it was expected that the cancer had already spread to his lungs and would be visible to the eye on his x-ray. His first x-ray of his lungs, they couldn't see the cancer. It was assumed that because he was a bit restless at the time of x-ray that they didn't capture the best picture to see it. However, while he was sleeping for surgery they took another x-ray of his lungs. They weren't able to see any cancer on the 2nd x-ray either. However, they believed the cancer was there, just microscopic.
Sam's recovery from surgery and adjustment to having 3 legs has far exceeded our expectations. He remains playful, energetic and mentally it's as if he hasn't had amputation at all. This is all in spite of his size. He is able to move up and down hardwood stairs, chase rabbits, etc. The only difference in Sam so far is that we do have to escort him down the stairs just in case he stumbles so he can be caught. We simply walk beside him for reassurance and comfort.
We did not pursue chemo for Sam but we are using this article as a tool for guidance: http://nutritio.....temisinin/ . Sam is taking Artemix and Artemisinin as well as vitamins. In addition to this, he only drinks alkaline water to help ensure his body is alkaline balanced. I don't know if this has any affect for him, I just decided to do this because of the Nobel Prize research that cancer/disease can not live in an alkaline balanced body (google Dr. Otto Warburg). I figure it certainly can't do any harm! Because of the healthy ingredients, Sam also only eats 4Health brand dry dog food. He likes the chicken and rice flavor. We purchase this from Tractor Supply Co.:  http://www.trac.....s-5-lb-bag
It's been 2 months since his surgery and Sam is doing very well. Unfortunately I don't know how much, if any impact, has or will be made to prolong his life using Dr. Singh's recommendations in the article with alkaline water and a healthy diet. We were given a life expectancy of 6 months, a year if we're "lucky". We focus on making the most of every day we have with him and making the most of every day in general. The way I see it, the only difference between Sam and myself is that we know a general life expectancy time frame for him. It's easy to assume mine will be longer but the truth is, mine could be shorter and I just don't know it.
Robin, Sam and family, welcome.  Thanks for registering, your future posts won't need approval.
I was so tempted to move your post to its own topic, but your insight here for Molly's folks is wonderful. When you get a chance however, do start a separate topic so Sam's story doesn't get lost here OK?
We're so hoppy to know he's thriving and loving life! Can we see some photos? We're kinda partial to German Shepherds, as you might be able to tell! Here's how to add images to the Forums.
You're the second member here who's talked about alkaline balanced bodies & cancer, we would love to hear more about that as well.
Oh and when it comes to those statistics, remember that 9 out of 10 are wrong 😉 Our own Jerry lived 2 years with no chemo and many others do even better. We hope with all our hearts that Sam gets lots and lots and lots of time to live life to the fullest on 3! Thanks again for joining.

Michigan
Member Since:
2 April 2013
Offline
It is always hard to make a decision like this, and no one can make it for you.
Our story is that Murphy was 7 years old and very healthy except for a very painful right front leg.  We thought originally (like many people here have done) that he had strained it or injured it in some way, and so he was actually limping on it for a couple of months before we had a diagnosis.  I knew nothing about bone cancer, and was really taken by surprise.  We felt that by removing the leg it would give Murphy the best chance at a longer life.  Without surgery, he would be in pain and ultimately the leg would break, and the cancer would spread, and he would probably only live a couple of months. 
After his surgery the biopsy came back as histiocytic sarcoma, which is an aggressive form of cancer usually found in the organs.  They told us that with chemo we might be lucky and get 12-18 months with Murphy.  We chose to try the chemo.  He got 6 doses of CCNU and had to take a supplement to help protect his liver.  He also had to have blood work done a week after his chemo, which our regular vet did.  After he finished his chemo, they found another tumor on his left shoulder blade.  We chose at that time to not do any further treatment.  However,  every time they have done x-rays since, that tumor has not grown, and his lungs have remained clear.
It has been over 27 months since Murphy had his surgery.  He can still chase squirrels up a tree, dig in the yard, jump on the bed, jump into the car, go down the basement stairs or pretty much anything else he decides he wants to do!  He is still healthy and happy and that is worth everything.
One thing that the oncologist told me is that he should be on a grain-free diet.  Grains turn into sugar, and sugar feeds cancer, so we feed Murphy a grain-free food and treats, but other than that we don't give him any other supplements.
Hope that helps some!
Donna
Donna, Glenn & Murphy 
Murphy had his right front leg amputated due to histiocytic sarcoma at 7 years old. He survived 4 years, 2 months & 1 week, only to be taken by hemangiosarcoma at 11 1/2 years 6/12/17  
Read about Murphy's Life on Three Legs
Member Since:
12 June 2014
Offline
Emmett is not only a rescue but he was also my competitive obedience dog having earned his AKC  Utility Dog title along with several other titles as well as points towards his Utility Dog Excellent title, Obedience Master title and Obedience Trial Champion title.  That was a year and two months ago when his leg broke due to osteosarcoma while running along our fence.  We had no idea anything was wrong as he never limped nor showed any pain in his right hind leg.  He is a large black Labrador retriever but I always kept his weight down because of obedience competition and also for his health. 
There was no choice but to amputate if he was to live.  We had his leg amputated the next day and when he recovered from the surgery we started on three doses of IV chemo.  He did very well with the surgery--with the pain killers we were given for him, he never seemed to be uncomfortable.  He is a stoic dog though.  He also did very well on the IV chemo given about six weeks apart.  It is now a year and two months of life and he is doing well although slowing down a bit but he is about 10 and a half years old.  He is now on a chemo pill (CHLORAMBUCIL) which he takes once a day with no side effects.  He too was only given a year, perhaps a year and a half tops and a lot less if we did not do the chemo route.  I have no regrets.  His bloodwork is good and his lungs are clear so we are hoping that he will have a lot more good time with us. 
He is on supplements and good food and devote time to make sure his life is happy and fulfilled.  In our experience, and if you can afford the treatments, I would say go for it.  We do not regret anything because doing this has given him a lot of living since that dreadful day Memorial Day 2014.  And we are hoping for at least another year of life if not more.  Of course each dog is different and some people have had great outcomes with holistic and other treatments.  But in our opinion this seemed to be the best option to ensure a longer life for him.
emmettud said
Emmett is not only a rescue...  
Thanks for the update, and for registering! Your future forum posts will not require moderation.

Member Since:
6 May 2014
Offline
Such an awful thing to find out. Cancer sucks so bad - I am so sorry to hear about Molly's diagnosis. I remember very vividly taking Lilly, our almost 9 year-old Great Dane, to the vet for a bit of a limp and just praying that she hadn't torn an ACL. An hour later I was completely shell-shocked and really wished it was only an ACL tear...
I didn't struggle at all with the decision to amputate but I know that circumstances are different for every dog and every family. Lily was an ideal candidate as, even though she was a senior Great Dane, her joints were great and she still acted like a teenager. I just wanted Lily to not be in pain anymore and to get the cancer out of her as soon as possible before it had any more time to spread. We did follow up with chemotherapy - Carboplatin and Palladia. I had always said I would never put my dog through chemo right up until the moment Lily was diagnosed...and then I just felt I had to give her the best chance I could. 
I have no regrets about anything we tried in order to prolong Lily's time. She recovered really quickly from amputation and had no side effects from chemotherapy. It was such a beautiful thing to watch her sprint on three legs and not be able to tell there wasn't a fourth hiding there somewhere. She also loved to chase squirrels up trees and amputation did not slow her down or quell her desire to try and climb the trees after them. She was such a TERRIBLE squirrel hunter but she never stopped trying 🙂
The prognosis is never good with osteosarcoma but there are a great many examples of dogs on this site who more than defied the odds. Lily and I got an extra 7 months together and she might still be here if a stupid brain tumor hadn't brought her short. Sure, there are no guarantees in this battle to save their lives but try not to take the statistics to heart as they are not Molly's numbers.
Just go with your heart as you know Molly best. If you decide to go with amputation Molly will really just amaze you in how she just picks up like that's how it's always been!
Hugs to you and Molly!
-Kerry and Angels Lily and Elliott
Lily the Great Dane (she was actually a lot more than just "Great") joined our family as an ornery puppy on December 20, 2005 and changed our lives forever. She was diagnosed with osteosarcoma in early May of 2014 and her right rear leg was amputated on May 8, 2014. She sailed through 5 rounds of Carboplatin and 15 weeks of Pallladia. She hopped on 3 legs like she was born to it and continued to fight cancer with grace, valor and an abundant sense of humor...and always a *giant* smile on her face. Lily had two small nodules on her lungs but was brought short by a brain tumor in late December, 2014. Lily earned her wings on December 28, 2014 and we miss her terribly every day. http://lilyt.tripawds.com
Member Since:
2 July 2015
Offline
My heart hurts with you.  First I have two separate stories.  The most recent is Cinnamon, a 8.5 year old Husky, whose story is out there, except I should add that the doc called yesterday and the path on the tumor on the remove leg confirmed the cancer diagnosis, but graded low with only a 15% of spread with removal of tumor with sufficient margins.  With the limb removal that is clearly sufficient margins.  Lungs are clear, so our vet said no further treatments are recommended.
Now lets go back several years, my 8.5 year old Bernese Mountain Dog/Lab mix,  Phaedrus, started limping on a front leg.  I took him to our very trusted vet, who xrayed the leg and found that bone was growing uncontrollably at the elbow, and he was 85% certain it was cancer.  He sent me to a vet center in Orange County California, they agreed it was most likely cancer but said without a biopsy could not be sure.  The only treatment they offered was amputation; however, they told me that with amputation that 95% certain it has spread and would only buy the dog three months.  They told me that it was about a three month recovery from the amputation.  I left and cried the entire hour drive home, not understanding why I would do that.  I went back to my vet, who was very active in homopathy and other alternative type treatments, and he asked me I knew Phae, and he agreed that I did.  Although he had by this point decided not to use that leg, being a tripawd in reality, he did not appear to be in pain, he ran and chased balls until my arm was tired, and played with this brother and sister and chased critters of the yard etc.  It was nine months later that I came home one day, he came in for mom time, and got belly rubs, and looked up at me let out a huge sigh, and told me that he was now in pain and it was time to go.  While I was sad not to have him around anymore, I owed him going on his terms and with respect.  Our nine months were filled with joy and fun and love, and I never looked back at our decision.
It is critically important to know Molly and what is best for you and Molly, each story is so different.  We are here for you, and do not hesitate to ask questions, or just vent if you must.
Forum Timezone:
America/Denver
Most Users Ever Online:
946
Currently Browsing this Page:
1
Guest(s)
Member Stats:
Guest Posters: 1193
Members: 15211
Moderators: 2
Admins: 3
Forum Stats:
Groups: 4
Forums: 23
Topics: 17640
Posts: 245627
©
Simple:Press
—