Join The Discussion
Learn about life on three legs in the forums below. Browse and search as a guest or register for free to take advantage of member benefits:
Instant post approval.
Private messages to members.
Subscribe to favorite topics.
Join the Live Chat and more!
Tripawds Jewelry & Art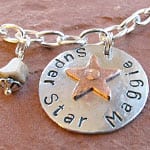 Visit our Etsy Store for custom pendants, charms and unique handmade gifts!
A
A
A
I'll keep this brief today and try to provide updates as we go….
I'm glad, and not glad I have found this site :).
We have a wonderful 7.5 year old male Newf-160 lbs.  who has had no issues, health or other his whole life.  This is the dog you would think would live forever.
About 3 weeks ago he started limping on his front right leg (I'm sure you know where this is going)…nothing that alarming, we have 2 Newfs who still play pretty hard, stuff happens from time to time, things always get better in a day or 2, until this time. It didn't improve, and started getting a bit worse-assumed arthritis as he has been getting a bit stiff as he gets older.  Took him to our vet who wanted to do an x-ray "just in case"-of course we agreed. She came back in about 10 minutes later and broke the news, an obvious osteosarcoma on the top of his front right leg, in the shoulder joint.
His blood work came out great and his is on a couple of meds to help him through.  He seems healthy and happy in all other ways, just having a bit of trouble with the front leg.
I know time is now of the essence, but the Holidays have caused some delays-I have him scheduled into the Colorado State University Canine Oncology Lab-which I am told is the best place to take him-this Thursday.  
I've started doing a lot of reading, and I will spend the next few days reading everything on this site.  I am soooo hopeful that it hasn't spread, but from what I have read this is likely to have happened already.  We should know on Thursday what options are available to us, and we can proceed immediately. If this has not yet spread, and amputation is an option, I am preparing for that.  
We have a 3 story house, but luckily with a walk out basement to the backyard.  I could literally move to the basement to help him get used to this.  
I am concerned about his size, and this being his front leg.  I'm not sure if, or how this could work, but I will give him every opportunity to find a way to make it work….
Anyway, that's all for now, I'm off to keep reading, and prep for Thursday….
DanZ
Dan, welcome. Your future posts won't need approval so post away. What is your doggie's name?
I'm sorry about the diagnosis, it's a difficult thing for us to go through. But you'll find that your dog handles it sooo much better than you ever thought possible. Plus, you can't get better care than at CSU. We are huge fans of the Lucy Oncology Center, and CSU's vet  hospital. They've treated our spokedog Wyatt Ray and we've had an excellent experience every time. Everyone there is terrific and soooo smart as you can see by the blog posts we've written about CSU. 
If you hop over to our Size and Age Matters Forum discussion, you'll see lots of examples of dogs of the same size and breed type who have done great on three legs. Recovery can be a bit longer and slower for these gentle giants but overall they handle it well and get back to living life to the fullest as always. 
The important thing is to set a confident, pawsitive example during recovery. Your pup will absorb your energy and reflect it right back to you so whatever you put out, he'll give right back.
Be sure to check out Jerry's Required Reading List if you haven't already, and the Tripawds e-books for many tips. Our featured blogs (Tripawds Gear blog , etc) have tons of tips as well.
Good luck this week. Please keep us posted and tell the good people at CSU that we send 'em our best. We'll be waiting for an update!
Thanks Jerry…his name is Bandit, the Landseer is 3 years old, her name is Jasmine…

Livermore, CA

Forum Posts: 3240
Member Since:
18 October 2009

Offline
Hello and welcome.
I've dabbled in small dogs the last couple decades, but years ago I had a Newfie-mix.  We were never quite sure what he was as I found him abandoned as a puppy.  The smartest and most loyal dog I've ever had!
I've had two rear amp Tripawds, but as I've said they are small so I can't help you with direct experience there. I would like to share the story of the first Tripawd I met in person after I joined this site with my Tripug Maggie.  Cemil was a 150 pound Anatolian Shephard who lost his front leg to OSA. Cemil's mom did not do chemo instead chose a holistic approach. I met Cemil just before his 1 year ampuversary when he was about 5 years old.
I shouldn't say 'was' about him though- he is nearing his 9 YEAR ampuversary!  He doesn't get far these days but at last report was still happy.  Here is a blog post from 2 years ago when he hit 7 years post amp.
Of course not all are so lucky but when you give Bandit a chance by removing that painful leg- well you never know!
Jerry gave you some great advice- any other questions?
Karen and the Spirit Pug Girls
Tri-pug Maggie survived a 4.5 year mast cell cancer battle only to be lost to oral melanoma.
1999 to 2010

Canada
Forum Posts: 1063
Member Since:
7 July 2017

Offline
Hi Dan and Bandit 
i do want to say welcome. I know this is the last place that you want to be, but we can all attest to that! It sounds like you are picking the best place to take care of your big fella.
it was 6 months ago (pretty much to the day…) that Stewie was diagnosed with OSA. Stewie is an (almost) 8 yr old Bernese/RottyX, weighing in at 110lbs on the day of his Surgery. He had presented with a limp that was getting worse instead of better and like you, we were horrified to discover that it was a very aggressive tumour on his front left wrist area! At first we couldn't fathom the thought of taking our beautiful boys leg, but then we started reading about the success stories of large dogs on this site! We scheduled Stewie for amputation on July 10th.
So our world went from a very small 2-4 weeks of palliative care, to 4-6 months with amputation alone and we are hoping to beat the odds of 6-12 months with Carboplatin Chemo, which Stewie completed in October. We have been given no guarantees, but I can honestly say that I am over the moon (& it's a big one these days!) about the fact that Stewie is still Hoppy and Healthy 6 months later!!! The fact that Cemil has lived with OSA for 9 YEARS IS INCREDIBLE!!! Every day the world of Tripawds surprises me with stories of hope and love… We can all hope to be Super Hero's like Cemil!!!
I realize that Stewie's tumour was lower down on the leg than with Bandit, but the result will be the same… A PAIN FREE LIFE!!! Bandit is going to show you just how easy it can be to hop around on 3, no matter what size you are! The first couple of weeks will be the hardest on both of you, but stay strong, calm and assertive with your beautiful boy and he'll show you what he needs. We will also be here to help guide you through the times when he can't tell you. Reach out with your concerns and your questions and even if you just want to vent 'cause you don't want Bandit to see how upset you are… we will be here!  Remember that BEDREST is going to be Bandits biggest friend. Lots of foods that he loves, tons of patience, very little sleep and tons of love make up the rest of his prescriptions, along with a good dose of painmeds to keep him comfy!
Wishing you the very best with Bandits surgery tomorrow. You'll both do great! Let us know how things go.
Petra, Stewie and his Pride Of kittens.
He's a handsome fella! And so is his pal, I'm not familiar with that breed but wow, gorgeous!
Good luck tomorrow. Please let us know if you have any questions at all OK? 
Thanks Jerry-yeah, I'll update after we get back.  Heading up to Ft Collins early tomorrow morning for our initial consultation. No surgery tomorrow, I don't think anyway….
They are both Newfoundlands-Landseer just means black and white, rather than just black (or brown, or whatever). 🙂
Ohhhhh didn't know that about Newfies, thanks for the education.
Let us know who you talk to at CSU. We'll be thinking of you!
Sorry for the delay with updates.  It's been a whirlwind, and we have gone to CSU numerous times.  Bandit does have osteosarcoma very high on his upper right front leg.  The initial x-rays were as positive as they could be, it seems we did catch this early enough to have options.  
His CT scan was late last week…there were not any visible spots in his chest or lungs.  The leg scan further confirmed what was seen on the x-ray, but did reveal a bit more cancerous growth than originally thought.  He's been getting around just fine with the meds he has been on, no limping or favoring the leg at all.
We had 3 choices-Palliative, Amp, and SRS/SRT.  The latter 2 could also be combined with 4 carboplatin treatments, one every 3 weeks.  While they certainly didn't or couldn't recommend what would be best, he is considered a good candidate for SRT and Carboplatin for good possible results.  There is concern, even though the bone is still in good shape, and the cancer is higher up where the bone is thicker, that his size could turn out to be a problem.  The odds of fracture are higher than I wanted to hear.
We have opted for SRT and Carboplatin-he goes in tomorrow morning for 3 consecutive days of treatments.  
We are doing all we can to eliminate the things he does that create impact on his front legs (jumping off the bed), but habits are hard to stop :).
I'm not sure if, or where our story fits on the site now, but I would be happy to provide updates as we go if there are those who would like to hear how this goes.  We're cautiously optimistic….
Wow what a whirlwind for sure! Thanks for the update. It's interesting because back when Jerry was diagnosed, his osteo was in his scapula. SRT wasn't around then, but I wonder if he could have been a candidate if it were? Hmmm. 
You couldn't ask for a better facility or vet team. Last Fall I sat in on the oncology department's clinical rounds. The way each vet student detailed so much about the patient and the treatments they were getting showed me that they care deeply about their patients and want only the best. Lucky Bandit!
I'm not sure if, or where our story fits on the site now, but I would be happy to provide updates as we go if there are those who would like to hear how this goes.
It TOTALLY fits. We always want to present the different options and associated outcomes to the community (see Hazel's SRT story as an example). So YES, please do keep us posted. How about starting a new topic in Treatment & Recovery or Size & Age Matters? We'll be waiting!

Forum Posts: 95
Member Since:
15 December 2017

Offline
Thanks!
We've learned so much from this site in the last 2 weeks, the least I can do is give back all the info that I can!  
Bandit is a good candidate for both amputation and SRT. The outlook/life quality/life extension predictions are the same for both routes.  The SRT option could be the best, but if the bone were to break, the only further option would be amputation. That would be unfortunate, but we still would have options.
All of the doctors, assistants, everyone has been fantastic @ CSU.  It is an amazing place.

Forum Posts: 35
Member Since:
3 July 2017

Offline

Hey Dan, 
I'm so sorry to hear about your dog. I would advise that you do some research on "apoptosis" (cell suicide) and how it works with cancer. It really opened my eyes to how cancer spreads and how to prevent it from spreading. Regardless of what you do, i'd suggest getting Bandit some kind of CBD supplement. It has worked wonders for our 8 year old Pyrenees who just had his rear leg amputated a month and a half ago.
Besides promoting cancer cell suicide, it will help with all of the side effects of any kind of chemo, radiation or surgery. It took away my Ivan's pain, gave him more energy and brought back his appetite.
There are lots of helpful videos on youtube and cannabis pet groups on Facebook. I'm not sure where you live and what's available to you, but CBD derived from hemp and not marijuana is available online and it's still effective. I encourage you to look into it. I also give my dog a product called Canna-Pet, they have a lot of good products and a lot of valuable information about osteosarcoma on their website. We are waiting to have the money to put our dog on chemo, but in the meantime, the canna-pet is helping him with so many of his previous problems.
I'm also a fan of Dr. Demian Dressler and his full spectrum protocol. He has a great book called The Dog Cancer Survival guide. 
I swear, I'm not promoting anything that I work for, haha. But I was in your place not that long ago, overwhelmed, confused and frightened for my dogs life. This community was a tremendous help to me, and the support really got me through. Also don't forget to change his diet if you're feeding him any kind of pet food/kibble/wet food, etc. There's tons of info online about dog cancer diets, whole foods are key. 
Best of luck to you and Bandit, and please keep us updated!
Candice, Ivan & Nikolay
Guardian to Nikolay the tripawd, Co-Guardian to Ivan the tripawd.
Silas Sebastien 2009 - 2017 
Candice, thank you for sharing your experience, we're right there with you in many of your suggestions! We do have some links for articles about the things that worked for your pack. Here goes:
Forum Timezone:
America/Denver
Most Users Ever Online: 597
Currently Online:
52 Guest(s)
Currently Browsing this Page:
1 Guest(s)
Devices Used: Desktop (47), Phone (5)
Member Stats:
Guest Posters: 1005
Members: 12741
Moderators: 2
Admins: 3
Forum Stats:
Groups: 4
Forums: 23
Topics: 15014
Posts: 211365