Caring for a Three Legged Dog or Cat
Tripawds is the place to learn how to care for a three legged dog or cat, with answers about dog leg amputation, and cat amputation recovery from many years of member experiences.
JUMP TO FORUMS ↓
Join The Tripawds Community
Learn how to help three legged dogs and cats in the forums below. Browse and search as a guest or register for free and get full member benefits:
Instant post approval.
Private messages to members.
Subscribe to favorite topics.
Live Chat and much more!
Get the new book by the Tripawds founders for life lessons learned from their Chief Fun Officer Jerry G. Dawg! Download the e-book, and find fun Be More Dog apparel and gifts in the Be More Dog Bookstore.
Ok, someone just sent this to me…I just had to share here! 🙂
Ya gotta meet Molly….
Meet Molly. She's a grey speckled pony who
was abandoned by her owners when Hurricane
Katrina hit southern Louisiana . She spent weeks
on her own before finally being rescued and taken
to a farm where abandoned animals were stockpiled..
while there, she was attacked by a pit bull terrier
and almost died. Her gnawed right front leg became
infected, and her vet went to LSU for help, but
LSU was overwhelmed, and this pony was a welfare
case. You know how that goes.
But after surgeon Rustin Moore met Molly, he
changed his mind. He saw how the pony was
careful to lie down on different sides so she didn't
seem to get sores, and how she allowed people to
handle her. She protected her injured leg. She
constantly shifted her weight and didn't overload
her good leg. She was a smart pony with a serious
survival ethic.
Moore agreed to remove her leg below the knee,
and a temporary artificial limb was built. Molly
walked out of the clinic and her story really
begins there.
'This was the right horse and the right owner,'
Moore insists. Molly happened to be a
one-in-a-million patient. 
She's tough as nails, but sweet, and she was willing to cope with pain.
She made it obvious she understood that she was
in trouble. The other important factor, according
to Moore, is having a truly committed and compliant
owner who is dedicated to providing the daily care
required over the lifetime of the horse.
Molly's story turns into a parable for life in
Post-Katrina Louisiana ….
The little pony gained weight, and her mane finally felt a comb. 
A human prosthesis designer built her a leg.
The prosthetic has given Molly a whole new life,
Allison Barca DVM, Molly's regular vet, reports.
And she asks for it. She will put her little limb out,
and come to you and let you know that she wants
you to put it on. Sometimes she wants you to take
it off too. And sometimes, Molly gets away from
Barca. 'It can be pretty bad when you can't catch
a three-legged horse,' she laughs.
Most important of all, Molly has a job now. Kay,
the rescue farm owner, started taking Molly to
shelters, hospitals, nursing homes, and rehabilitation
centers. Anywhere she thought that people needed
hope. Wherever Molly went, she showed people
her pluck. She inspired people, and she had a
good time doing it.
'It's obvious to me that Molly had a bigger role to
play in life, Moore said. She survived the hurricane,
she survived a horrible injury, and now she is giving
hope to others.'
Barca concluded, 'She's not back to normal, but
she's going to be better…To me, she could be a
symbol for New Orleans itself.'
This is Molly's most recent prosthesis. The bottom
photo shows the ground surface that she stands on,
which has a smiley face embossed in it.. Wherever
Molly goes, she leaves a smiley hoof print behind. 

Forward this and share it with all of the
animal lovers that you know.
God's creatures often reflect the
character we aspire to.
Tracy
Maggie was amputated for soft tissue sarcoma 10-20-09
Maggie lost her battle with kidney disease on 8-24-13

The Rainbow Bridge
Forum Posts: 28747
Member Since:
25 April 2007
Offline
Hey Tracy! Yeah, Molly is awesome!
And she even has a children's book…
[Image Can Not Be Found]
We shared her story in the Tripawds News Blog a while back. Here's some pics for everypawdy who missed it: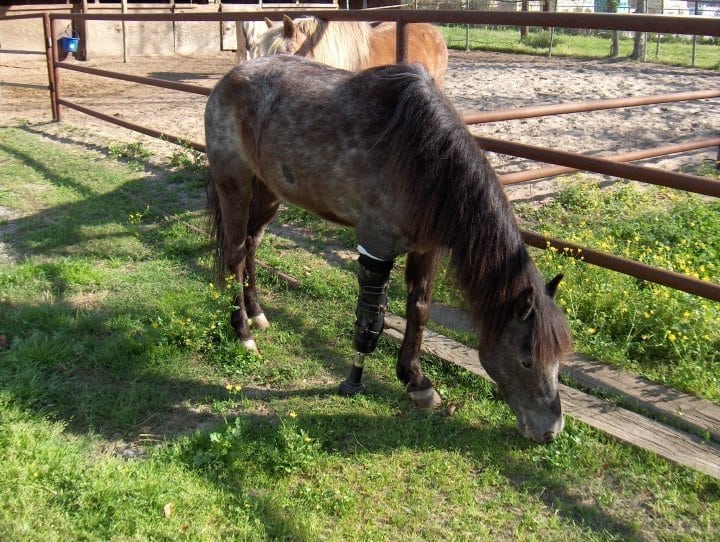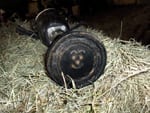 Las Vegas, Nevada
Forum Posts: 4344
Member Since:
14 August 2009
Offline
WOW!
Comet - 1999 to 2011

She departed us unexpectedly  January 23, 2011 at the age of 12 1/2.

She was born with a deformed front leg and a tripawd all of her life.


Coquitlam, B.C. Canada
Forum Posts: 125
Member Since:
27 November 2009
Offline
I tried to put the pictures on there…but they never showed up after I hit 'go' and it saved the post.  They were there when I was typing it in…something I am not doing right?
Tracy, Maggie's Mom
Maggie was amputated for soft tissue sarcoma 10-20-09
Maggie lost her battle with kidney disease on 8-24-13

Here and Now
Forum Posts: 12366
Member Since:
25 April 2007
Offline
maggie said:
…something I am not doing right?
---
Correct. The image URLS you used indicate the files reside in your Yahoo inbox…
…//us.mg4.mail.yahoo.com/ya/download?mid=1%5f284587%5fAHAaiWIAAJCjS6KthQkSQ2qBysc&pid=2&fid=Inbox&inline=1
They likely displayed while you were composing your post because you have access to that inbox and/or they were cached by your browser. This forum cannot display images that are hosted behind any secured account requiring login. Any images embedded here must be hosted online and accessible via direct http – in your blog's media library, or on Flickr, for instance. If images cannot be found the forums will display the mssage you see, [Image Removed by User]. Make sense?
It also appears as though you just copied and pasted directly from the email. Hence the interesting layout of your first post. Whenever pasting any content from other applications, be sure to use the Paste As Text button with the small T on a clipboard. That will strip out any malformed code or extraneous styles.
Regardless, thanks for posting this reminder of amazing Molly! Wyatt also wrote about Primrose, the three legged donkey who got a prosthetic leg at the CSU Vet Teaching Hospital.
Forum Timezone:
America/Denver
Most Users Ever Online:
946
Currently Browsing this Page:
1
Guest(s)
Member Stats:
Guest Posters: 1124
Members: 11973
Moderators: 2
Admins: 3
Forum Stats:
Groups: 4
Forums: 23
Topics: 16725
Posts: 234833
©
Simple:Press
—