Join The Discussion
Learn about life on three legs in the forums below. Browse and search as a guest or register for free to take advantage of member benefits:
Instant post approval.
Private messages to members.
Subscribe to favorite topics.
Join the Live Chat and more!
What Is The KillBarney Tour?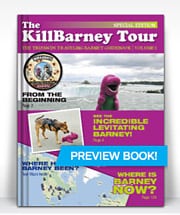 Get the KillBarney Tour Book for photos and stories of Tripawds members around the globe!
A
A
A

Linden, MI
Forum Posts: 458
Member Since:
11 November 2008

Offline
Can anyone give me any ideas on how I can improve Nova's diet? I have read so much and come to the conclusion that commercial dog food probably one of the things that causes so much cancer in dogs. (Jerry, I read your mom's article about that too). I have fed Nova a super-premium food throughout her entire life, either Eagle Pack Natural or Holistic, or Solid Gold Wolf King. When it comes to canned, I usually haven't given her much in the way of canned, but occasionally buy the Eagle Pack or Solid Gold varieties, and also the Merrick canned foods (which she loves). I know the BARF diet is best, but I think some of those raw patties that I have seen out there would be a good first step. Could anyone give me some advice on what brands are good options? Is this what she would be fed exclusively? With the raw bones, don't they get all nasty and slimy all over the house? Are any of those products available at stores (like my local Pet Supplies Plus)? I noticed my local store has a freezer section, but I can't recall the brand.
Sorry if my questions are kind of ignorant. I am so clueless on all of this raw stuff. Of course, being a human, the raw thing makes me worry. I would think if I ate raw meat I would get sick. But I'm not a dog, and I realize this is what they are naturally supposed to eat.
Dane Mom Sue at nova.tripawds.com and Mom to Beautiful Great Dane Queen Nova, a Blind Tripawd, who kicked cancer's butt from 11/08-03/13. The Queen is Spirit Nova now, but her legacy lives on here at Tripawds!
Hi Sue, first thing we have to know that canine cancer diet needs to be very low in carbs, NO grains, high protein, high good fats.
Even some good quality commercial food contain grains and relatively high carbs. If you are looking into commercial food, Innova EVO is by far the top of the "good quality" brand, with low carbs, no grains. The have canned food, with 95% of meat, such as rabbit, duck, venison, …
That said, nothing is better than homemade whole food. Imagine people having "good quality" TV dinner daily … ewww!
If you are not ready to take a leap of faith to raw yet, homecooked food for Nova is fine too.
PROTEIN: Cooked chicken meat, beef, pork are common choices. Fish like sardines, mackeral are high in omega-3. Good.
FATS: fish oil, omega-3 oil.
VEGGIES: Lots, preferrably raw, any cruciferous veggies (cauliflower, broccoli, cabbages) is good for anti-cancer, celery, tomatoes, moderate carrots, juice them and then mix the pulp (as fibre) back with the juice. The reason is that dogs cannot digest (breaking the plant cellulose to get the benefit), but by juicing the veg, the cellulose are broken and that they can get the nutrients.
Any food which is high in sugar, or starch/carbs which can "easily" (i.e. highly processed carbs) be converted to glucose should be avoid in all cost. Sugar feeds cancer.
BARF: The only difference between the above homemade diet and BARF is raw meat/bones instead of cooked meat. Raw chicken backs/ribs, chicken meat, beef, beef ribs with cartilages, marrow bones, are good. Bones have to be raw, cooked bones especially chicken bones are hard and brittle and can be splintered. For chicken backs, I'd make sure they are big enough so that Nova needs to chew a few times before swallowing. As for beef bones, they are hard even in raw, I would suggest the size big enough just to let her finish up all the good stuff surrounding the the bone, and then either throw it away or leave it as a chewing toy for them. If you are not comfortable with bones, you can just give raw meat. You make sure she eats at one spot, without carrying the raw chicken all over the house, or hide some bones under the couch!
Dogs' stomach acid is many times stronger than humans and can handle raw with no problem. However, Nova being used to commercial food, and because she is recovering from surgery, and later on receiving chemo. I would suggest easing her into homemade "cooked" meal for now even though raw is more beneficial in general.
Also, the other thing is that they tend to lose appetite the first couple of weeks after surgery, and if you switched her diet drastically, you wouldn't know if she really didn't feel like eating or simple didn't like your cooking. 🙂
Wouldn't hurt giving her a seared beef strip, or a cooked chicken meat to test it out. Not every dog likes raw veggies, you will have to experiement with that as well. Feel free to test out if she like raw bits and pieces occasionally, so you have an idea when you can gradually switch to raw.
As long as you are determined to improve her diet, there has got to be a balance point you can find for her so that she enjoys the food, and is healthy for her.
Good luck!

Linden, MI
Forum Posts: 458
Member Since:
11 November 2008

Offline
Wow, Genie, this is all such great information. I noticed that they have Innova at my local pet store, so perhaps I can start with that. They also have Nature's Variety raw, I was thinking of getting some of those patties too which have the meat and the vegetables in them. Kibble isn't even necessary, is it? I didn't think to look into raw in the past because it seemed so expensive and time consuming, but now that I am starting to look into it, it's not looking that it costs much more than the super-premium kibble I was feeding.
Would it be best for me to mix the Innova or the Nature's Variety patties with her current food? She has been avoiding the kibble all week, she eats well, but is only eating the canned food.
I have another Dane that is fat, and I am wondering if she is so fat because of all the grain. Seems to make sense. I will be shifting her diet to raw too.
Thanks again for all the wonderful info.
Dane Mom Sue at nova.tripawds.com and Mom to Beautiful Great Dane Queen Nova, a Blind Tripawd, who kicked cancer's butt from 11/08-03/13. The Queen is Spirit Nova now, but her legacy lives on here at Tripawds!
I am not familiar with Nature's Variety. Just went to their website, it sounds like some raw meat, veggies mix, with some healthy herbs? I think that would work, but I imagine it would be more expensive than getting the ingredients yourself from grocery stores. Nova and your other Dane can have the same meat you get from the stores. They also like organ meats too, such as liver, hearts.
If you get the Innova EVO kibbles, you can mix with human grades meat, raw or cooked, and veggies. Innova EVO canned food is very expensive (in my opinion), not to mention you need to feed about 3 cans or more for Nova's size daily. I only used EVO canned food as the last resort when Genie didn't feel like eating her regular BARF, and EVO cans could really raise her eyebrows.
If she hasn't been wanting to eat kibbles, maybe that is a good opportunity to slowly switch her to at least cooked food.
Your other Dane would be thankful if you switch her out of the grain-based kibbles.
If Nova was not in health crisis as most tripawds in this forums are having, I would have suggested switching cold turkey. We have to proceed the switch cautiously. Try not to use microwave oven, not even for thawing the frozen food. If you feed raw, leave the frozen meat in room temperature overnight.

The Rainbow Bridge

Forum Posts: 23929
Member Since:
25 April 2007

Offline
Excellent advice as usual from Genie. And there are no ignorant questions here …
My people supplemented my raw diet (I loved chicken!) with EVO kibble and canned foods, the duck flavor was good and stinky! I also liked it when they mixed in a can of cooked salmon or mackerel instead.
They always chopped up greens, carrorts, and brocolli to mix in with flax oil and my other supplements. They best suggestion they have to offer though, it to pick a diet and stick with it, miking it up with a little viariety like my diet but not switching dog food brands, supplements, etc. all the time.
Honest Kitchen Dehydrated Dog Food can save you a lot of work and preparation time too. That's what Hudson and Murphy are eating on their 2,000 mile walk from Austin to Boston.
Forum Timezone:
America/Denver
Most Users Ever Online: 597
Currently Online: jessiemurrenus, Bear
46 Guest(s)
Currently Browsing this Page:
1 Guest(s)
Devices Used: Desktop (44), Phone (4)
Member Stats:
Guest Posters: 1005
Members: 12757
Moderators: 2
Admins: 3
Forum Stats:
Groups: 4
Forums: 23
Topics: 15023
Posts: 211539