Join The Discussion
Learn about life on three legs in the forums below. Browse and search as a guest or register for free to take advantage of member benefits:
Instant post approval.
Private messages to members.
Subscribe to favorite topics.
Join the Live Chat and more!
Tripawd Heroes Book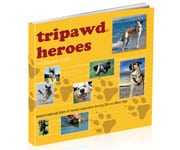 Tripawd Heroes books feature inspirational stories and photos of dogs loving life on three legs!
A
A
A

Forum Posts: 18
Member Since:
10 April 2017

Offline

Hi everyone!
I really want to try CBD oil for Zuko but im not exactly sure how to go about it. Zuko was diagnosed with osteosarcoma in April 2017, went through 5 rounds of chemo, but by November lost all use of his hind legs and control of his bladder and bowel movements. The cancer has also spread to his ribs too. He's currently on dexamethasone, tramadol, fish oil, and joint supplements but Ive been wanting to incorporate CBD oil as well. 
Ive been reading that many get theirs from a dispensary or a holistic vet and I was wondering if thats the only way?
Am I able to get it online?
Do I need a vet prescription? 
and, do you recommend any certain brands? 

Here and Now

Forum Posts: 11543
Member Since:
25 April 2007

Online
Great question, and thanks for asking. Please be sure to consult with you vet first, then search the Tripawds Blogs and these forums for plenty of helpful feedback. Here are just a couple posts from the Tripawds Nutrition blog to get you started…
While you wait for comments from others, use the Advanced Search above to refine your forum search results with specific phrases, and you're sure to find lots of helpful feedback. You can also search all blogs here . Or, consider downloading the Tripawds e-books for fast answers to common concerns and feel free to call the toll-free Tripawds Helpline anytime!

Oakland, CA
Forum Posts: 675
Member Since:
20 December 2008

Offline
I agree, I would talk to your vet first and see if they have any advice for you and/or can point you to a source. Here in California the Vet Board has banned vets from talking about cannabis, it might be the same in Guam. SO no, I doubt you would need a prescription from the vet. You are more likely to need one for yourself so you can buy it! 
We know so little about cannabis and how it works medicinally for humans and even less for dogs. It is my understanding that you can buy CBD oil derived from hemp online, but it is also my understanding (and I could be wrong) that hemp derived CBD oil is not as good as CBD oil from other CBD-rich strains that have been bred to be high in CBD. I would suspect hemp CBD oil is just not as strong. There is also the theory that the best cannabis medicine contains both CBD and THC (some people promote juicing the whole plant as the way to go!)–that the two compounds work together synergistically so the oil should have both. 
Google tells me that Guam has legalized medical cannabis so if you wanted to get CBD-rich cannabis oil there you would have to go through whatever process you have there to buy for yourself and then you could dose Zuko with it appropriately (not without consulting a vet of course!!!). I know of a place in California that sells oil for dogs online but they can't ship across state lines, so maybe there is a similar outfit in Guam?. As I understand it hemp oil can be shipped across state lines but it has been awhile since I looked at that. 
And buyer beware for sure. A recent study tested a bunch of CBD oils and found there was little or no CBD actually in most of them 

Sorry, I don't feel like I have been all that much help here! But it is a pretty complicated subject and there are definitely some snake oil salespeople out there when it comes to CBD oil! Check out http://www.trea…..health.com –they seem to really be on the up and up and to know what they are doing–I have been really impressed by them and I heard about them from a pain management veterinarian who was also really impressed by the woman that runs it. If you go to their contact page you can ask them questions and possibly they can help you get something for Zuko. 
I have to run but let me know if you have more questions.
xoxo,
Martha, Codie Rae, and the Oaktown Pack
Woohoo! Tripawds Rule!
Regulator of the Oaktown Pack, Sheriff of the Oaktown Pawsse, Founding member and President of the Tripawd Girldogs With 2 Names ROCK Club, and ... Tripawd Girldog Extraordinaire!

Green Bay, WI

Forum Posts: 855
Member Since:
18 May 2014

Online
Hi, I used CBD paste for my dog Nitro…I ordered it online from healthyhempoil.com
I don't really know if it did ant good, but we got it for appetite mostly. I also had some CBD oil from Colorado that I'd massage his arthritic hips with. That I do believe helped. I didn't have a prescription for either, just ordered online. Good luck
Paula and Warrior Angel Nitro 
Nitro 11 1/2  yr old Doberman; right front amp June 2014. Had 6 doses carboplatin, followed by metronomic therapy. Rocked it on 3 legs for over 3 years! My Warrior beat cancer, but couldn't beat old age. He crossed the Bridge peacefully on July 25, 2017, with dignity and on his terms.  Follow his blog entitled "Doberman's journey"
http://nitro.tr.....27_2_1.jpg
"Be good, mama loves you".....run free my beautiful Warrior


Forum Posts: 1905
Member Since:
22 August 2008

Offline
Make sure you get an oil that tests for levels of actual cannabinoids as well as for impurities.  I would be careful of the amount of THC since some dogs are much more sensitive to it and may get overly sedated or stoned or just act agitated. Since marijuana is legal here in WA state I see THC overdose often and many times it is from somebody using CBD/THC products meant for humans on their dog. Also look for source of the plants.  Many products are grown in China and may not have any CBD in it at all since testing is not required.
After much searching I started Julian on Hemp Rx made by Rx Vitamins.  I use the Forte product since it is much more concentrated so I use fewer drops.  This company does testing on all of their products and has a full line of nutraceuticals including Onco Support, Immuno Support, and probiotics.
You can order online from other websites or your vet can set up an account direct with the company but you can not buy directly yourself.  Check out RxVitamins.com.
Pam

Here and Now

Forum Posts: 11543
Member Since:
25 April 2007

Online
tazziedog said
Hemp Rx made by Rx Vitamins….Check out RxVitamins.com
Watch this Hemp Rx video from Rx Vitamins and read this post for more helpful information before discussing this with your vet.

SW OK
Forum Posts: 29
Member Since:
21 July 2016

Offline
Hey there! 
We've been giving Mikey CBD treats from DiscoverCBD.com And highly recommend them to anyone. No THC, so legalities aren't a problem. I do think that CBD/THC is probably a better medical combo, but for several reasons, I'd stick with CBD only for pets. 
If you have any questions, they (DiscoverCBD) are extremely good with customer service. 
I hope you have as good a response as we have! Good luck!
Oh, and the treats are much easier to get them to take than drops!  CBD tastes awful. I know because I'm a chronic pain patient & also use it! They also have a high potency powder, and recipe for your own treats!
Mikey, 2/14/16, came to us as a foster the end of June, 2wks after rear left amp. Now, at 6mo, he's doing awesome! Perfect, except for wanting to play with 9yo kitty Pumpkin, who isn't interested.  At all.  
Love to all! Jo, Mikey and, reluctantly, Pumpkin.
nicolep
Dear Jane,
I just wanted to say I am so sorry to hear about Zuko's health status. My heart goes out to you and Zuko. Thank you for taking such good care of him, and for asking for help on his behalf. I will keep Zuko in my thoughts and prayers.
My dog lost a leg to osteosarcoma last year, like Zuko. My dog goes to see my holistic vet who practices Chinese medicine about every other week for acupuncture. My vet checks my dog's body at each visit, and then puts the acupuncture needles in the spots that are needed for treatment. I learned acupuncture was helpful for cancer treatment from the website http://www.path…..thpaws.com, and my vet agrees the acupuncture is important. I decided every two weeks is best, after reading the website Path with Paws. My vet likes us to come every 2 – 4 weeks.
My vet and oncologist encourage me to massage my dog for 20 minutes each day to keep the blood flowing. Since my dog lost a front leg to osteosarcoma, she is now putting a lot of weight on her remaining front leg. That leg and shoulder get very sore, so my vet and oncologist encouraged me in particular to massage that remaining front leg, and the shoulder blade all the way up to the top of her back where the shoulder meets the spine, and then up her neck to the back of her ears.
I do this every morning when she wakes up, and before she goes to sleep. She loves the massage. If she moves away from me or starts to pant, then I stop massaging and let her be. To massage her, I rub my dog's body with a washcloth, like you would do if you were drying your dog off after a bath. She loves to be dried off. To massage my dog, my vet showed me to use my thumb, and rub it over her body in the shape of a small circle, not using much pressure at all. She told me not rub over the bone, but just over the muscle.
For improved blood flow, and to help with the side effects from the chemo, I have been advised by a Tibetan medicine cancer specialist to give my dog saffron each day. I did a bunch of research about saffron quality and price, and ordered from https://www.goldensaffron.com I am very happy with the product I got in the mail. I take three strands of saffron out of the container each day, and put it in a mug. I then add a small amount of boiled water to the cup. I let it sit for maybe 15 minutes, until the water in the mug becomes golden colored. I then pour the contents of the mug over my dog's food. She eats it no problem. I make sure she also eats the three saffron strands I had put inside of the mug. If you are interested in learning more about Tibetan medicine then I can recommend http://www.men-…..index2.htm
I have not tried CBD, but I give my dog hemp oil in capsule form. My vet has said that hemp oil can be given at any time. She said not to give my dog THC. Because I am vegan, I buy the Deva brand vegan hemp oil capsules. She takes one capsule each day. She is 40 pounds. I don't know if this helps for pain, but I think it can't hurt so I give her the hemp oil capsules.
My local, independently owned pet supply store (Fang and Feather in Portland, Oregon) carries Holistic Hound brand CBD Dog Treats. Holistic Hound is a company in Berkeley, CA. The store also carries Pet Releaf CBD products. I spoke with an employee at length about this in the past, and was told they had looked into different companies and were the most comfortable with the products produced by Pet Releaf. I have also been told Canna-Pet is a reputable brand.
For arthritis pain, I give my dog a mixture of turmeric, dried ginger powder, and blackstrap molasses. I follow this turmeric recipe, and keep it in the fridge. http://www.dogs…..eric-dogs/ Each day, I prepare her this mixture: I mix in 1/8 teaspoon of the dried ginger powder, plus one teaspoon of the blackstrap molasses, with about 1 teaspoon of the turmeric mix from the refrigerator. My dog will eat it off of my fingers. I give this mixture to her a few hours after her breakfast meds, and a few hours before her evening meds just in case that makes a difference. (My dog also takes prescription pain meds recommended by my vet and oncologist for her arthritis, as well as Chinese herbs, and some other herbal supplements I have read about and added in for arthritis and cancer.)
In addition to following Tibetan medicine, I also follow Tibetan Buddhism. I also have these recordings for my dog, for pain: https://shop.fpmt.org/Recitations-for-Alleviating-Pain–MP3-Download-_p_2099.html I play her this set of recordings each day. I made a little stereo system for her with a set of USB computer speakers and an MP3 player, and have this little sound system set up near her favorite bed: https://shop.fpmt.org/Recitations-for-Animals–MP3-Download_p_1361.html
That is all I can think of, from my own experience that may be of help to you. Sending you and Zuko my best wishes.
Nicole

The Rainbow Bridge

Forum Posts: 24162
Member Since:
25 April 2007

Offline
Nicole, thank you for taking time to write such a well-thought out and caring reply. We hope you'll consider registering as a member and starting a new topic so we can learn more about the great quality of life you are giving your pup. 3-paws up to you!

Virginia


Forum Posts: 16716
Member Since:
22 February 2013

Online
Nicole!  This wqs fascinating and quite interesting.  Thank you for taking the time to share this information with such great specifics and links.   You've left no stone unturned and have researched every avenue possible to help keep your pup happy and fit.    You CLEARLY  are devoted to you pup and her well being. 
TAnd thanks tomall who took time to share so much info about CBD, fhe best sources, the good, the bad, and anything inbetween 🙂
Best wishes to the adorable Zuko with a smile that lights up the world 🙂 🙂 🙂
Hugs
Sally and Alumni Happy Hannah and Merry Myrtle and Frankie too!
Happy Hannah had a glorious additional bonus time of over one yr & two months after amp for osteo! She made me laugh everyday! Joined April's Angels after send off meal of steak, ice cream, M&Ms & deer poop!

Forum Posts: 18
Member Since:
10 April 2017

Offline

Thank you everyone for all your advice and taking the time to reply! Things have been so crazy lately that I haven't had time to check the forum.
I will definitely speak with my veterinarian about it but I know he's not very keen on holistic medicine :/ and ill further look into the brands you all suggested 🙂 As far as getting a medical marijuana card, that could be tricky since I don't have medical insurance to see a doctor to get their approval to get one but I'm going to look into it more. The law was passed a few years ago but there were a lot of issues that delayed it from getting implemented and there still isn't access to medical marijuana here as far as dispensaries go.
And Nicole, Thank you for all your added advice! Ill try them on zuko and see how they go.
Forum Timezone:
America/Denver
Member Stats:
Guest Posters: 1015
Members: 13055
Moderators: 2
Admins: 3
Forum Stats:
Groups: 4
Forums: 23
Topics: 15142
Posts: 213116