Caring for a Three Legged Dog or Cat
Tripawds is your home to learn how to care for a three legged dog or cat, with answers about dog leg amputation, and cat amputation recovery from many years of member experiences.
Learn how to help three legged dogs and cats in the forums below. Browse and search as a guest or register for free and get full member benefits:
Instant post approval.
Private messages to members.
Subscribe to favorite topics.
Live Chat and much more!


The Argus Institute at Colorado State

Read the original blog post
Add Reply
Add Topic

On The Road
Member Since:
24 September 2009
Offline
This is part three in a series about our tour of Colorado State University's Animal Cancer Care Center. Don't miss part one and part two.
Tripawd pawrents are all too familiar with the reactions they get when they tell family and friends that their pup has cancer, and they're ready to do what they can to fight it. If the word "amputation" comes into the conversation, reactions can be downright hurtful.
"You're being selfish! Why would you do that to a dog?"
"Dogs aren't meant to live like that!"
"You should put him out of his misery right now."
Most Tripawd pawrents have heard these kind of reactions from well-intentioned humans. Their opinions hurt, leaving us feeling abandoned in an overwhelming new world of canine cancer.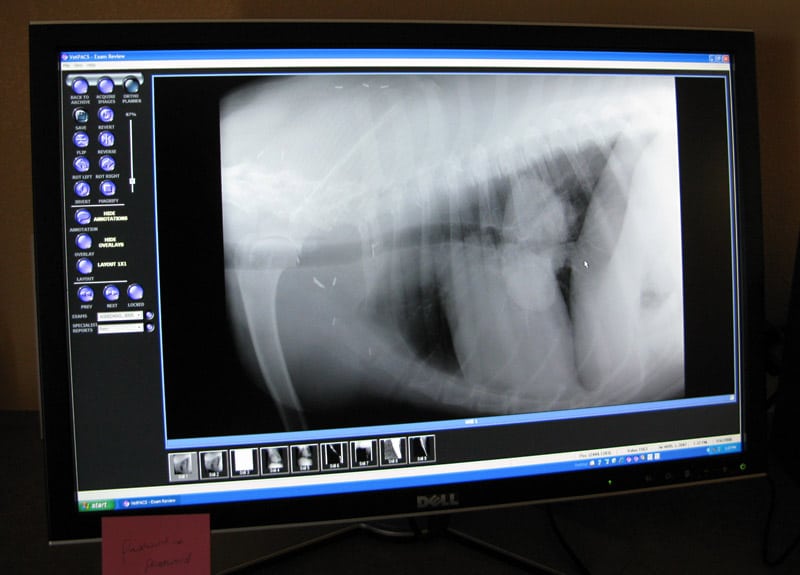 But we are definitely not alone. On the Internet, pawrents can turn to the Tripawds Discussion Forums, and the Bone Cancer Dogs list, among other places. And in the greater world, we can find help at Colorado State University's Argus Institute. During our recent visit to CSU's Animal Cancer Care Center, we learned about this incredible organization.
As part of the CSU James L. Voss Veterinary Teaching Hospital, the Argus Institute is staffed with professional clinical counselors who can give information and emotional support to pawrents facing hard decisions surrounding their animal's health care.
Each year, over 1000 people talk to counselors on the phone and visit in person, all of them seeking ways in which to cope with their animal companion's illness, from understanding the diagnosis, to making end-of-life decisions.
Whether you are in the first days of learning about your Tripawd's diagnosis, or are grieving over his loss, you don't even have to be a client at CSU's vet hospital to participate. Anyone can receive counseling services just by contacting the Argus Institute them or calling 970-297-1242.
Although the telephone consultation service is free, donations to this non-profit organization are greatly appreciated.
If you're not quite ready to talk to a human on the phone, the Argus Institutes's website has a wealth of information about Coping with Sick Animals, Pet Loss Resources, Children and Pets, and more.
The Pet Hospice Program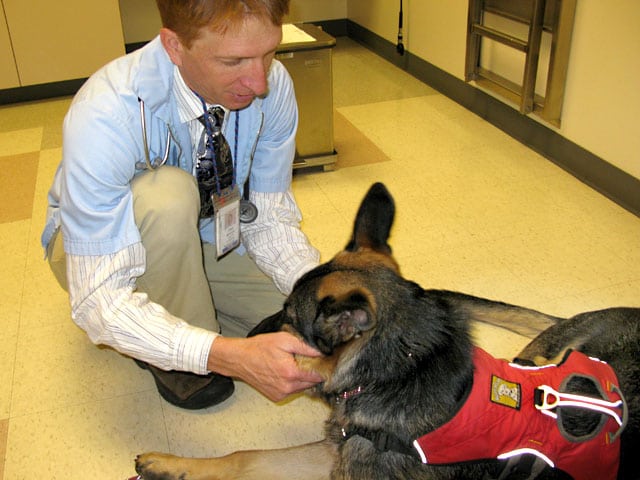 If you are lucky enough to live within 30 minutes of the Argus Institute, you can also get help through the
Argus Institute  student-run "Pet Hospice Program
." As the first of its kind in the nation, the program supports families who are coping with their pet's terminal illness.
CSU's veterinary school student volunteers act as case managers for clients. They work with local veterinarians to provide clients and companion animals with in-home palliative care at no additional cost. Families can receive visits weekly, or sometimes even daily if necessary.
Case managers provide in-home nursing care, assess the animal's comfort, and give support and educational resources to help the family in assessing quality of life, and ultimately, making end of life decisions as well. After each visit, the veterinarian is given a full report from case managers.
In addition to the hands-on assistant for pawrents, the Argus Institute helps in other ways too, by helping our vets to become better communicators. To learn more about this program please visit the Argus Institute website.
Teaching Vets How to Talk to their Clients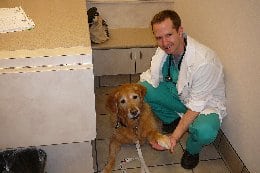 Research has proven that when vets and clients share in the decision-making process together, improved medical outcomes tend to follow. Yet, most vets enter the profession with little or no formal training in client communication skills.
The Argus Institute seeks to bridge this gap, by teaching veterinary professionals how to make the emotional support of their human clients as much a priority as the medical care of their animal patients. At CSU, communication training has been a part of the core curriculum of all veterinary students since 2006.
Through seminars, studies and hands-on workshops, the Argus Institute teaches vets and vet students to how to be better listeners and communicators, be more empathetic, ask open-ended questions of their clients, and have a better understanding of their client's perspectives.
As companion animals play an even bigger role in our lives, the non-profit Argus Institute will be there to help us and our vets become better communicators with each another. No matter where you live, we hope you will keep this exceptional organization in mind when you are seeking information and support for your Tripawd's medical situation.

Wesley Chapel, FL
Member Since:
13 September 2009
Offline
WOW! That is a wonderful thing what they're doing in Colorado! I wish that every state had something like that!
Jake's Mom
Jake, 10yr old golden retriever (fractured his front right leg on 9/1, bone biopsy revealed osteosarcoma on 9/10, amputation on 9/17) and his family Marguerite, Jacques and Wolfie, 5yr old german shepherd and the newest addition to the family, Nala, a 7mth old Bengal mix kittie. Jake lost his battle on 11/9/2009, almost 8 weeks after his surgery. We will never forget our sweet golden angel… http://jakesjou.....ipawds.com ….. CANCER SUCKS!

Member Since:
26 November 2008
Offline
More than seventeen years ago, my white Standard Poodles (littermates) suffered torsion just three weeks apart. Torsion is also extremely painful and can be a very quick killer. Due primarily the efforts of a great team of specialist (more than six worked on the girls), more than a week shuttled between the emergency care facility and our primary diagnostician, and a bill that makes today's expenses for Cherry's Osteosarcoma appear trivial, I was able to save them and give them three more wonderful years. I often heard the comments above as well as the "why did you not just get another dog?" They could not understand that such an action would be the equivalent of them just getting another child if one of their children was faced with a life threatening illness.
I can honestly say that I have not heard these types of comments regarding Cherry's care. Being retired and on a fixed income for more than eight years, I guess I now have total choice of who I interact with. From the work colleagues with whom I still interact, to the members of the Geyser Observations Study Association with whom I watch water spout from the ground, to the AKC Obedience Trail people that we saw just last weekend, I have told everyone that I can about my brave little girl and how well she is doing. The result is a unanimous support for what we are doing and usually the first words uttered to my by these FRIENDS is "how is Cherry doing?" In the end, I have probably been my own worst critic, questioning if my desire to hold on to Cherry was just selfishness. I also have the motive of helping others have an easier time of making such a decision if they are ever faced with such a choice. Seeing one success, might help them in the future.
I am not disputing that the comments that Jerry mentioned as well as the one that I added. Unfortunately they are real and the represent a real uphill battle for those of us who value our companions and their quality of life. Thank God for the support groups where we can be honest about our feelings and programs to help us deal with such life threatening issues on terms that we can accept. I have no regrets regarding the quality of care I have provided for my companions and anyone who cannot see that this is fundamental to my values can not be a real friend. Each of us have our fundamental values and a real friend would never ask you to sacrifice these values.
Bob & Cherry
Forum Timezone:
America/Denver
Most Users Ever Online:
946
Currently Browsing this Page:
1
Guest(s)
Member Stats:
Guest Posters: 1225
Members: 16202
Moderators: 2
Admins: 3
Forum Stats:
Groups: 4
Forums: 23
Topics: 17940
Posts: 248765
©
Simple:Press
—