Caring for a Three Legged Dog or Cat
Tripawds is the place to learn how to care for a three legged dog or cat, with answers about dog leg amputation, and cat amputation recovery from many years of member experiences.
JUMP TO FORUMS ↓
Join The Tripawds Community
Learn how to help three legged dogs and cats in the forums below. Browse and search as a guest or register for free and get full member benefits:
Instant post approval.
Private messages to members.
Subscribe to favorite topics.
Live Chat and much more!
Get the new book by the Tripawds founders for life lessons learned from their Chief Fun Officer Jerry G. Dawg! Download the e-book, and find fun Be More Dog apparel and gifts in the Be More Dog Bookstore.
Remembering Our Jerry, One Year Later
Read the original blog post
Add Reply
Add Topic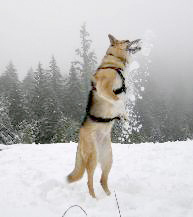 Outside, snow is falling on your land,
Jerry's Acres
. As we watch the mountain peaks turn white and delicate snowflakes swirl all around us, we get the sensation of being tiny ceramic figurines in a snow globe scene. One year ago, this was the last thing we could have imagined.
In the same week that we celebrated your 10th birthday, two days later on October 3rd, our hearts shattered into pieces when we accepted that your time on earth was about to come to an end.
We shared over a decade's worth of adventures; how could our lives go on without you, sweet Jerry?
During the two years that you valiantly fought cancer, we mourned over the inevitable. But you, in all your wisdom, always understood that life was finite, even before you got sick. Whether we die from premature disease or old age, you tried to show us that death is nothing to fear.
On October 3rd, 2008, under endless Montana skies, behind a waterfall of tears we watched you take your last breath. As we lay over your body to inhale the sweet scent of your pretty fur one last time, we looked skyward, and saw our amazing story ascend into the heavens. Like Dorothy in the tornado, it felt as if our hearts were being sucked into a vortex, right along with it.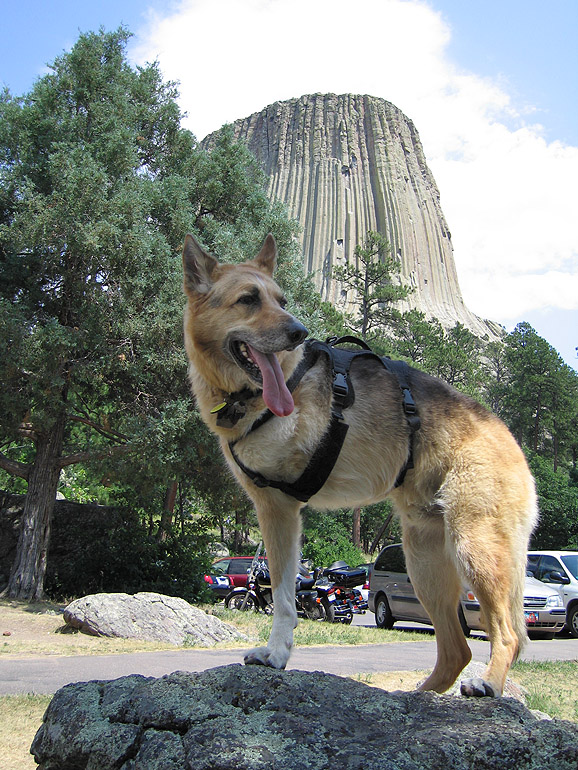 Never in a million years did we think we could ever heal after losing you. And honestly, we haven't completely and likely never will. But we do our best to
go on with life
, because it's the right thing to do. We remember all of the lessons you taught us about living in the moment, and know that's how you want us to be.
But sometimes, when we least expect it, we find our souls aching for the days when our pack roamed the countryside. When we had a soulmate who guided us on our spiritual and physical journeys. A dog who could speak our language without understanding a single word.
Then, reality hits us, and we understand that mourning the past is wrong. Quickly, we pull ourselves back into the present.
Jerry, we've taken your lessons to heart, and practice them each day. Sometimes we fail, but we keep trying to get it right. With your memories guiding us, we don't linger in self-pity for very long, and we do our best to be present and in the moment.
After you went to the Bridge, we searched far and wide to find a piece of land befitting an adventurous dog like you. It had to be a place on earth where we could envision you doing your favorite outdoor things; hiking, swimming, and kicking up dirt. We have finally found Jerry's Acres, and we know you would love it.
Now, one year after you went to the Bridge, winter is arriving here in Northern Colorado.
Soon, we will hit the road and roam south for the winter. And Wyatt Ray, in all of his silly puppiness, will come along for the ride. How blessed we are to have found a place for him in our life at just the right time.
We know he is not you, and we try not to compare. But watching him discover the joys to be had in attacking snow, jumping into lakes, and chewing up tree branches–just like you did–puts a big smile on our faces. It's so clear that your adventurous spirit is with him, gently guiding him out of his bullheaded goofiness and into a wise old dog like you were.
Thank you Jerry, for all that you showed us, and for all those things that you conspired to make happen.

You brought together this community of incredible pawrents and Tripawds, and you give them comfort and hope during their darkest hours.

You showed us that animals know how to be fearless in the face of adversity, yet understand when to say when.

And you taught us that the most important things in life are the simple ones, so get out and enjoy them before it's too late.
As we continue on our journey into the unknown, your wisdom will always guide us through the joys and challenges of this thing called life.
Jerry G. Dawg
Tripawds Founder & CFO (Chief Fun Officer)
October 1, 1998 – October 3, 2008

My heart lives at Rainbow Bridge
Forum Posts: 3754
Member Since:
28 November 2008
Offline
Shanna & Spirit Trouble ~ Trouble gained her wings 3/16/2011, a 27 1/2 month cancer survivor, tail wagging. RIP sweetheart, you are my heart and soul.  Run free at Rainbow Bridge.
The November Five - Spirits Max, Cherry, Tika, Trouble & Nova. 11/2008 - 3/2013 An era ends as Queen Nova crossed the Bridge.


Forum Posts: 80
Member Since:
18 May 2008
Offline
Here's to Jerry! So grateful for this wonderful site that you inspired your people to start. So grateful they continue to encourage others who have found themselves on the same difficult journey. This is your wonderful legacy, dear Jerry!
Have a blast running the heavenly fields with my Abbey and all the others,
love,
di

Forum Posts: 1216
Member Since:
20 May 2009
Offline
God bless you, Jerry, and for your parents for turning their pain into something that has helped so many people. Jerry was such a beautiful dog just like Wyatt Ray is. I am so glad that the two of you were able to share your love with another dog, tripawd or not. (Although it would seem weird to think of you with a four legged dog.) It is my wish that as you are facing this day that memories of Jerry bring smiles to your faces even through your tears.
Debra & Emily
Debra & Emily, a five year old doberman mix, who was diagnosed with an osteosaecoma. She had a right rear leg amputation on May 19, 2009. On November 10, 2009 she earned her wings and regained her fourth leg.
This past year has been emotionally challenging and sometimes just really ruff for my pawrents. If it wasn't for all of you, they don't know how they could have gotten through it.
So a big THANK YOU to all of the beautiful, kind and supportive Tripawds pawrents who have shared their stories and offer a shoulder to lean on to new friends from around the world.
It makes my pawrents honored beyond belief to know that you all have found time in your busy lives to create such a special place here.
xoxo

Kirkland, WA
Forum Posts: 739
Member Since:
2 June 2009
Offline

Madison, WI
Forum Posts: 264
Member Since:
14 June 2009
Offline
If it weren't for Jerry's heroic example, combined with his pawrents' vital amplification of his story to the world, Yoda might not be here today. We could have missed out on months of pain-free fun together, if we hadn't seen (for Yoda was right there on the couch with me) Jerry, Jim and Rene's story on a PBS special. Without seeing that, I don't think I would have imagined that there was hope beyond what Yoda's regular vets were telling me – 2 months of managing his dreadful pain and limiting his activity, maybe 4. Thank you so much, from the bottom of my heart.
Thanks for living such a pawesome example, Jerry!
It's definitely fitting that the Feast of St. Francis is right around the corner from this memorial day for Jerry.
Yoda&Mom united: 9/5/06 …….… Yoda&Leg separated: 6/5/09……… Yoda&Leg reunited: 10/14/09 ……… ……………….………….………….……. Yoda&Mom NEVER separated! …………………….….……....….…… Though Spirit Yoda currently free-lances as a rabbit hunting instructor for tripawds nationwide

Forum Posts: 930
Member Since:
26 November 2008
Offline
Jerry, Jim, Rene and Wyatt Ray ,
After more than two weeks of not being able to access, we have been luck enough to be able to post here to add our modest tribute to Jerry. Our companions never really leave us because the gifts that they give to us will live with us forever. We are better people because of the lessons our companions teach us. However, Jerry, your story of attitude, dedication, courage, and love have touch so very many people all over the world and has made their lives better in the process. Your story shows us that our struggle is not lost and has shown us that we are not really crazy for fighting so very hard. You have shown us that each day we share is a victory and the fight is measured in quality and not in quantity. Live and love for the now. Find the joy and allow yourself to be filled with the warmth of that joy.
I speak from experience here when I say that no one will ever take your place Jerry. Wyatt Ray will help to fill the canyon of a hole that has existed in your family's lives. He will make his own memories and be his own personality. But more than anything else in this world, Wyatt Ray will allow Jim and Rene to remember your time together with a smile and not just crushing loneliness.
Thank you,
Bob & Cherry

Winnipeg
Forum Posts: 1349
Member Since:
13 July 2009
Offline
Nicely put Bob and Cherry. I always feel like a bit of a traitor, having bonded with Tazzie after having another wonderful – but completely different – dog before him. But your perspective on 'successor' dogs is a good one. If only they could all live for 70 or so years . . .
Forum Posts: 115
Member Since:
9 October 2008
Offline
So very well said Rene and Jim!!!
I am trying to be as strong as you guys but it has been rough… I am still very weepy every time I speak of Jake. It has been about 5 and a half months since Jake has joined Jer and the others up there at the Rainbow Bridge and as much as I love and adore my 3 other fur babies, I still miss Jake so darn much.
The lessons that they teach us are so precious and they became so much more apparent to me during Jake's journey with bone cancer. My… how we can take it all for granted until we are faced with the thought of losing them! I appreciate life and those "little things" so much more thanks to Jerry, Jake, you guys (Rene and Jim) and this Tripawd community.
Thanks Jerry for being you and for helping all of us pawrents down here to be better humans!!!
Love ya Jer!!!
Luv Spirit Jake, Smooch, Baby Gus & Mom (Sherri)

Forum Posts: 104
Member Since:
20 December 2008
Offline
Thank you Jerry, Jim and Rene…what an amazing legacy. Not sure what I would've done without you guys when I went through my hearbreak with Jack. How lucky we both are to have that "soulmate" to guide us and help us through.
I love your thought that Jerry's spirit is guiding Wyatt…. maybe I've got the same thing going on here with Charlie?
Thank you for that tribute to Jerry. It's beautiful.
Kristen and Angel Jack
My Mom is getting all teary eyed you guys, your heartfelt comments mean more than you know. Thank you.
We really believe that dogs can change the world, if only people would listen to us more!
Remember, we are always around, we will never leave your side.
Forum Timezone:
America/Denver
Most Users Ever Online:
946
Currently Browsing this Page:
1
Guest(s)
Member Stats:
Guest Posters: 1090
Members: 10935
Moderators: 2
Admins: 3
Forum Stats:
Groups: 4
Forums: 23
Topics: 16273
Posts: 228599
©
Simple:Press
—