Join The Discussion
Learn about life on three legs in the forums below. Browse and search as a guest or register for free to take advantage of member benefits:
Instant post approval.
Private messages to members.
Subscribe to favorite topics.
Join the Live Chat and more!
What Is The KillBarney Tour?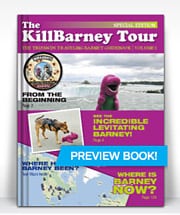 Get the KillBarney Tour Book for photos and stories of Tripawds members around the globe!
A
A
A
Forum Posts: 1
Member Since:
11 June 2018

Offline
Hello, Tripawd community!
I work as a copywriter for Petplan pet insurance and I'm currently working on an article for our pet health magazine, fetch!, about the resilience of amputee cats and dogs and how well they're able to adjust to life on three legs. I discovered this website and forum while doing research for my article and I have to say this is an incredible community! I have really enjoyed reading all the inspiring stories and also seeing such kindness and support.
I was wondering if anyone would be interested in sharing their story and being quoted in my article. I'm interested in hearing about the decision making process to get the amputation done, the recovery process and about how your tripawd is doing now. Whatever details you'd like to share would be great. I'm sure your stories will help inform and inspire readers who may someday find themselves in a similar situation! Please comment if you're interested and then we can talk more.
If this post is not allowed I understand completely, just wanted to give it a shot. Thanks for reading!
Best,
Cara

The Rainbow Bridge

Forum Posts: 23931
Member Since:
25 April 2007

Offline
Cara, thank you so much for your kind words, and for considering us for the article. Yes of course we are happy to get the word out! Thanks for spreading Tripawd Awareness 🙂

Forum Posts: 6482
Member Since:
21 May 2016

Offline
Hi Cara 🌸
My beloved Great Dane Eurydice lost her right front leg to osteosarcoma May 4th 2016 and became an Angel one year ago today.
She was really goofy and wonderful and a happy, happy girl.
Amputation decision was agony, as is for all of us, but I knew that was what needed to be done.
I would be very happy to share her story with you if you are interested.
Of course, she has earned her XXL silver wings and now lives in the fluffiest cloud in the sky so I don't know if this is what you are looking for. 
Here's a link Tripawds kindly did for her so you get to meet Miss Cow.
Please PM me if you want to proceed.
Hugs and slobbery kisses from above 😘🐮💫✨🌟🌹
Eurydice 77kg/170lb Great Dane limping end of April 2016, amputation (right front leg/osteosarcoma) 4 May 2016 6 courses of carboplatin followed by metronomic therapy, lung mets found 30 Nov 2016. 3 courses of doxorubicin, PET scan 26 Jan 2017 showed more mets so stopped chemo. Holistic route April 2017. Lung X-ray 5 May 2017 showed several tennis ball size mets, started cortisone and diuretics. Miss Cow earned her XXL silver wings 12 June 2017, 13 months and 1 week after amputation and 6 1/2 months after lung mets, she was the goofiest dawg ever and is now happily flying from cloud to cloud woof woofing away :-) 

Green Bay, WI

Forum Posts: 839
Member Since:
18 May 2014

Offline
My Warrior Dobe Nitro rocked life on 3 legs for over 3 years after losing his leg to Osteo. I love talking about him and our story, and would love to share it with you!
Read his story at nitro.tripawds.com 
let me know if you're interested in my beautiful boy
Paula and Warrior Angel Nitro
Nitro 11 1/2  yr old Doberman; right front amp June 2014. Had 6 doses carboplatin, followed by metronomic therapy. Rocked it on 3 legs for over 3 years! My Warrior beat cancer, but couldn't beat old age. He crossed the Bridge peacefully on July 25, 2017, with dignity and on his terms.  Follow his blog entitled "Doberman's journey"
http://nitro.tr.....27_2_1.jpg
"Be good, mama loves you".....run free my beautiful Warrior

Santa Fe, NM

Forum Posts: 197
Member Since:
19 July 2016

Offline
Another Angel chiming in. (Paula, Nitro's banner just came up for me, followed immediately by Pofi – probably not a coincidence?)
Cara, you may have let yourself in for more than you bargained for. There's not a person here who won't happily corner you to talk about their tripawd until your ears bleed.
Isa wasn't the strongest tripawd of the group but was a senior (12 or 13 at diagnosis) and lived a mere six months after amputation. Amp was done July 12, 2016 and she died January 19, 2017. She was a lab/rottie mix and my Best Dog. 
Here's a link to our blog: Isa's Story You'll have to scroll back a bit as I've been telling tales on my current (quad) dog who is a law unto herself. 
PM me if you need/want more information.
Teri and Angel Isa
Right rear leg amp 7/12/16 due to OSA. Metastatic lesion on her right front leg, January 2017. Joined the Winter Warriors January 19, 2017. Run free my sweet girl.


Forum Posts: 3350
Member Since:
16 October 2012

Offline
I will contribute about Sassy if you would like you may email me at punkinchelle at gmail.com or pm me here.

Sassy is a proud member of the Winter Warriors. Live long, & strong Winter Warriors.
sassysugarbear.tripawds.com
07/26/2006 - Sassy earned her wings 08/20/2013
"You aren't doing it TO her, you are doing it FOR her. Give her a chance at life."

Forum Posts: 361
Member Since:
26 January 2017

Offline
Cara,
Looks like you already have some volunteers, but if you need more just PM me. I'm still planning on writing a book about Rocky. 
David and Rocky (and Baxter now too!)
Rocky had his right front leg amputated on Valentine's Day 2017 after being diagnosed with osteosarcoma.
He joined the September Saints on September 3, 2017.
He is the toughest, bravest, sweetest and best friend I'll ever know. 

Forum Posts: 6482
Member Since:
21 May 2016

Offline
Hey Teri 🌸, "you may have let yourself in for more than you bargained for. There's not a person here who won't happily corner you to talk about their tripawd until your ears bleed". Well said 😅😅😅
Hugs and cuddles 😘🐮💫✨🌟🌹
Eurydice 77kg/170lb Great Dane limping end of April 2016, amputation (right front leg/osteosarcoma) 4 May 2016 6 courses of carboplatin followed by metronomic therapy, lung mets found 30 Nov 2016. 3 courses of doxorubicin, PET scan 26 Jan 2017 showed more mets so stopped chemo. Holistic route April 2017. Lung X-ray 5 May 2017 showed several tennis ball size mets, started cortisone and diuretics. Miss Cow earned her XXL silver wings 12 June 2017, 13 months and 1 week after amputation and 6 1/2 months after lung mets, she was the goofiest dawg ever and is now happily flying from cloud to cloud woof woofing away :-) 
Forum Timezone:
America/Denver
Most Users Ever Online: 597
Currently Online: tlahaye
54 Guest(s)
Currently Browsing this Page:
1 Guest(s)
Devices Used: Desktop (50), Phone (5)
Member Stats:
Guest Posters: 1005
Members: 12761
Moderators: 2
Admins: 3
Forum Stats:
Groups: 4
Forums: 23
Topics: 15027
Posts: 211580