Caring for a Three Legged Dog or Cat
Tripawds is your home to learn how to care for a three legged dog or cat, with answers about dog leg amputation, and cat amputation recovery from many years of member experiences.
Learn how to help three legged dogs and cats in the forums below. Browse and search as a guest or register for free and get full member benefits:
Instant post approval.
Private messages to members.
Subscribe to favorite topics.
Live Chat and much more!
My kitty has his front leg amputated, I adopted him 3 months ago from the shelter just 2 months after the amputation (because of trauma, he was found with his leg at a 90 degree angle and ulcerated from walking on it, so he had been that way for a while and he was very malnourished).  He is doing GREAT, he runs and plays and is thriving.  He is very mellow and good natured and is the best kitty Ever 🙂  The only issue is when he is in the litterbox, he seems to have phantom leg issues and tries to cover up his "business"  using his amputated leg. He seems to get frustrated and gets his shoulder closer and closer to the litter trying to move it and cover it up.  He sometimes ends up getting litter on his face and his belly, and he seems really frustrated.  Then eventually he seems to realizes that leg won't work, and uses his other front leg. It makes me sad to see him struggle, is there some sort of therapy or training I can do with him to help him? Or should I just stop worrying about it and let him be? A few times I've tried helping him use his good leg while he is in there, but it seems to stress him out or confuse him and then he just jumps out before covering it.
Hi Sherman and family, thanks for joining us. Your future posts won't require approval.
You're awesome to adopt this sweetie! Is his name Sherman? Got any photos?
I would agree that trying to help him would stress him out more. If he's getting around well in all other ways and as long as he's not overweight or has any other conditions like bad arthritis, I would just let him be for now and watch him. But then I'm not as experienced as our Kitty members here, so hopefully they will chime in soon. Meanwhile take a look at our kitty blogs to read about other types of litterbox issues they've coped with (I know they have, just can't think of any right now, sorry).
I agree it sounds like your kitty is doing great so I wouldn't worry about the litter situation. My Mona also had her front leg amputated. She was never great at covering her droppings to begin with but she struggled with the litter after her amputation. I was advised to use the recycled paper pellets after the amputation. Mona hated it and would try to balance herself on the lip of the litter box to go. It did not go well so I changed back to her old litter and she still didn't cover well. She prefers to go outside and sits back on her hind legs to fleck the dirt all over with her front leg.
One thing I suggest is NOT to use a litter box with a lid. There might not be enough room to sit up to cover.
Mona likes to rub her check on the floor. When she would rub the side where the leg is gone she would gently topple over. I think she tends to use her other side now. They figure it out and learn to rebalance and get stronger over time. I did some "rehab" exercises with Mona to develop her core. I would put a little bit of food in a bowl and hold it above her to sit up then I'd move it down, then up, etc. These days I see her sit up like a meerkat to see over something and while she waits for me to get her food ready. A toy on a stick held high also works. Here she is swatting at the toy: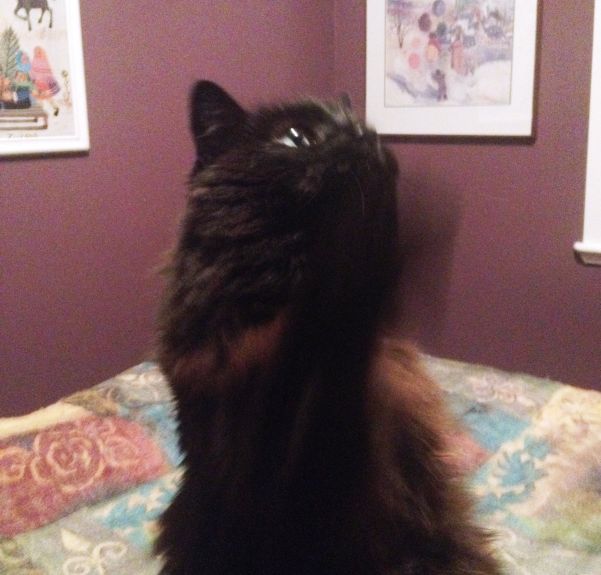 Here's a photo of her grabbing the bowl while in training (I think she had enough up and down):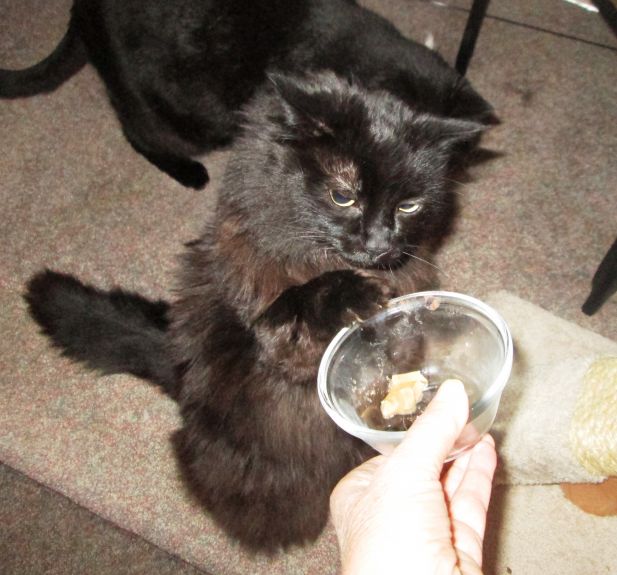 Enjoy your new friend!
Kerren and Tripawd Kitty Mona

Virginia


Member Since:
22 February 2013
Offline
Kidos to you for giving this sweet kitty a forever loving home!
Mona kitty is a great spokeskitty for tripawd advise. Spectacular insight and information.
Keep us inormed okay?
Hugs to you both!
Sally and Alumni Happy Hannah and Merry Myrtle and Frankie too!
Happy Hannah had a glorious additional bonus time of over one yr & two months after amp for osteo! She made me laugh everyday! Joined April's Angels after send off meal of steak, ice cream, M&Ms & deer poop!

Member Since:
30 May 2014
Offline
I suspect that he will adjust, given time.
This was my cat's biggest issue post-op (osteosarcoma, almost 22 months ago). Before the surgery, he was one of those cats that would attempt to bury everything in the room (except for what he should have been burying) after using the box. Initially, he would become very frustrated when the missing limb did not work, and would attempt to dig until he fell over. It took him a few months to adjust. He will still sometimes go through the motions of burying things with that limb, but no longer seems distressed by the fact that nothing happens.
Congrats on the new addition!

This is really good information for us to know, thank you for sharing these details! Glad to hear that he's doing much better.
You guys are wonderful! Thanks for all the great responses.  Yes Jerry, his name is Sherman. I was going to attach a photo of him, but I can't figure out how to? I think I was able to change my avatar, but I couldn't get it to rotate, so it is sideways - but I guess you get the idea! 
The vet thinks he is young, probably a little over a year.  He acts very young to me - super playful, runs around like a spaz, lots of younger cat behaviors, and he is still growing. So, I think that his age is in his favor.  Like I said, really he is doing great and has no limitations.  I had to put my other kitty down a month before I got Sherman, and I didn't think I would be ready for another for a while. However, my older kitty was distressed by herself and there was such a void for both of us, so I decided to get another.  I saw Sherman online and when I went to visit him at the shelter, he put his one paw on my shoulder and literally jumped into my arms. So, I guess he chose me!!  I was hesitant at first, because he was not grooming himself good at the shelter and his fur was very scraggly.  However, It literally took him a few days of TLC and he started taking care of himself. I do think the girls at the shelter spoiled him and carried him around, because if he had it his way he would have me carry him around all day, haha.  I'm not going to stress out about the litterbox issue, he uses his leg very well in the litterbox, after he goes through the motions with the "phantom leg" and remembers that it is gone.  Hopefully with time he will adjust like the kitty above.
 I do have one more question, I've been looking around the site and see that a lot of people have their animals on joint supplements, my vet hasn't mentioned this, I'm wondering if that is just for the older animals, or if maybe I should ask about his for Sherman? 
Thanks for the warm welcome 🙂
Annie (and Sherman)
sherman0915 said
I was going to attach a photo of him, but I can't figure out how to?
Here are detailed instruction for adding photos to forum posts . If you don't already share photos online somewhere, you can start a free Tripawds blog any time and upload them to your Media Library here.
...a lot of people have their animals on joint supplements...maybe I should ask about his for Sherman?
Definitely ask your vet, or consult with a veterinary nutritionist. One rehab vet tech told us to postpone supplement use until there is a need to avoid building up a resistance. Others believe they will always help. Check out this Nutrition blog post about using a glucosamine supplement for cats or search all blogs here for more feedback from others.
My cat had amputation surgery in June and also tries to use his missing front leg to bury his business in the litter box (he leans far down as you described and makes the movements as if his leg is still there). It takes him a few moments to realize he isn't making any progress and then he rotates and does his best with just his one front leg. He never buries is completely and I just always move in behind him and quickly get it out of the box for him. This is easy for me to do because #1, I am a stay-at-home mom and #2 this guy has an insanely regular poop and pee schedule. I know about when to expect him to use the litter box. Sometimes I scoop it out for him before he even leaves the box. He doesn't seem like he'd be particularly bothered if he couldn't do it himself. Before surgery he wasn't exactly a perfectionist at covering up his stuff, so I guess I have it easy there too.
Good luck - I hope you find something that helps your specific litter box issues! He sure is cute and is lucky to have you care so much about him!
Hattie
Hugs,
Hattie and Jerry Cat (right front leg and scapula amputation due to chondrosarcoma at age 14, lived 2 1/2 years post amputation, succumbed suddenly to suspected lymphoma at age 16)
10/2001 - 10/9/2017 R.I.P ~ Love you always
Would any of you like to post some photos of your sweet Trikitties? I'd love to put this information in our news blog, it's so helpful.
Hattie, It is good to know that Sherman isn't the only one with this issue! He does pretty good with the one leg, once he realizes the missing leg isn't there.  I've also learned that I need to keep less litter in the box for him, it seems to be hard for him to maneuver if there is too much litter.  Also, I keep it particularly clean for him, so that he doesn't get his face in stuff if he tries to cover with the missing leg.   I'm trying to attach a few pictures and a video Jerry, I thought I figured it out, but I can't tell if it is working. I put them on photobucket and then I selected the tree icon, going to post and see if they show up (fingers crossed).  I'm biased, but I think he's pretty cute.  All the girls at the vet are in love with him also, haha.
" />[Image Can Not Be Found]>
I wish I could get the video to upload, it is a really good video of him playing, shows how agile he is even with just three legs.  As you see in the picture above, I have the stairs, but actually they were for my other kitty who had a injury and wasn't supposed to jump. Sherman doesn't even need them, and as you can see he likes to play in them more than use them for climbing. He hides in them and jumps out at my other cat (she is not amused.)
Any suggestions for the video? It might be helpful for people who are worried about how their cat will do with an amputation.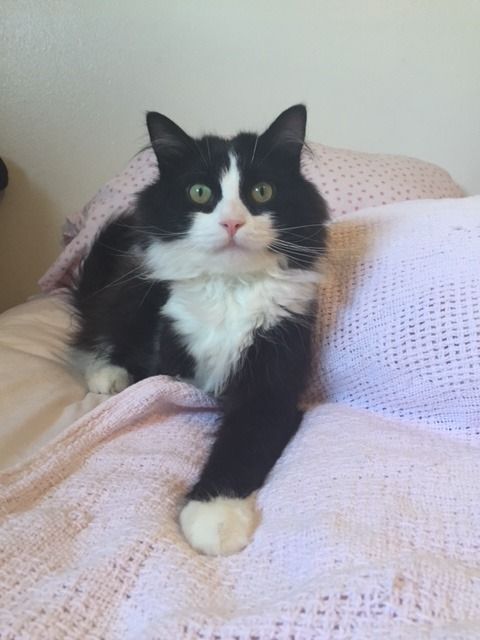 " />
Sherman is adorable! Still teeny.
Personally I would wait until Sherman is much older for joint supplements. I have arthritis and over time the medication stops working and I have to find something else. As Jerry mentioned, a vet tech said that pets can build up a resistance so it might be similar. My vet told me that most cats will get arthritis after 10 years old so that's when he recommends joint supplements.
I have my older cat on food that contains joint supplements and Mona, my tripawd, is 8.5 years isn't on anything. Since she's close to 10 years old I've tried her on supplements but she won't take them and won't even try the food. So I'll just leave her be right now.
I think the most important thing is weight control. A heavy cat will be rough on joints. As Sherman grows older and bigger you might want to discourage huge jumps going down as it can have a big impact on the remaining front leg. After her amputation Mona continued to take flying leaps off my high bed (just about doing face plants) so I set up chairs and boxes for her and she now prefers those. She jumps from bed to headboard, runs across, down to bed to chair to box to floor. It's still fun but smaller jumps. Those stairs are great for Sherman. Fun to play with and actually use!
I'm not an expert on videos but I think you have to first save them in youtube (or somewhere like that). Sally's good with these techie things and I'm sure she or someone else will let you know.
Kerren and Tripawd Kitty Mona
Oh wow - how beautiful is Sherman?!! What a cutie pie and his personality leaps off the screen! Thanks for posting photos. I will work on getting some of mine up today.
Hattie & Jerry
Hugs,
Hattie and Jerry Cat (right front leg and scapula amputation due to chondrosarcoma at age 14, lived 2 1/2 years post amputation, succumbed suddenly to suspected lymphoma at age 16)
10/2001 - 10/9/2017 R.I.P ~ Love you always
OHhhh call me biased too, he's adorable! Thank you for posting the pics. Video from Photobucket is tougher than just uploading to YouTube, not sure how to help with that one. What's great about doing it on YT is that we can add your videos to Tripawds TriKitty Playlist and more people can see them, versus just residing in a personal Photobucket account. After uploading to YouTube, just come back here and past the Video URL on a separate line by itself and it will automatically embed.
Can't wait to see!
Forum Timezone:
America/Denver
Most Users Ever Online:
946
Currently Browsing this Page:
1
Guest(s)
Member Stats:
Guest Posters: 1225
Members: 16206
Moderators: 2
Admins: 3
Forum Stats:
Groups: 4
Forums: 23
Topics: 17945
Posts: 248810
©
Simple:Press
—