All ampuversaries are incredible. But when it comes to an osteosarcoma cat, it's an extra special celebration! Today's Tripawd Tuesday feature honors Charlie's big occasion. This 14-year old cat is still going strong!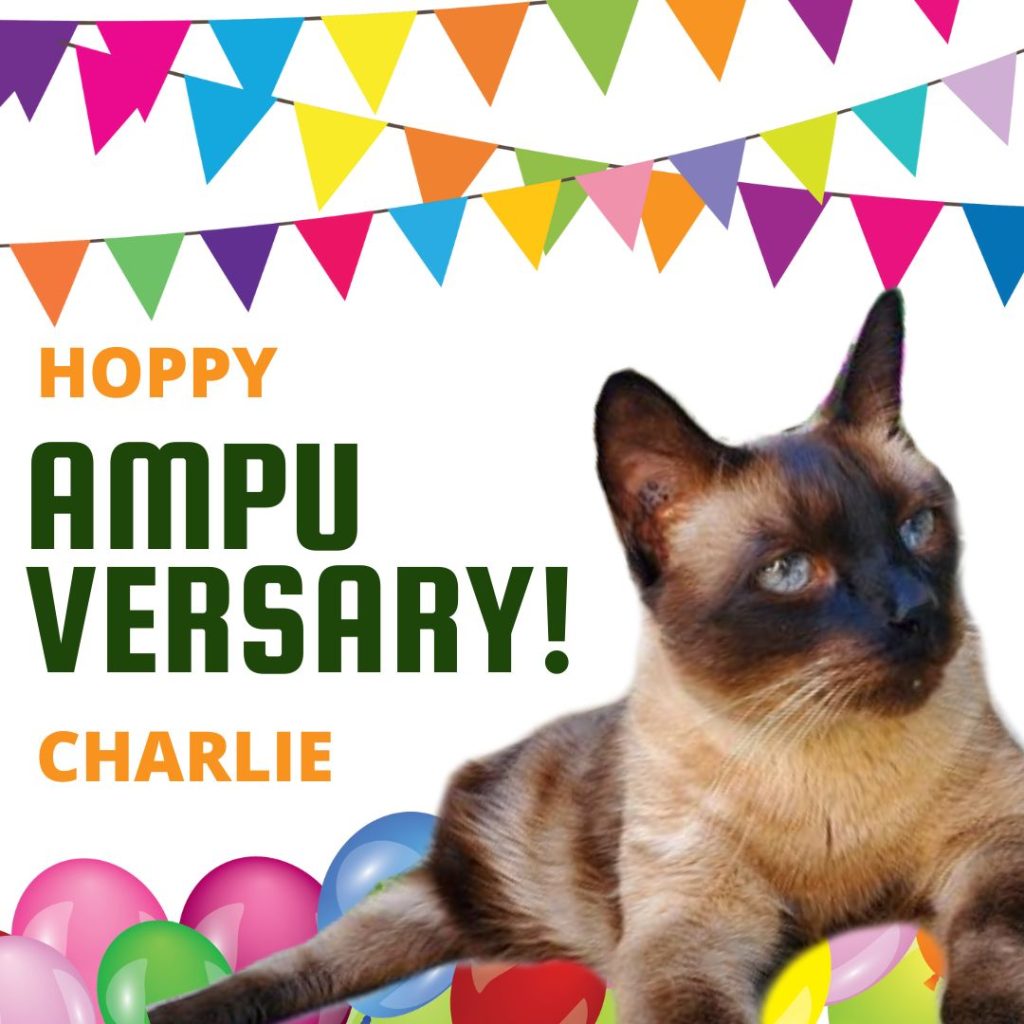 Last year, Charlie's mom Michelle sent us his Tripawd Tuesday story, Charlie, the Cat Beats Osteosarcoma!
We're now 1 month post surgery and things are going really well. The vet said that we would be surprised at how quickly animals can adapt to life on 3 legs. He said that in most cases they've already been favouring the other 3 legs before the amputation.

The vet was right, my husband and I are amazed every day!
Charlie the Osteosarcoma Cat is Now 1 Year on 3
On Thursday, September 15, they are celebrating one year post amputation, and post diagnosis! Michelle writes: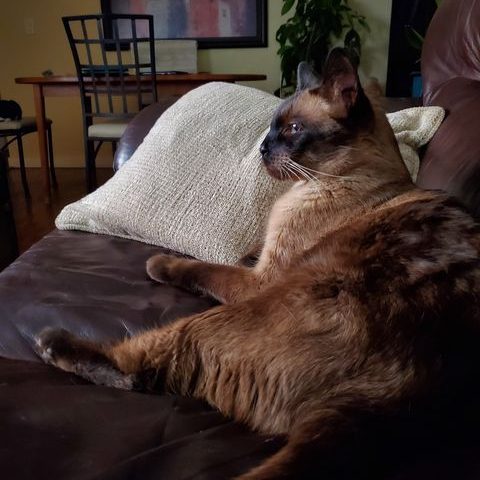 This is a recent picture of Charlie. He will be "1 year on 3" on Sept 15th

Basically just want to say Happy 1 year to Charlie after his amputation due to osteosarcoma. Also that were glad we made the decision to go ahead with it. His favourite thing is to be outside in the yard.
Follow Charlie @chelle_raves on Instagram
A big huge 3-paws up to Charlie for showing the world that cats with osteosarcoma can go on to have happy, fulfilling lives as Tripawds! Thanks for sharing your big day with us.
We Want YOUR Tripawd Tuesday Story!
Are you inspired by today's Tripawd Tuesday feature about how Charlie beat osteosarcoma? Want to share your Tripawd hero's story? Whether you have one, two, or more Tripawd dogs with three legs, a coyote, a cat, or a rabbit (or any three-legged animal!), share your three-legged love story with the world and inspire others! Send your Tripawd Tuesday shout-out now.
Each Tuesday is the best way to celebrate Tripawd amputee pets from around the world. Enter for a chance to be "Tripawd of the Week." Just share your story in a few words and you're in!
Whether you are a bonafide registered Tripawds member, or part of our Facebook, Twitter and Instagram communities, we want to tell the world about your three-legged cat or dog.
Send Your Tripawd Love Story in 3 easy steps:
In a short paragraph or two (or longer if you'd like!), describe your three-legged hero's story. Share a photo, video or both.
Got a Tripawds Forum topic and/or Tripawds blog that you started? Be sure to include that link too! Of course let us know any social media handles that feature your Tripawd.
Then send your story to us via email, Facebook Messenger, or direct message us on Twitter or Instagram @TripawdsCommunity.
We try to publish a new Tripawd story each week. It's time for yours to get featured!