It's a Tripawd Tuesday celebration of a species we don't often see here. Meet domestic rat Tripawd Stompie, an adorable little three-legged exotic.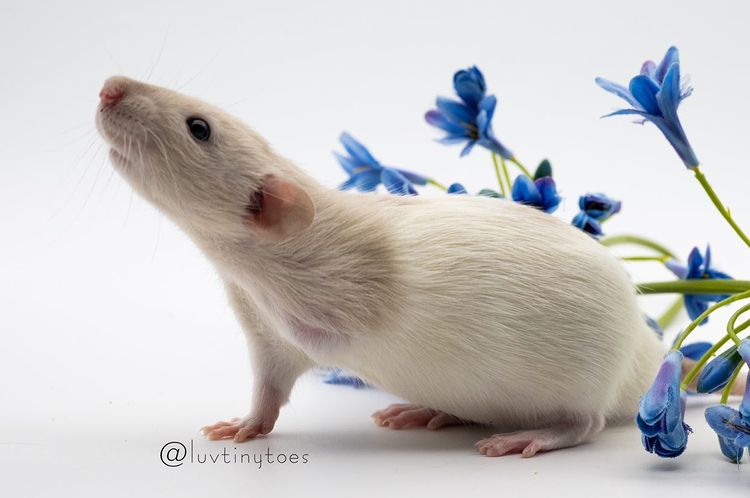 This sweet fella is lucky enough to be loved by South African domestic rat advocate and enthusiast, @luvtinytoes, and fans around the world! Here is Stompie's story
Meet Stompie – The gentle and busy Domestic Rat Tripawd
Stompie was rescued by a Cape Town based Rodents' Rescue named Boggle & Brux (@boggleandbruxct) when he was only 3 weeks old. His first foster and carer Monique affectionately called him Stompie. An Afrikaans word that roughly translates to Stumpy.
He came into the rescue along with his mother and siblings from a horrible backyard breeder situation. The conditions they were kept in were awful. Stompie's front paw became tangled in cotton-wool-like bedding. (Please don't use this for rodents!). Due to the unhygienic conditions this quickly became infected and necrotic. Unfortunately, it was too late to save his limb by the time he was rescued.
Stompie went in for his amputation at the Cape Exotic Animal Hospital when he was only 4 weeks old.
Due to the extensive damage and infection, he needed a full amputation of his front left leg. The team at CEAH were amazing with his care and pain management throughout this process. He handled the operation and recovery so well for his tiny age. He was showered with love from the vets, nurses, Boggle & Brux members and the public. Thanks to donators all his vet care was covered too!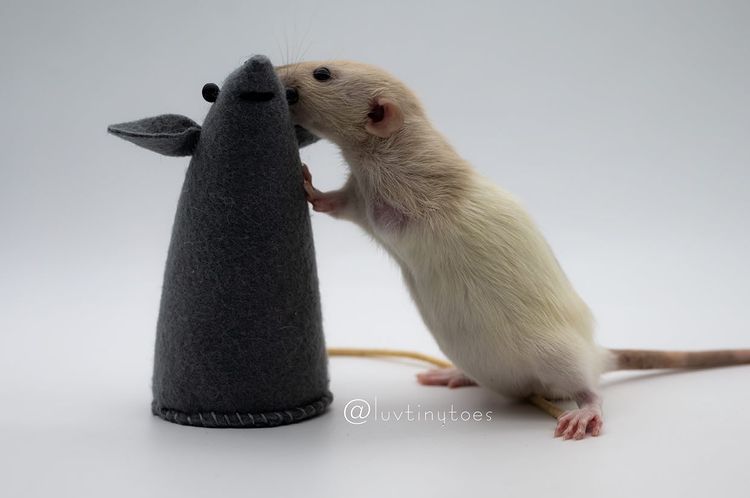 At 5 weeks old Stompie, and his same-age friend Echo, joined Boggle & Brux Board Member Brenda's home for after-amputation care. She is also his owner and humom now. At the same time Sarah, a registered vet physiotherapist Sarah Oxley did a consult to advise on exercises for Stompie to assist in his adjustments as a tripawd.
Stompie has shown so much care and love for all the humans and rats around him. From the day he was rescued despite the first human he knew being so cruel. He is a little zoomie and loves playing and wrestling with Echo. The two babies will soon be joining the rest of Brenda's mischief who already consists of 9 ratties.
Rats flourish best in groups since they are very social animals.
Due to Stompie's extra needs however, Brenda has decided to wait until he is 12 weeks old before he permanently resides with the mischief. In the mean time him and Echo are having daily playdates with the others.
Domestic rats are often misunderstood and judged.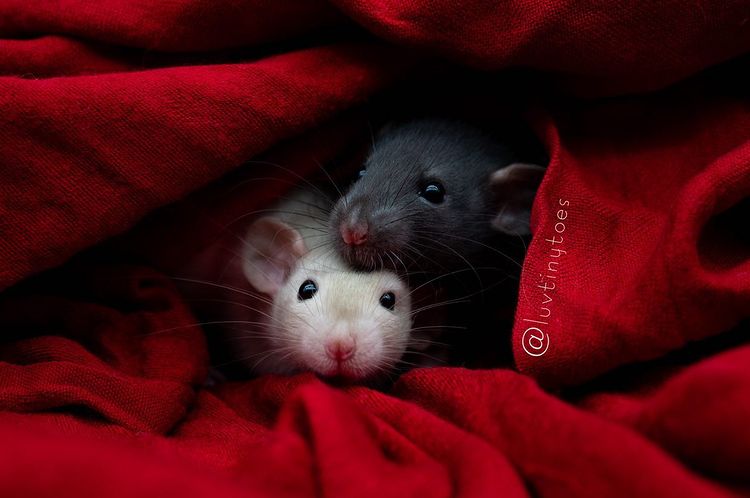 They are genuinely caring and intelligent little companions.
Despite their bad reputation they are also very clean and just like cats use a litter box and groom themselves constantly.
They form strong bonds with their humans and rat friends
Rats make truly wonderful pets to those willing to look after their needs.
The only downside is their short average lifespan of 2-3 years.
However, thanks to his generous donors, folks like Boggle & Brux, Cape Exotic Animal Hospital, @luvtinytoes and vet physiotherapist Sarah Oxley, Stompie will have the best care, adventures and opportunities for his years to come.
We Want YOUR Tripawd Tuesday Story!
Are you inspired by today's Tripawd Tuesday feature about Stompie the domestic rat Tripawd? Want to share your Tripawd hero's story? Whether you have one, two, or more Tripawd dogs with three legs, a coyote, a cat, or a rabbit (or any three-legged animal!), share your three-legged love story with the world and inspire others! Send your Tripawd Tuesday shout-out now.
Each Tuesday is the best way to celebrate Tripawd amputee pets from around the world. Enter for a chance to be "Tripawd of the Week." Just share your story in a few words and you're in!
Whether you are a bonafide registered Tripawds member, or part of our Facebook, Twitter and Instagram communities, we want to tell the world about your three-legged cat or dog.
Send Your Tripawd Love Story in 3 easy steps:
In a short paragraph or two (or longer if you'd like!), describe your three-legged hero's story. Share a photo, video or both.
Got a Tripawds Forum topic and/or Tripawds blog that you started? Be sure to include that link too! Of course let us know any social media handles that feature your Tripawd.
Then send your story to us via email, Facebook Messenger, or direct message us on Twitter or Instagram @TripawdsCommunity.
We try to publish a new Tripawd story each week. It's time for yours to get featured!