Here's a Tripawd Rescue Dogs Love Story to brighten your Tripawd Tuesday (and possibly encourage you to adopt a second three-legged dog or cat!). After all, what's better than one Tripawd Husky to lead the pack? Two of course!
You will love this Tripawd Rescue Dogs Love Story!
Here's how Dan Maddock from Ohio ended up with two amazing Tripawd rescue dogs in his family.
"Our two triples. Trinity, black one on the right was a mill momma. She was born without her leg, and was scheduled to be euthanized and our rescue arranged here escape. We named her Trinity because we got her at Christmas 2018. She is the pack bully ( we have 6 huskies ) and loves everyone!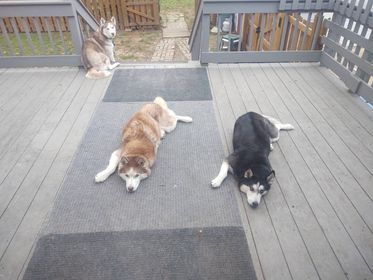 On the left is Bob, his story is quite interesting, he lost his leg to an infection, and after surgery no one wanted him. Again we asked our rescue to step in and help us get him. We are in Ohio, and Bob was in California, it took 8 pilots and paws flights to get him here. He is a real nut job and we love him so much. The reason for this picture is obvious…haha.
Tripawd Bob in his wheelchair. He is good at using it. It was Trinity's but she refused to use it.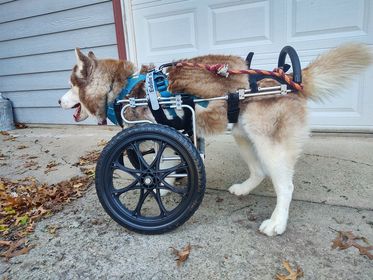 Kaleidoscope K9s from Seville, Ohio, was the rescue. Kathy Dills is the head of it, along with a lot of dedicated volunteers. Trinity was part of a mill shutdown in Indiana, she was going to be PTS because no one wanted her. There was a post with her picture and she looked so pathetic and alone, I wanted to save her immediately!
She, as I said is the pack bully and her physical challenge does not stop her from pushing around our biggest husky. Bob was again a post about a dog that fell on hard times and again it was a picture that started the ball rolling. As I said it was an epic Pilots n Paws effort, 8 plane flights and 6 days of travel. He also showed up at Christmas exactly one year after Trinity.
Bobs last flight into Ohio, pilots name not known to me and his son. My wife and I on the left.
These were Trinity's jail break partners, Kate Mitch on left and I have forgotten the name of the lady on the right.
The Tripawd rescue dog picture that saved Trinity's life!!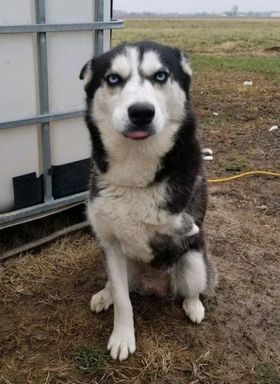 A much happier Trinity, knowing she has a furever home!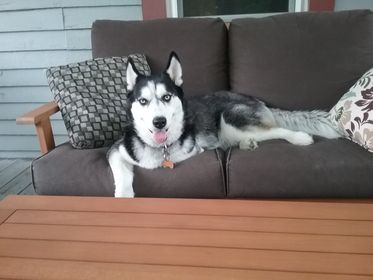 We Want YOUR Tripawd Tuesday Story!
Did you like today's Tripawd Tuesday spotlight? Whether you have one, two, or more Tripawd rescue dogs, a coyote, a cat, or a rabbit (or any three-legged animal!), share your three-legged hero's story with the world and inspire others! Send your Tripawd Tuesday shout-out now. Each Tuesday is the best way to celebrate Tripawd amputee pets from around the world. Enter for a chance to be "Tripawd of the Week." Just share your story in a few words and you're in!
Whether you are a bonafide registered Tripawds member, or part of our Facebook, Twitter and Instagram communities, we want to tell the world about your three-legged cat or dog.
Send Your Love Story in 3 easy steps:
In a short paragraph or two (or longer if you'd like!), describe your three-legged hero's story. Share a photo, video or both.
Got a Tripawds Forum topic and/or Tripawds blog that you started? Be sure to include that link too! Of course let us know any social media handles that feature your Tripawd.
Then send your story to us

via email,

Facebook Messenger, or direct message us on

Twitter

or Instagram

@TripawdsCommunity.
We want to publish a new Tripawd story each week. It's time for yours to get featured!