Amputation pain control for dogs and cats is a big deal in this community. So when we heard that Tripawd Sadie was enrolled in a study to evaluate better post-op pain relief, we got excited!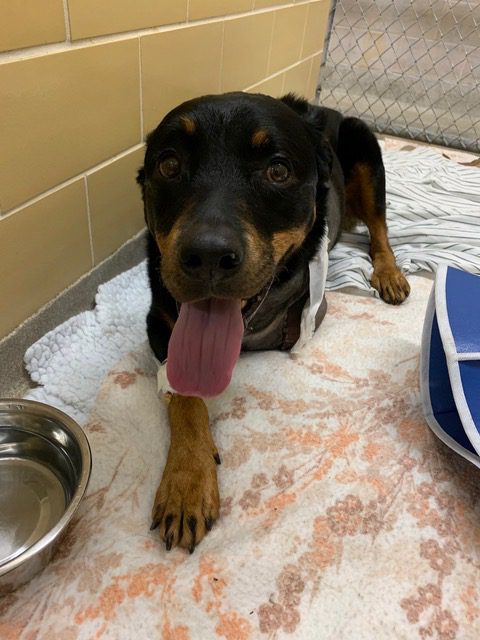 Sadie is a 7.5 year old Rottie. In February, she was diagnosed with osteosarcoma, and underwent amputation surgery at the University of California at Davis, ranked the #1 veterinary school in the world. As a patient at UC Davis, Sadie qualified for inclusion in an important study about amputation pain control for dogs. It's called: Evaluating Long-acting Local Anesthetic on Pain Control in Dogs Following Front Leg Amputation.
Searching for Better Amputation Pain Control for Dogs and Cats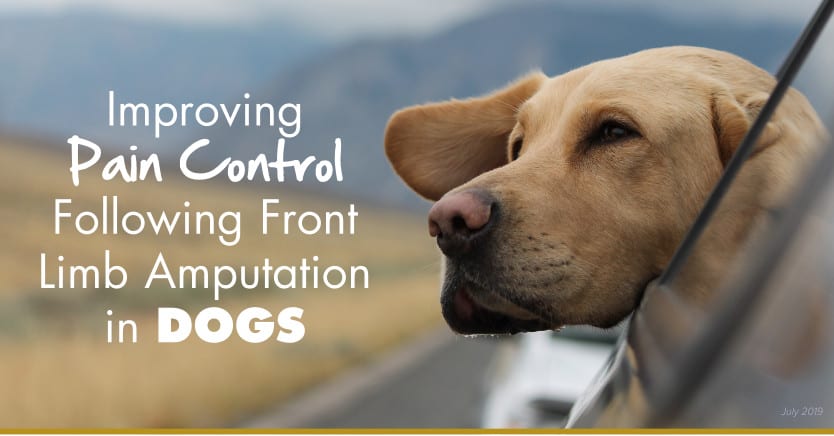 At UC Davis, clinicians want to see how a specific pain medication reduces amputation surgery discomfort in front-limb amputee canines. Led by UC Davis soft tissue veterinary surgeons Drs. Erin Gibson and professor Ingrid Balsa, the study will determine if a local anesthetic under the commercial name of NOCITA® provides adequate amputation pain control. They also want to know if it reduces the amount of opioid pain medication dogs need for comfort. The results will be compared with dogs who did not get Nocita in their amputation surgical site.
Each of the 14 dogs in the study will also receive standard pain control medications. For instance, they'll get Gabapentin and non-steroidal anti-inflammatories. Dogs get evaluated for pain every four hours after surgery, for 2.5 days. To measure pain, Dr. Gibson's team uses a Von Frey Filament Device. This equipment applies up to 1 kg of pressure to an area on the body. When a human or dog responds to the pressure, the clinician stops applying it. Then they note how much pressure was applied before it was noticed by the patient.
Watch How a Von Frey Device Works
What does assessment with a von Frey device involve? from Langford Vets on Vimeo.
Dr. Gibson does the hands-on work to examine pain levels. She says it's been a real treat getting to work with Tripawd dogs. "It means a lot to me that I can work with these owners and their dogs and try to make this really traumatic, oftentimes stressful experience, as good as possible."
Smoother, safer amputation recoveries
Nocita is more commonly known as bupivacaine. Vets inject it into the amputation incision during surgery. When it goes in, bupivacaine infuses directly into the body's inflamed tissues. The formula controls pain for up to three days with just a single dose. The drug has been widely used in humans since 2011. In 2018 it received FDA approval for veterinarians when it demonstrated pain control for dogs undergoing knee surgeries.
As far as dog amputation pain relief goes, this medication is a win-win. Just ask Sadie! "I was surprised that she walked up the stairs pretty well when we got home," her dad Tony said the day after her amputation.
Dr. Gibson is enthusiastically exploring Nocita's potential for better amputation pain control in dogs and cats. One reason is because common oral pain relief medications often have side effects like imbalance, inappetence, constipation and dysphoria. All of these side effects can delay recovery.
"We're hoping that the results of this study will demonstrate an advantage to using Nocita in these types of surgeries so that we can better help these dogs recover smoothly and safely, and also pain-free," says Dr. Gibson.
Providing more evidence, one dog at a time
Nocita is not widely used in veterinary practices for two reasons: 1) It's only been studied in dogs undergoing knee surgeries and 2) vets who are currently using it for amputation surgeries are doing so as an "off-label" protocol. Not all vets are comfortable doing that. "Until we have really good data in the literature about this medication, we're often guided by our own clinical experience," Dr. Gibson explains. "I also think that to a certain extent, expense plays a role. It is not an inexpensive medication, unfortunately." This study will hopefully give more vets the confidence to use Nocita for amputation surgery.
For now, Nocita is used "off-label" in feline patients, but cats are not part of this study. Dr. Gibson wants more targeted studies to gauge Nocita's effectiveness in cats.
Does Your Dog Qualify for this UC Davis Clinical Trial?
Do you live near the University of California at Davis? Does your dog need an amputation because of a forelimb cancer? Visit the web page for Evaluating Long-acting Local Anesthetic on Pain Control in Dogs Following Front Leg Amputation and see if it's right for you.