When you're coping with loss, it's hard to fathom that any good can come from the heartache. But as Sally H. recently explained, the legacy of our enlightened Tripawd heroes shows that their lessons go way beyond the years they spend with us.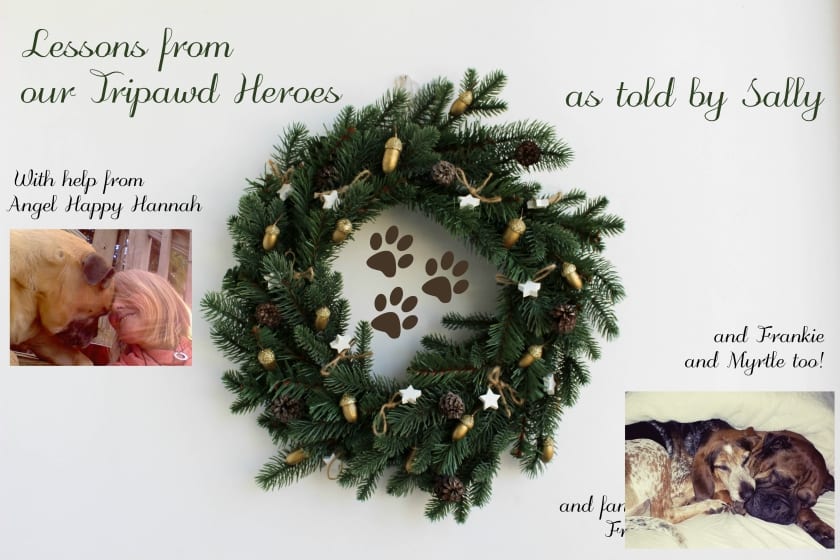 During the recent Memorial Service for Tripawds Spokesdog Wyatt Ray, our community's beloved cheerleader Sally (@benny55), gave a beautiful explanation about the purpose of pets in our lives. We think it deserves a re-share today.
Lessons from Enlightened Tripawds Heroes
In the video excerpt from Wyatt's tribute, you'll notice Sally is wearing a wreath. Later when asked why, she explained it like this:
"A wreath )in some beliefs) represents life everlasting….with no beginning and no end. Soooo.building on that foundation, the unbroken wrearh circle .could represent Jerry's energy (never ending) merging with Wyatt's. No ending for either,, no beginning, just a continuum.

Everything taught to us by their earthly presence by our side, leads us to the road to enlightenment. Dogs already are bathed in a pure love that can only ve attained by a connection to a "light" source, a "higher power of consciousness ", God, Buddha, Universe, whatever you want to call it. So yeah, they are our role models for all the above."
And now, prepare to smile when you watch Sally explain the important lessons of our Tripawd heroes. A transcript follows.
Transcript: Lessons of our Tripawd Heroes, by Sally
"And as horrible as this journey is when we first start and if we can just remember that it really is about our soul's growth and about our life lessons and stuff, and then we understand the dogs are already – they are already enlightened.
Animals deliver our lessons.
They've already been around this world many times in many earth clothes I believe and I believe when they get it all right, they get to come back one more time as a dog to teach us because we can't learn from anybody else like we can learn from our dogs.
So they jump into their earth clothes and they don't care if they have to go through amputation or anything like that because in time and space, that's forever and they are only in the earth clothes for a like a blink of an eye.
So we think, "Oh gee, why would a dog choose to come here and have to go through all this stuff? Why would a human being come here and choose to go through all this stuff?"
It's because they are already enlightened and they are teaching us and it's about love and enlightenment.
What are we supposed to learn?
So if we look at it as, and I know I'm rambling but I'm so glad I can finally be on here, if we just look at it as a life lesson, what is the message? What are they teaching us? What are we supposed to learn?
We've been given this gift of their lives for however long and as bizarre as it might seem, we've been given the gift of this journey, this amputation journey to be on with them and we just have to learn from it.
Tripawds spread love and enlightenment to all.
And I feel like when we all cross over and this is for the dogs too, it's because they've completed their earth mission. And even in their transition whether it's peaceful or not as peaceful as we want or whatever, there's still sacrifice – not sacrificing. They are still selflessly giving to us and teaching us stuff so even in those moments and then of course, they are free and they are enlightened and everything else.
So anyway, I just wanted to say that we know why Jerry and Wyatt came here and Manny and Nitro and all of them that we know, we know, and in part that was to bring us all together to continue to spread their love and their enlightenment and learn their lessons."
A big "thank you!" to everyone who attended Wyatt's memorial service, and a giant hug to Sally for sharing her wisdom with us.