Have you heard the news? The 2021 Tripawds Calendars are ready! Get your three-legged pets calendar and support amputee dogs and cats around the globe. And this year, we especially hope you'll buy many more than usual. Read on for details.
Tripawds Heroes Make Our Community Shine!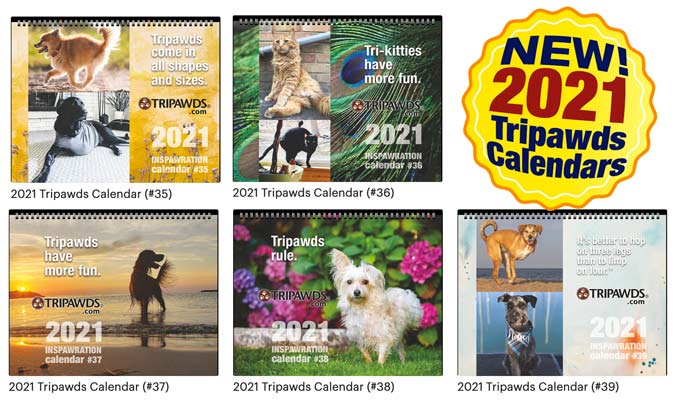 A big thanks to everyone who sent their favorite Tripawd Hero photos for the 2021 Tripawds calendars! Over 120 photos were received, and as our usual custom goes, everyone got featured!
You'll see five new Tripawds 2021 calendar designs this year. Preview all pages to see which calendar your Tripawd Hero made it into! Visit the Tripawds Gifts Blog!
This Annual Celebration Needs Your Help
Tripawds Admin Guy Jim faced many challenges in producing this year's wall calendars. Big surprise, right? It is 2020 after all! Seriously though, annual calendar sales help offset the growing costs of maintaining this community. They usually bring in about $4.60 for each calendar sold. But not this year. Pandemic related distribution issues forced us to find a new production partner.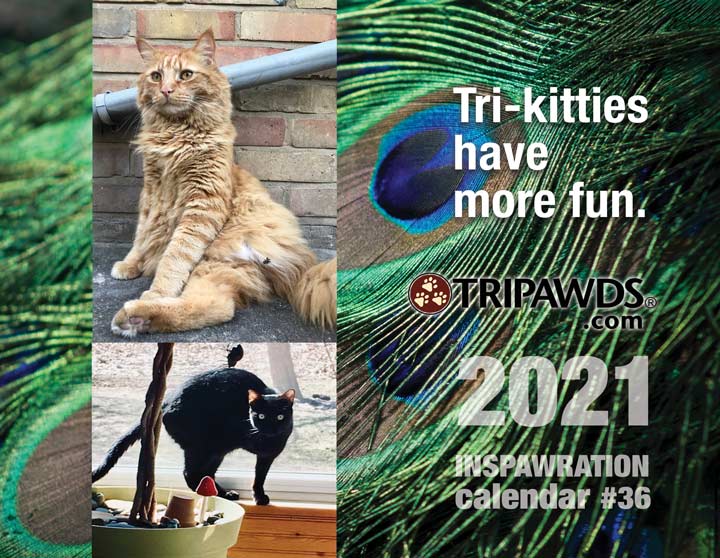 Printing and shipping costs skyrocketed. To maintain the same profit, we would have needed to charge $30 each! Nobody should ever have to pay that. So, we kept the price low at $20.95 each. But now each calendar will only net us $1.05. This will cause a considerable impact on our budget this year.
Dozens of hours went into creating these five calendars. We don't mind though, because we never want anyone to be left out of the annual celebration! Some people suggested turning the calendars into an auction, or charge to be in the calendars. But we feel that goes against the spirit of our community's commitment to keep our resources free.
There's More Ways to Help Tripawds!
Now more than ever, your support matters to help keep the Tripawds community online. We hope everyone will consider purchasing additional calendars. These calendars make great gifts for your vet clinic, rehab center, animal rescue, friends and family, or anyone with a three-legged dog or cat. They are not tax-deductible but they do help us pay for this community.
Tripawds calendars make great gifts for your vet clinic, rehab center, and friends or family members!
We hope you love the result of this year's three-legged pet calendars. Thanks again for helping to make our annual labor of love so pawesome!