Tripawds members are the most helpful pet parents on the planet! When Totem's mom asked "Anyone else here have a puppy Tripawd?" Nyaya's mom @Otter was ready to help. This glorious Tripawd girl lived to the glorious age of fifteen! For today's Tripawd Tuesday celebration, here's how Nyaya's mom kept her sweet pup fit and happy throughout her life, as shared in this discussion. It's edited down but the full story is here.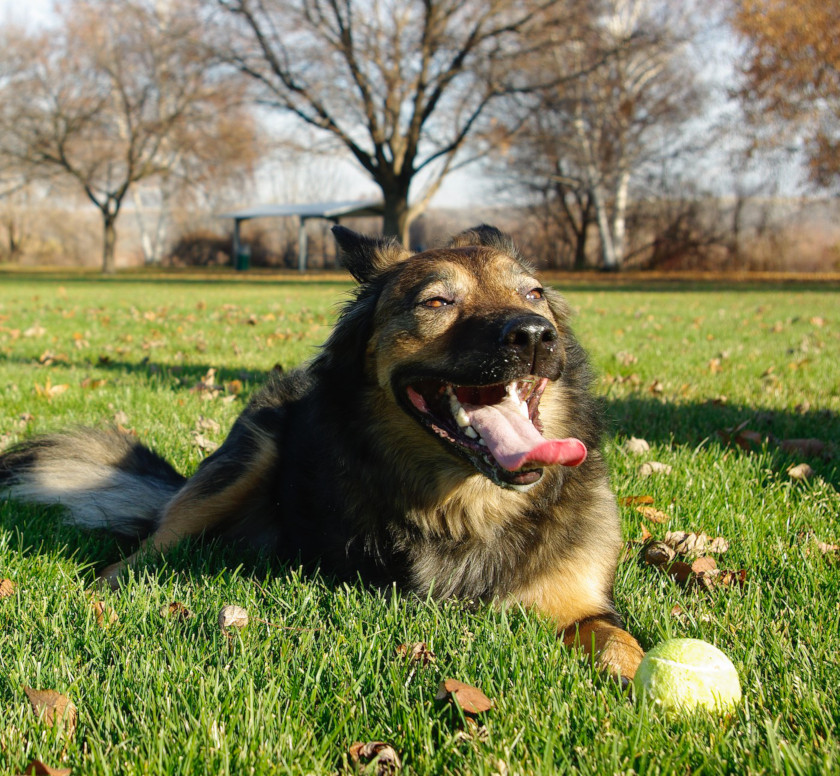 How to Raise a Tripawd Puppy
My dog lost her front right leg at 4 months due to an injury. She passed a year ago, a month shy of 15. I, like you, fretted about losing the spare so early. So from the get go I was all about minimizing strain and injury but I also tried not to let that interfere too much with her having a happy and fulfilling doggy life. With everything said and done, looking back, I think I did a good job on finding that balance.
The key to success is making sure they have fun every day with the day including:
strength building exercise
plenty of breaks
and ideally some non-damaging exercise (i.e. swimming!)
My little Nyaya had amazing strength and stamina up until about 7 years of age. Her favorite thing on the planet was fetch. Outside of swimming (which wasn't possible through the winter) I didn't let her go as long and hard as she wanted, but I found that letting her play hard for 10 minutes with a 5 minute break worked well as long as I limited it to two 10 minute periods over an hour.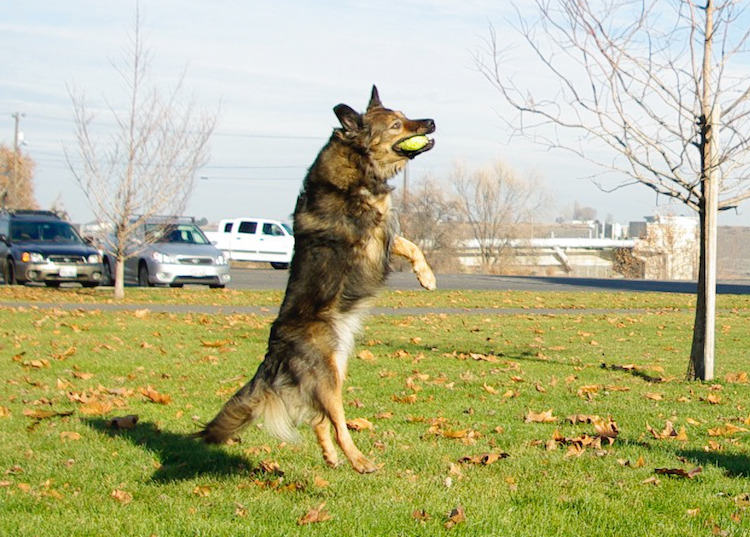 You Know Your Tripawd Best
Everyone told me I was being silly, but whenever I let left her in the hands of someone else she would be returned to me broken. Not because they were mean but because while in their company she would act like playing fetch for 2 hours straight was the best thing ever. They would only stop when she could no walk to return the ball or freesbie to them. I would get her back and have 2 weeks of nursing her back to normal with the first few times involving a terrified visit to the vet.
From 7 to 11 Nyaya was a solidly active adult dog. But it was 7 when I started noticing that the distance we covered playing fetch was retreating and that if I didn't carry her to the park down the road she wouldn't have the energy to play once we got there. She got IMHA (Immune-mediated hemolytic anemia) at 11.
That diagnosis is as deadly and horrible as cancer and the treatment took a year and a half. The treatment involved very high dose prednisone and, once it became obvious that would kill her, strong immunosuppressive drugs. The prednisone wrecked havoc on her muscle mass and gave her Cushing's disease. Because of this her mobility plummeted.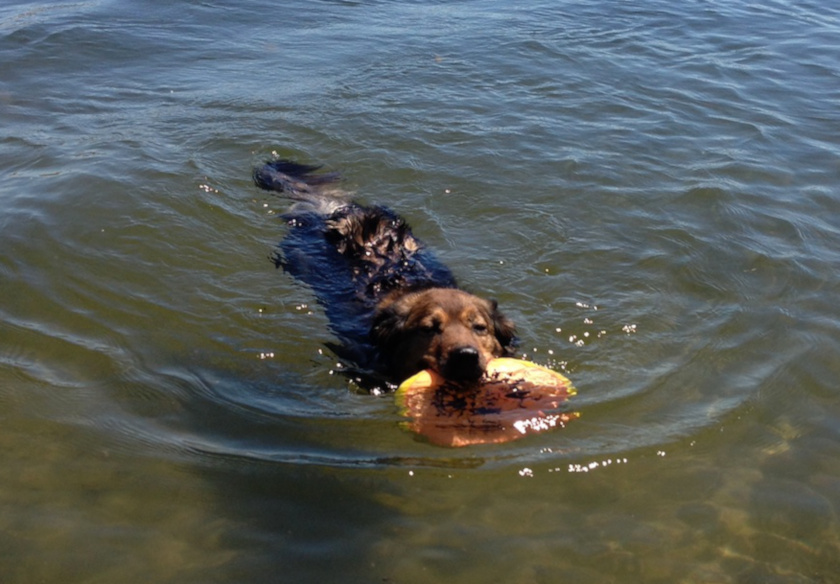 Moderate Exercise from Tripawd Puppy to Senior Days
Odds are your dog won't be so unlucky and if that is the case your investment in regular, moderate, healthy exercise, will allow your dog to get to 13 o 14 before it feels the affects of the arthritis associated with its debilitation.
"Muscle is armor," that is a phrase the University of Washington sports medicine orthopedic surgeons told my boyfriend when he asked how he could minimize his knee pain. Build up muscle and it will compensate for weak joints.
My recommendations are to:
Build muscle mass and stamina through regular exercise for short periods to avoiding him get overexerted making him prone to injury. Take him swimming whenever possible.
If missing a front leg minimize unnecessary joint damage by trying to prevent him from jumping out of car, running down stairs, leaping off of furniture, etc. The one remaining front leg is taking a pounding every day through walking (if you don't believe me, wait until you're lying on the floor and your pup hops its front leg onto your chest and you feel like you have been bludgeoned).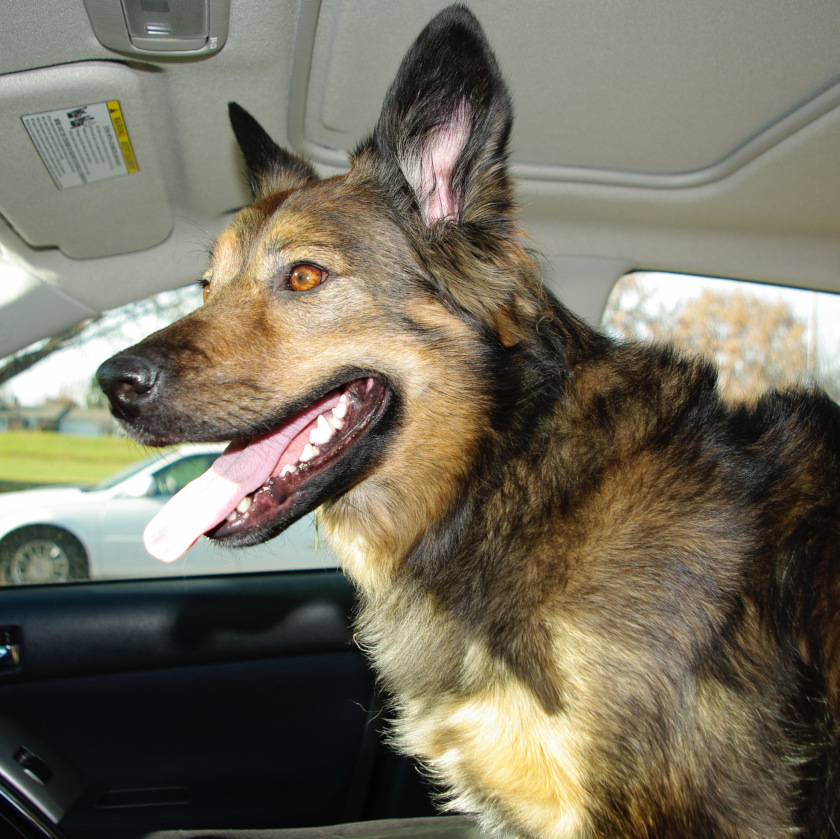 How to Avoid Extra Stress on a Tripawd's Body
I went to great lengths to prevent Nyaya from putting excessive stress on her remaining front leg by
carrying her down the stairs (blocking her from running up them during the with a baby gate)
and putting a old chair cushion on the floor below the couch so she could sleep on it and leap off to race to the door,
and never allowing her to leap out of a car (jumping up, and going up stairs was fine, and I think that would be true even if a back leg were missing because it's a push up, versus fall down).
I took Nyaya out for four periods a day until she was 3 because if I didn't she would chase her tail in a circle and act like a crazy dog. It worked because I forced her to take breaks (sometimes carrying her across the asphalt and putting her down on the grass). In the house I would toss the ball when she brought it to me, but it was for a short distance and I replaced the carpet putting 1 inch pads down making the floor cushy and forgiving on the joints.
avoid long walks. When Nyaya was very young I took her on a long walk with other dogs. One mile out she was done and I got to carry her 1 mile back. After that I drove her to the park to conserve her energy for the part she really enjoyed, the playing (not the traveling).
Caring for a Senior Tripawd
When she got older and I had more time I got a doggie cart and walked her to the park in it and then let her out to play once there. Point is try to have your dog use the limited active time you will allow in the day on awesome fun experience and waste it on mundane travel exercise.
find new fun when old play ways can't be maintained. If you're lucky enough that your pup lives a long and happy life there is going to come a time when he no longer wants to play fetch, then no longer wants to swim, etc.
When this happens don't just quit doing anything find a new thing that your dog want/can do and take the time through the day to give them the opportunity to do it.
Nyaya's last year was hard. She lost her ability to do much of anything but stand up, walk a few feet, and relieve herself. But I found new fun things for her to do. At that point just sitting and chilling watching the world go by when I pushed her in the cart and dogs walk by in the park made her happy so that was our outing.
…it is possible for you to make every moment happy and awesome because they aren't thinking about what happened yesterday or might happen tomorrow.
proactively manage the pain when it comes.
When your dog gets to 7 to 8 start reviewing the best in class in arthritis pain management for dogs. Hopefully there will be some new, better options by then.
When Nyaya was 10 we started her on Adequan for her arthritis and it was working well . . . her liver counts blew through the roof so NSAID type drugs were not an option.
My vet felt only opioids were safe, and while these worked, they were not at all ideal. She also hated strangers touching her. So massages/chiropractic treatments were not an option. If she hadn't had these unexpected troubles unrelated to being 3-legged she would of been more comfortable as she aged.
Get Your Hero Featured in Tripawd Tuesday!
Whether you have a Tripawd puppy or a mature Trikitty, share your three-legged hero's story with the world! Send your Tripawd Tuesday shout-out now. Each Tuesday is the best way to celebrate Tripawd amputee pets from around the world. Enter for a chance to be "Tripawd of the Week." Just share your story in a few words and you're in!
Whether you are a bonafide registered Tripawds member, or part of our Facebook, Twitter and Instagram communities, we want to tell the world about your three-legged cat or dog.
Send Your Tripawd Tuesday Story in 3 easy steps:
In a short paragraph or two (or longer if you'd like!), describe your three-legged hero's story.
Share a photo, video or both.
Got a Tripawds Forum topic and/or Tripawds blog that you started? Be sure to include that link too! Of course let us know any social media handles that feature your Tripawd.
Then send your story to us via email, Facebook Messenger, or direct message us on Twitter or Instagram @TripawdsCommunity.
We publish a new Tripawd story each week. It's time for yours to get featured!