We share so much with our dogs that we often imagine they are furry little people. The truth is, they aren't. In the new field guide to "Unleashing Your Dog," by Marc Bekoff and Jessica Pierce, we learn why. More importantly, we learn how to give our dogs the freedom to be . . . well, dogs!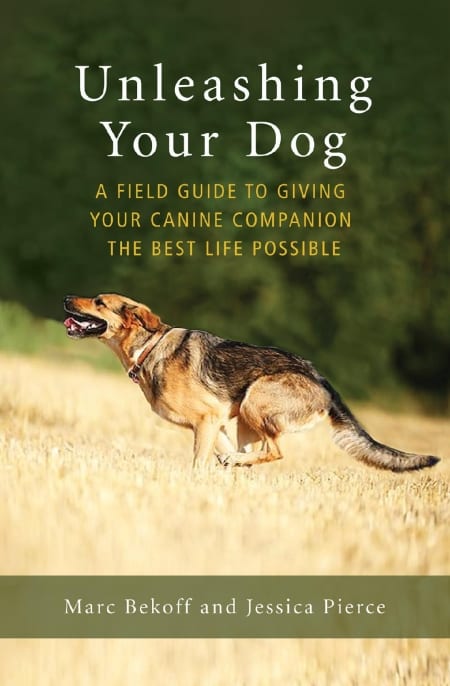 This blog post contains Amazon affiliate links. If you click on one, the Tripawds community receives a small commission. Thank you for your support!
 A Field Guide to Unleashing Your Tripawd Dog for Lifetime Happiness
We jumped at the chance for a complimentary press copy of this book from New World Library. That's because being a Tripawd parent means striving to be a better human to help our animal thrive on three. "Unleashing Your Dog: a Field Guide to Giving Your Canine Companion the Best Life Possible," does exactly that.
"Trying to think and feel our way through our dog's daily life from the dog's perspective is a useful exercise. As our dog's companion, we can train ourselves to be attentive to our dog's experiential world, to walk in their paws and imagine what's happening in their head and heart."
Written by renowned bioethicist Dr. Jessica Pierce and animal ethologist Dr. Marc Beckhoff, this easy-to-read book is a fascinating and practical guide to help us move beyond the basics of dog parenting.
By embracing Pierce and Bekoff's insight of the canine species, we become so much more than our dog's primary source of affection and food. We learn how to see our dogs for who they really are, instead of who we want them to be.
"As with parenting, love is not enough. We also need logic. We need to become dog literate and understand who dogs are, what they need, and what their behavior can tell us abut how they are feeling."
There is so much food for thought in the pages of this book. For example, think about this: as much as we love our dogs, they are technically our captive prisoners! It's true: fact is, domestic dogs have no true freedom because they are 100-percent dependent on us for every aspect of living. So as their caregivers, it's our responsibility to become "dog literate" to enhance our captive canine's life.
A Field Guide to Unleashing Better Bonds Between Us
In this book, Bekoff and Pierce share fun, science-based methods we can practice every day. We learn to give our Tripawd dogs more freedom to exercise and enhance their sense of smell, taste, touch, sight and hearing.
Each chapter focuses on one of the primary senses to explore why dogs do what they do. We also learn how to let them enjoy these things without imposing on the basic freedoms of animals. For example:
Leash walks are for smelling. Let our dog set the pace, not vice versa.
Off-leash dogs spend about a third of their time sniffing. On-leash dogs aren't typically allowed to sniff for nearly this long. How often have you seen someone angrily tugging on the leash, trying to make their dog 'keep up' on a walk? This is a form of sensory deprivation.
The more disgusting something tastes, the more a dog loves it.
One of the basic canine instincts is to search out and find food. And a dog's definition of food is not the same as ours. . . we need to make sure we are being reasonable in what we ask of our dogs. Use your good judgment and stop them from eating things you know will make them sick or cause harm, but just don't overdo it.
Walks, hugs and playtime is a team effort that requires ongoing negotiation between dog and human.
Recognize that there may be conflicting agendas, and take some time to reflect on what you want from the walk versus what your dog, through their behavior, is telling you they want.
Whether floppy or pointy, protecting our dogs' ears from stressful sounds and hearing damage is our responsibility.
The constant jingling of the tag on their collar gets in the way of listening to the world around them, particularly when they are walking, running, or playing, and this keeps them from fully using their acute sense of hearing to experience their surroundings.
Dogs are masters at cross-species, nonverbal communication. We must train ourselves to watch our dog's visual signals, facial expressions and nonverbal cues.
Sometimes we get frustrated when our dogs don't 'listen,' and they likely get frustrated with us when we don't 'speak' clearly or listen to them.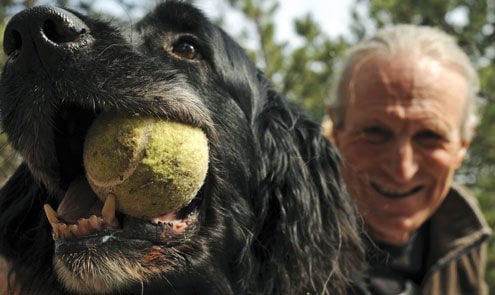 Although there is no universal "dog" to which every one of these tips will apply, this field guide to unleashing our understanding of the canine species should be required reading for all dog parents. Once we have this knowledge under our treat bag belt, we can give our dog as many daily freedom enhancers as possible to make each day the best it can be.
More Great Books from Marc Bekoff and Jessica Pierce
So Why Do Dogs Hump?
The Last Walk Helps Us Face Hard QuestionsÂ
And an interview with the authors